Should You Invest Your Money Outside India?
Aug 12, 2020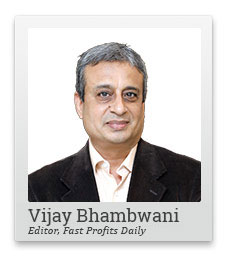 This is a question I'm asked regularly... Should I invest abroad?
The answer is not straightforward. You must study this aspect of investing in detail before taking the plunge.
In this video, I will help you get started. Think of this as a first step. You will need to dig deeper if you are serious about investing outside India.
Let me know in the comments if you would like to know more about this exciting topic.
Hi, this is Vijay Bhambwani. Today's video is about a very interesting topic as far as I am concerned, because a lot of my viewers of these videos have asked me this question, and it frankly excites my interest as well.
There are a lot of windows of opportunities opened for an average Indian investor to invest in financial markets abroad. Brokers in India are offering you the opportunity to invest in equity shares in the overseas markets. Particularly of great interest are stocks like Facebook, Apple, Amazon, Netflix, Google, etc, Microsoft, the high profile, big stakes, and huge winners.
So should you plunge in? How practical is it? How safe is it? What are the downsides and what are the upsides?
Free Signup: Learn how India is poised to emerge as a global power
You see, I treat trading and investments as a business, and if you're running a business like, say, a ready made garment shop selling these T shirts, you would want to know the cost of this T shirt, the kind of money that you would have to spend a per sale. What is the cost of your electricity bill per month, your employee salaries and wages, your rentals of the shop, etc. Everything has to be calculated down to a decimal. That's what businesses are for. So before you plunge in, it makes sense to do a swat analysis. Strengths, weaknesses, opportunities and threats.
The strengths first. The biggest strength that I can think of is that you're diversifying your money abroad. You're putting it in a market which is a distant from our market. It has its own unique style of functioning, and you can diversify. All well and good. Okay, So far, so good.
Weaknesses. Now here the problem is that you're buying stocks or maybe even commodities in distant lands where you are not going to be present and where you cannot be at a short period of time, and the knowledge that you have about that market and about that particular investment may not be complete. I completely agree with the view that risk is not doing something wrong only. Risk also includes not knowing what you are doing or not knowing enough about what you are doing.
So this is one weakness. You might be investing money in a market where you know little, if anything about, which means you're dependent on somebody else's inputs as to what you should be doing and hey, the last time I depended entirely on somebody else's inputs, I cut a sorry picture for myself. So that is one area I am not really very comfortable with.
Opportunities. The kind of mouth watering returns that these tech giants, which are now called FAANG, Facebook, Apple, Amazon, Netflix and Google, the kind of returns that these stocks have generated makes anybody's mouth water. It makes the kind of returns that I advocated to my subscribers in the Weekly Cash Alert in silver and gold, it makes those returns look timid. I agree because those stocks have actually multiplied but then, are you too early or too late, or is there still money on the table for you to collect? Now, this is another question altogether.
Now for the threats, the 360 degree world view system of investing and thinking of the financial markets means that you take a well rounded approach. You need to take care and ensure that you know everything about what is involved here. Knowledge about the stock, about the market, about the company that you're investing in, about the commodity that you are deploying money in, in the overseas market, can be acquired but there are certain other things which cannot be circumvented or bypassed.
You need to first find out how are you going to remit the money there? Is it going to happen from a local payment gateway? In which case, since you're making payments in hard currency, which means foreign exchange, there will be currency conversion charges. That's your first and immediate expense and then on these currency conversion charges, there is GST, so that is an expense which is non refundable.
The second, when you are investing money in an overseas market, especially if you're investing money by sending money abroad, there are brokers. I completely agree with the logic that there are brokers who are telling you they can invest your money in forex markets while you're still sitting in your sofa, in your house in India and not caring a damn about the world. But believe me, everything has a price. Everything has a cost.
So there are two threats that are primarily concerning you instead of one threat, which would have concerned you if you were investing only in India. Number one. The capital erosion risk. Prices of any asset that you invest in have a right to go against you and they do many a times, after you invest your money them. But the currency factor also hits you in these overseas markets.
So what happens when you invest money in a stock at, say, US$ 100 and after a year, you pull money out at US$ 120 you might think you made 20% return but then you will have to calculate the currency. If the currency has moved against you to the extent of 10% you have not made 20%. You actually getting home only 10% that too gross. Remember, there will be remittance charges. Also, even if you are operating through a broker in India, forex conversion charges and execution costs of such trades have to be by their very nature. They have to be higher than your local transactions in the NSE, BSE, the multi commodity or national commodities and derivatives exchange, the NCDEX because your broker is handling your money here in India and there is a broker there on the other end in the US, or Europe or where ever and that guy is gonna charge his commission too.
So your execution costs are going to be heavy. You're forex remittance and conversion charges are going to be heavy. You are going to take a currencies risk. You might or might not be entering investment, which could be a little late, and knowledge could be a big gamble. It could be a big dampener.
So should you go ahead? My answer is not a very simple one. I know a lot of friends and a few family members who have sent their children abroad, and they regularly, under the RBI's LRS or the Liberalised Remittance Scheme, keep sending money abroad to their children and their children invest the money on their parents behalf in the local market. That is a beautiful way to go about it. You have a family member who's investing on your behalf, he is dealing directly on US bourses without second or third intermediary in between causing leakages and execution commissions and other charges etc.
More importantly, do you have what it takes by way of knowledge, by way of knowing what the cycles are? If you've recently attended my seminar on the summit on Weekly Cash Alert, you would have received the booklet, the Weekly Cash Blueprint. I've broken the entire 12 months of the year into 12 parts and said which commodity works in which month of the year and more importantly, why.
So you will have to familiarise yourself with the European market or the American market, depending on where you investing your money so that you have hands on control over your money. At my age of 54, if I have to let lose control over my money and surrender it to a game of chance, it's not something I will do.
So only if you're comfortable, only if you're capable, only if you have complete command over your money and the odds are in your favour, by all means, go ahead and invest in the overseas markets. If it is just on a whim, if it is just because everybody is doing so, if it is just because it's the fad, if it's the 'the' thing to do nowadays, that's not really the right reason.
Do calculate all the costs, all the benefits, and the disadvantages before plunging into the overseas markets and it would actually make sense to spend a little money and hire a local adviser because the guy you're hiring there as boots on the ground, he is a local out there. It's like hiring a guide when you go site seeing in another city, right? You hire a local out there because he knows the terrain best. It would actually mean saving you a lot of heart ache and losses, but it will drive up your cost. Do factor in that in your calculations.
I hope of clarified some of these issues that you had about investing in the overseas markets. Do remember that the RBI act forbids Indians from deploying money in the overseas markets, which results in non delivery transactions. Which means futures and options derivatives of all types. Which means you're restricted to taking delivery based investment calls only. Maybe it's demat but it's still delivery. You cannot speculate, and foreign exchange speculation is a strict no, no. Just because you think the RBI will not know and you can get away with it, it can invite a lot of punitive measures under the Foreign Exchange Management Act.
So be extremely, extremely careful. Unknowingly, you might just be breaking a law do consult, a chartered accountant and a domain expert before you do. With this, I take leave from you in this video till I meet you again in my next. Do take very good care of yourself, your family, your friends, your investments, and your health. Have a very profitable day. Vijay Bhambwani signing for now. Thank you for watching.
Stay safe and have a great trading day!
Warm regards,

Vijay L Bhambwani
Editor, Fast Profits Daily
Equitymaster Agora Research Private Limited (Research Analyst)
Recent Articles