These Are the Best Long-Term Stocks
Aug 12, 2021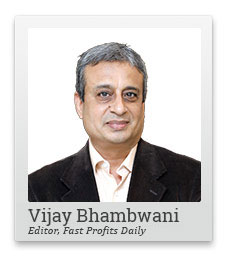 This video should be of interest to investors as well as traders.
I want to tell you what I think is the best kind of stock investments.
I haven't done a sector analysis. Rather, this is about a huge megatrend that is playing out right now.
If the stocks you buy are riding this megatrend, then you stand to profit.
If not, I think it would be a good idea to kick it out of your portfolio.
Watch the video and let me know if you agree.
Hello friends. This is Vijay Bhambwani. I hope you're able to navigate through the ups and downs of the markets far better with my videos and I hope my videos are adding value to your knowledge.
Now, this video is actually about a phenomenon that I have seen accelerating in the past few quarters, especially after the lockdown was imposed.
It's resulted in a few tick marks on my mental spreadsheets and it's triggered off a chain reaction of a few thought processes, which should result in higher profitability for an average investor and trader in the Indian financial markets.
You see, even before the lockdown was imposed, we were doing a lot of stuff online. We were filing our tax returns online. We were paying our taxes, bills, and other levees online. We were transferring money online, but after the lockdown, a whole lot of things went online.
We are able to buy fruits, vegetables, home provisions, buy medicines online, and that too at steep discounts.
Initially, I thought that there would be a catch somewhere or possibly there would be a marginal decline, or maybe even a significant decline, in the quality of stuff I would be delivered, which I was buying at a discount online, whereas the friendly neighbourhood mom and pop store was charging a significant premium in the lockdown because of his costs going up.
Now, come to think about it, why are popular medical apps able to offer you a 20% discount on a strip of tablets or a bottle of syrup, or whatever it is that you buy from them? Think about it.
Now when I recorded a video, a recent video, on the RBI opening retail direct gilt accounts for investors wherein you could buy and sell directly on our bees platform without being any intermediary charges, it should have struck you.
If you are buying insurance from any insurance company, take for example, Life Insurance Corporation of India, the largest insurance company in the country, you will instantly connect with what I am saying that LIC is actually able to charge a lower premium for certain policies that you buy online.
If you were to go through an insurance agent, the same policy would entail a slightly higher premium.
Why? Because the LIC is passing on the agent's commission that it pays to the agent onto the policy buyer. Now that the middle man has been done out, the same policy can be bought cheaper online.
Similarly, recently, my mother in law wanted to make a fixed income investment, and she was told by her agent that if she made a direct payment online, she would get a slightly higher rate of interest.
Why? Because they were cutting out the middle man's commission. Now this is why it results in cost savings on stuff that you buy online but does it necessarily mean that the company, which is selling stuff at a discount or at a lower price, is earning lesser profits. I don't think so.
I think what is clearly happening and this is something that I know very well as a commodity trader. The one fact that I have been betting on and saying that crude oil will not cross US$100 a barrel, is the fact that at higher levels in prices, commodities witness what is known as demand destruction. So higher prices results in lower consumption.
Similarly, lower prices, on the other hand, trigger consumption and if I'm getting something cheap, believe me, chances are I might just wind up buying five instead of four. Natural human tendency.
So what is happening is that businesses are getting commoditised. You basically try and sell more at a lower rate, so the profitability per unit might come down, but the overall profit will go up.
The more and more you're seeing internet penetration are really spread in the country and within two months you're going to have 5G roll out in the country itself, which means your internet is going to get faster, penetration is gonna get deeper, and you gonna have a whole lot more Indians going online.
Now what does it have to do with your portfolio? If you're investing in the stock of a company which still follows 100% pure off line model, which means it's not selling its stuff online, believe me, chances are that it is at a disadvantage.
Today, even the most cumbersome goods that are being sold, are being sold online. Take a look at a huge HCV, a heavy commercial vehicle. Aren't the auto companies, also going online and selling you premium cars, two wheelers, and commercial vehicles online?
They are because they know that missing out on the online platform could result in a severe dent in their topline, which is in the sales.
When you are choosing the next investment bet that you're making, do make sure that the company whose stock you're buying, is online, without which it will severely miss out on the younger generation and even the catching up middle-aged people like me. I am actually 55, so that on the internet domain my children tell me, I'm a senior citizen.
So even guys like me who are buying online now without as much scepticism as I nursed a few years ago, the topline or the sales of companies which are going online, are definitely going to result in a higher price premium on the stock exchange trading floors.
So as a fractional owner of a company, the very concept of a joint stock company whose shares that you buy, makes you a part owner of the company to the extent of the shares that own, you are a part boss and part owner of the company, make sure that you boot out the companies which are not online and stick to the stocks of those companies which have a huge online presence.
Take a look at Bata. Take a look at ITC. Take a look at a whole lot of other companies that are doing business online, which you thought five or ten years ago as unthinkable.
There was a company in America called America Online. It was an Internet based company and I think IOL or 'India online' should be the mantra for investors and traders.
For investors and traders on the other side, we talked about the concept of investing in companies that are online. Let's not talk about the concept of investing from the point of view as a trader or an investor.
You know, when I started trading in 1986, I used to pay 2.5% commission on every crore of transactions, which means for every crore of buying and selling, I used to pay Rs 2.5 lakh as brokerage commission to the broker.
Today, thanks to the online model, the broker is able to service millions of clients on cell phones, laptops, tablets, and desktops. So his cost has come down. What is the brokerage that you're paying? Rs 10 per lot, Rs 15 per a lot, Rs 20 per a lot? I pay Rs 100 per crore.
Why is this possible? Because business has now gone online. So from Rs 2.5 lakh a crore are now paying Rs 100 a crore. Where is the remaining money going? In my pocket as savings.
Which is exactly how you're saving by buying medicines online from companies that are giving you a 20% discount.
So going online is a win-win situation. The future is in online. Which is why Equitymaster is online on this YouTube channel. Bank on us. Bet on us. We are going to get you there.
On this happy note, I bid goodbye to you, not before reminding you to click like on this video if you agreed with what you heard and saw. Subscribe to my YouTube channel if you haven't already done so. Click on the bell icon to receive instant alerts about fresh videos being put up out here.
In the comments section, good, bad or ugly, keep your feedback coming. I welcome everything with open arms. Help me reach out to fellow like-minded investors and traders by referring my video to your family and friends and take very good care of yourself, your health, your trades, and investments.
Have a very, very profitable day ahead. Thank you for your patience. Thank you for watching. Take care bye.
Warm regards,

Vijay L Bhambwani
Editor, Fast Profits Daily
Equitymaster Agora Research Private Limited (Research Analyst
Recent Articles