One More Reason to Adopt a 360 Degree Approach to Trading
Aug 17, 2020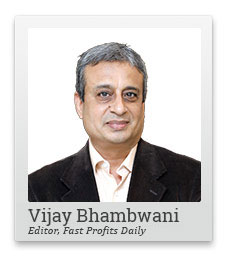 At the start of the year, I predicted that interest rates would fall and life would become harder for traders.
Now that we've seen this play out, how do we deal with it? What can we do as traders, to consistently make superior profits?
My answer is the 360-degree approach to trading.
I've used it successfully for many years to not only make solid trading profits but also to beat most traders in the market.
In this video, I'll show you why it's important you adopt the same to increase profits from your trading.
Hi, this is Vijay Bhambwani here and I'm recording this video to update you about a very critical and important development that's just occurred in our financial markets.
Yesterday we got the news update from the government of India saying that the inflation has edged higher to 6.93%. That's right, 6.93%. You're just a whisker away from 7%.
And guess what? In the same breath, the RBI, which was offering bonds worth 18,000 crores, faced a problem and in collecting the entire some. Rs 4,638 crores worth of bonds were not subscribed. This is called devolvement. So what really happened?
The problem is that these bonds were offering 5.77% return at face value, of course, and your inflation is 6.93%. Now here is a spectre that I have been warning you about for at least a year, if not longer. This is a challenging time for a fixed income investor for any returns cautious, conscious investor, because your yields and your return on investment is likely to fall unless you cultivate what I call a 360 degree approach to investing and trading.
FREE Event: The Great Indian Wealth Project
This approach basically calls for watching everything that may potentially impact your return on investment. It does involve a great deal of equanimity. Equanimity is awareness of the market and synchronicity or harmony between the market and your actions. It involves a greater degree of awareness, a greater degree of hands on involvement of the investor. It can also be delegated by allowing somebody else who is knowledgeable about these matters to take care of these decisions for you, with you, and your behalf.
So what we basically do in the Weekly Cash Alert service is practise Equanimity. We basically try and be alert and aware to all the factors that might potentially impact our trade once the trade is initiated and if it all most of the factors, if not all, are not conducive to initiating the trade, the trade does not get initiated. Now, let me tell you what we managed to do using this ultra-cautious approach, yet behaving like a hedge fund.
I have mentioned this word hedge funds, umpteen number of times in my videos and will have no reservations in saying that I admire hedge funds and heart of hearts, secretly, I do dream that my company will one day have hedge fund trading division for our own money. Hedge funds are basically alpha boys who basically chase profits or returns irrespective of the market moods, market sentiments of market directions.
So what I basically did in the Weekly Cash Alert service over the last one year, starting from August 2019 was to basically take extremely focused trades, which had a very high probability of succeeding. There, remember, is no guarantee in trading about success but the trade should have basically ensured three parameters.
We trying to earn the highest amount of money possible with our investment in that trade. We try to get in and get out in the shortest possible time so that no adverse geopolitical event could have come in and stepped in to impact on trade adversely, and the risk should have been acceptable levels.
I believe a great deal in the Jensen's measure, a part of my investment decision or trading decision process is determined by my ingrown or inhouse statistical models that I have developed myself. So I believe a great deal in the Jensen's measure, which very basically says that every time and trader takes one additional unit of risk, he must endeavour to earn at least one additional unit of reward for profit, if not more. So we take additional risk only when they're award is higher or we do not take it.
There are a few times when my subscribers have asked me, 'Hey, why did you get mayor of this trade so fast? It actually moved in a little more in our direction'.
But that incremental came far slower than the low hanging fruit, which we simply plucked and there are times when, believe me, we have got in and got out in a couple of hours, flat no overnight positions as far as I am concerned and as far as I can help it.
So even though your fixed income market might be letting you down, it is not the end of the road with a little bit of effort and remember, making money has never been easy. Only my wife thinks that making money is easy. I sit on a computer type in a few buttons on the keyboard, and my life is a walk in the park. Believe me, trading profits are the most difficult 'easy money' you will ever make in your life. I'm not saying that it's easy, but that's what we do just because it's not easy.
That's why we are the Weekly Cash Alert service and the return, especially the accelerated returns that we basically focused on getting after August 2019, ensured that we wound up with almost 43% to be precise, 42.95% return, in FY19-20 and in the ongoing year, we are at least 15% up in our trading profits in commodities and this is without crude oil being available for trade because of the negative pricing imbroglio that occurred in April 2020. Once crude oil is back as a tradable commodity, we're going to be riding hard again.
So in spite of India being in a negative yield territory now officially, in spite of your fixed income markets dealing you a great deal of disappointment, there is still light at the end of the tunnel. I don't think you should be giving up hope just as yet.
On that optimistic note, this is Vijay Bhambwani signing off for now till we meet again in my next video. If from watching this video on YouTube, please don't forget to click like on this video and subscribe to my YouTube channel. In the comments section, do let me know what you think of this video and what you would want me to record in my next video and help me reach out to fellow traders to spread the cult of knowledge based investments and trading and my 360 degree approach to the markets.
Do take very good care of yourself. Your health, your family, your investments, and trade. Have a very profitable day. Thank you for watching.
Stay safe and have a great trading day!
Warm regards,

Vijay L Bhambwani
Editor, Fast Profits Daily
Equitymaster Agora Research Private Limited (Research Analyst)
Recent Articles