How to Profit from the 8-Year Super Cycle of the Sensex
Aug 21, 2020
Have you heard the saying, every market moves in cycles?
Well, this is certainly true of the stock market.
I've been studying the markets for many years and I can confirm to you, there is indeed a predictable, repeating cycle in the Indian stock market.
I call it the 8-year super cycle of the Sensex.
With the knowledge of this cycle, I believe you can set yourself up for huge gains in the years to come.
Watch the video and let me know what you think about this cycle.
Hi. I'm Apurva Sheth and welcome you to this latest edition of Fast Profits Daily.
So friends, last time we saw the two year cycle in bitcoins. Now bitcoins are currently in the greed phase or bull phase and they are likely to do well. Now, I know that bitcoins are not everyone's cup of tea and if you are a risk averse investor then you can simply avoid them.
But what you cannot avoid is the cycle which exists in bitcoins...and it's not only bitcoins. There are various indices and stocks where such kind of cycles exists. Obviously, the time frame will differ but the crucial element is that there are these repeating patterns which happen all across the financial markets and if you are able to find them, then there could be a solid money making opportunity out there for you.
EV Stocks: Make a Fortune from Automobile Sector's Colossal Disruption
So now as equity investors, what is the most crucial thing that you watch almost on a daily basis. Yes, it is the Sensex and how can we not look at the cycle in the Sensex? Yes, there is a repeating pattern which occurs in Sensex, and that could help you mint a lot of money. So today I will show you the cycle which is existing in Sensex-I call it the 80 year cycle of Sensex.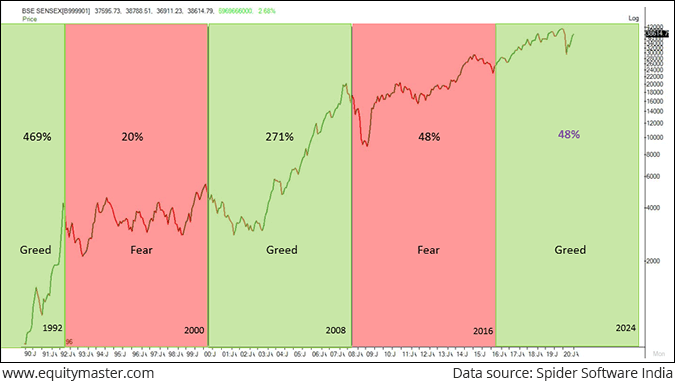 Now, as you can see on your screen, I have the long term chart of Sensex and you can see some lines which are plotted on the chart of Sensex. So I'll take you through what these lines are all about.
So the first thing that you can notice out here, the first line which is out here, is drawn on the month of April 1992. This is the monthly chart. So this line out here that you can see, the first line was when the Harshad Mehta scam broke out and markets which were already rallying dropped after that. So this first line is the 92 fall which happened. The second line is the 2000 scam or Ketan Parekh scandal, which happened where the technology stocks had moved up and then there was a massive crash, and then finally this is the 2008 subprime crisis which happened, and markets connected. This was again in April.
So what I have done out here is that I have drawn these lines on exact eight year intervals from April 2008. So the tech bubble happened in Feb 2000. This is very close to it. So what I call this is the 8-year cycle. I joined financial markets in the year 2010, November 2010 and what I noticed, the first thing was that there are these peaks or tops, long-term tops which happens every eight years. So 92, the year 2000, and then again in the year 2008.
So that's how this idea of eight year cycle came into existence in my mind, and I also used to keep on hearing a lot about these things that markets have been topping out every eight years. But I couldn't find a model which would fit in, or which would explain to me why this happens or how we could use this information. This took me a lot of time to understand, by reading and by going through a lot of other books on cycles and such kind of things.
So now what's the most important thing with this? How a cycle exists and how you could see where the cycle exists. and how you could make money out of it? So let's see that. So I believe that the markets go through a cycle of greed and fear every eight years. So this greed and fear cycle started somewhere, maybe somewhere in the year 1984 and lasted till the year 1992 but we don't have the data for before 1990s. So we have going with the data which we already have. The Sensex was up 469% in this two year period from 1990-92. So this was the greed phase and the markets topped out in April 1992 and this greed phase ended.
Now after this, the markets were in the fear phase and it took almost eight years for the markets to get out of this fear phase. So as you can see, I've marked the fear phase in red and gains of Sensex in this 8-year was only 20%. That is from April 92 to April 2000 in. During this 8-year period, point to point returns of the Sensex was only 20%. So during the fear phase, markets generally tend to consolidate and as compared to the previous greed phase, you can see that gains that were given by the Sensex were very low and it is even low compared to any other fixed instrument. Any fixed income instrument would have given you higher returns.
Now the Sensex again entered the greed phase in the year 2000 and this greed phase lasted till the year 2008. So, as you can see, the Sensex moved up by 271% during this phase from April 2000 to April 2008. That was a gain of 271% in Sensex. Now the Sensex again entered the fear phase and during this fear phase the gains of Sensex were just 48% in a long period of eight years. So that that lasted from April 2008 to April 2016 and now we have again entered the greed phase, and so far, the Sensex has generated a gain of about 48% that is roughly 50%, Sensex has generated gains, i.e. from April 2016 till date.
So this is the grand super cycle of Sensex if you can call it that which last for 8 years. Now, I am sure there might be some questions related to it and one of the most important questions that I normally get when I speak about this cycle is that why do these things repeat, or why do markets follow such cycles? For them I have this one slide which I like to show you.
Now guess who said the statement first and when... 'Our youth now love luxury. They have bad manners and contempt for authority. They show disrespect to their elders, and love chatter in place of exercise. They no longer rise when elders enter the room. They contradict their parents, chatter before company, gobble up their food, and tyrannise their teachers.'
Now I am sure you would think this statement is very relevant to current times. If you talk to any of your elders, they would have the same view about today's youth but the thing is, the statement was made long ago. This was made by Socrates.
So what the statement says is that the human nature or human emotions remain constant and two most important or most constant emotions that we see play out in the financial markets are greed and fear. People will be greedy and people will be fearful. There is no change in that. The things which make them greedy and fearful may change, but they will be greedy when the markets are rallying and we will tend to go overboard, and when the markets fall, they will be fearful.
So this is human nature and you cannot change that and that's the reason why there is this repeating cycle or repeating pattern which you can see in Sensex and that's the reason why several other indices and stocks also follow a similar pattern.
Now, if you can identify such patterns then it could more conviction to your trades, and it could help you identify better trading opportunities and investing opportunities as well. So next time, when I record another video for the Fast Profits Daily, I will dig deeper into this eight year cycle and share more details about this. How you could use this cycle to identify investing and trading opportunities.
I would be happy to hear your feedback on this. What do you think about this 8-year cycle? Have you noticed any of this in any of the stocks or sectors earlier? I would be happy to hear from you. So that's all from me for today. Thanks a lot for watching this video.
I hope you enjoyed watching this video, and it has added some insights into the markets. If it did, then please like it, share it with friends and family members who want to become better traders. I'm sure they will love this video too, and also do join our telegram channel where I post regular updates on the markets which will help identify reading opportunities on a short term basis.
So that's all from me for today. Thanks a lot and have a nice day.
Stay safe and have a great weekend!
Warm regards,

Apurva Sheth
Senior Research Analyst, Fast Profits Report
Equitymaster Agora Research Private Limited (Research Analyst)
Recent Articles