My Top 4 Tips to Start Your Trading Day
Aug 27, 2020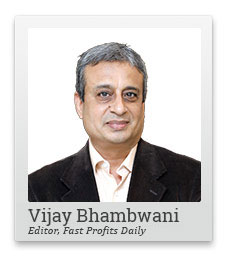 One of the most common questions I get is about starting a trading day.
This is one of the most important aspects of being a successful trader. Every serious trader knows how important it is to properly prepare for a trading day.
But very few traders know what are the points they need to look at before their trading day begins.
So in this video, I'm sharing my top four trading tips to start your day. I use these myself and I recommend them to you.
Let's dive in...
Hi, this is Vijay Bhambwani here. I hope you're keeping a finger on the pulse of the market and the market is treating you well.
In this video, I am basically answering questions that a lot of my viewers and subscribers of my franchise on Equitymaster have asked me. What are the top few things that I do before the trading sessions begin and what other four parameters or watchlists, call it what you want, I think are a must have for every trader?
Now you're by now familiar with how I think. It's a 360-degree world view of the markets, including a whole lot of behavioural analysis of the financial markets all around me. So I am gonna take one topic from each segment and I am gonna share the secret sauce with you.
Discover Now: One Stock for Potentially Life-changing Gains
Now the first and foremost is the behavioural aspect of the market. You see how each and every trader in the market behaves by way of action, not thought, action, every buy and sell order initiated on the exchange, has a bearing, no matter how big or small, on the price. So the behavioural aspect is very, very important.
Now, first and foremost, when the trading session begins, I tend to avoid trading at least for the first five minutes. Let me share with you the reason why. Now there is this category of traders called BTST and STBT traders. BTST stands for buy today sell tomorrow. STBT stands for sell today and buy tomorrow. Now these traders are very special kind of trader who resort to only this strategy or majorly this strategy. They enter into a trade in the last few minutes of trading session one, say Monday. They will exit from that trade in the first few minutes of trading session two, say Tuesday. They're not bothered about whether the price is up or down. They enter in the final few minutes and the exit in the first few minutes of the second day.
Not this obviously results in a lot of price volatility in the final few minutes, and the first few minutes. Have you experienced how it feels to be at a traffic signal, which is very densely populated by cars, motorcycles, etc? As soon as the signal turns green, everybody is in a rush to go and there's a whole lot of smoke and traffic and crisscrossing of motor cyclists etc. A lot of people like me would like the congestion to clear in the 1st second or two before going ahead. This is precisely what I am trying to do by avoiding trading in the first 5 to 7 minutes. There after the market stabilises a little bit, and rationality returns to the markets. Believe me, it's a lot easier to analyse the market then.
Once the market starts trading and stabilising, what I do is watch the top 6 to 8 heavily weighted stocks in the indices, in the case of the Nifty. In the case of the bank nifty, the top 3 to 5 stocks will be enough because the bank nifty is a much narrower index, as compared to the nifty 50 where constituents are concerned.
Believe me, if you watch these top heavy weighted items, if you want 6 to 8 top heavyweight items in the nifty you've covered, at least 60% of the nifty's weightage. Wherever these stocks go, chances are, very high probability is, that is where the index will go also at least for a while, if not for the entire trading session. Now that gives me enough in the initial part of the trade as a nifty or a bank nifty trader to put the first meal on the table for my family and then, of course, you can build up on it.
The second aspect from the four top things that I watch is the news. I have made a gallery of stars. I call them my gallery of stars of people who have watch without fail. Before I do anything else, I am interested in Googling and finding out what these guys have uttered after I went to bet in the night but before the market is open today. So names like Chakib Khalil, Rafael Ramirez, Muqtada Al Sadar, Ali Al Naimi, Zaki Yamani. For Weekly Cash Alert subscribers, I have made six trading tutorial videos. The entire list of this gallery of stars is in the final video, where I teach you how to prepare for a trading session in the commodity markets.
Obviously, for the currency markets, there is different set of people. For the equity markets, there's a different set of people and different set of news triggers. Now why I am looking at this aspect of the market is because a whole lot of institutions, a whole lot of smart fund managers, a whole lot of hedge fund traders, hedge funds are something I really admire and I made no bones about that fact, they watch all these things before they enter trade. Where have the bond yields gone as compared to yesterday? Where they closed yesterday and where they are opening today.
Believe made a lot of people, I find a lot of lot of guys financial market intermediaries make it a point to come to club. I am a member of a club in South Mumbai, and I find sales guys making a pitch for subscription to their services and offering financial products all the time in my club and once in a while, I do get to get invited to the table and say, hey Vijay look, this is what this guy is offering now can see what it's like, and I ask the guy, you know, what you think of the bond yields and stuff and believe me, bonds are so boring that most people tend to turn their nose up and say, 'What? It's so unexciting'. But you know what? This is the fountain where the money supply on it comes from. If they're not interested in the tap where the water flows from, you don't know where the markets are headed.
So bond yields are extremely important to me. I notice where the bond markets are going, and typically that is, with the banking sector will go and that is where the bank nifty will also go. So here again, you can put the second meal on the table for your family. Also remember that in financial markets, especially from the point of view of behavioural finance, everything is anchored and tethered, which means connected to each other, on the time-price continuum. When you are saying that nifty is up, up against what? Up against yesterday's close. So do note that you don't only watch where the price is right now, but where it was yesterday and where it was at this point of the day yesterday.
So if I am watching the nifty at 1:15 pm I've also noted where nifty was at 1:15 pm yesterday. Which is why you see a whole lot of pencils and leads on my social media accounts. I keep getting thrilled when a new click pencil, or a new mechanical pencil leads come in by courier. I get very excited because I'm taking notes all the time of the price, volume, open interest, etc, every counter that I am planning to trade, and make extensive notes of them. Making money is not easy, believe me. It's only my wife who thinks I'm doodling on on the computer and making money by pressing a few buttons. It's not easy, but let's not go there.
So the third aspect. Screen reading. Seriously speaking, I don't mean to discourage you, but if you are planning to be a day trader or a micro trend trader, micro trend traders are people who do not keep a trade open for anything more than 59 minutes and 59 seconds. These are extremely short term, high frequency tactical reading market participants. Like I told you in the BSPL India, we have a high frequency tactical trading desk. Now, if you if you basically are aspiring to be a micro trend trader or a high frequency trader and you do not know how to read your screen, I am sorry, but I think you should reconsider because you're probably going to bleed a lot of chips and lose a lot of money.
If you are a Weekly Cash Alert subscriber and you've seen those training tutorial videos, I have made extensive videos, at least one full video dedicated to screen reading. Now, for those who haven't seen it do to constraints of time, I can't really go into the entire thing but for those who haven't seen that video, if you highlight any stock on your desktop trading terminal, this feature is unfortunately not there in the mobile trading terminal apps, on your desktop, if you were to highlight a stock and most of the trading terminals have the uniform syntax, which is F5, a pop up window opens a rectangular window. The top five buyers, the top five sellers, the bid and offer spread, the last traded price, price, volume, and open interest.
Now this window contains at least three dozen signals that a screen reader must be familiar with before he or she can get into the water and start trading. So you must be very aware of how to read the screen, how the price teetering and anchoring, which is vis-a-vis the previous trade, vis-a-vis the previous hour, and vis-a-vis the previous trading session, and vis-a-vis the yesterday's price at this particular point in time today where it was. So you must know screen reading before you can become a micro trend trader.
If you're planning to be a long-term investor, probably this is something that you can simply skip because the day to day gyrations and hourly movements, which basically gives heart attacks to people like me, were the wicked people who are micro trend trading, is something that you're not really bothered with, and you can simply let the parade pass you by.
Now, the final thing. Stop losses. How to set stop losses and are stop losses the same in case of all types of traders and at different points in time? I would beg to differ and say there is no one single kind of stop loss. For example, I'm sure you would agree with me, and I speak on behalf of most of my brother traders when I say this but it's a very good day when the first trading first trade off the day turns out to be profitable. You feel nice. Hey, it's a good beginning and you feel good about it. You feel something is kosher and you proceed with a spring in your step and confidence in your heart.
So on the first trade that I enter, the stop loss is really tight. It's a very small a stop loss because if the market is to go in my favour, if my reading of the market is right, it should not really give made too much by way of a mark to market demand or a mark to market loss. There should be no being margin call on the first trade. Once that trade is squared profitably, on the next trade, my stop loss will be equivalent to the profit that I have made in the first trade. You know why? Because if things go wrong and I was to lose money, which sometimes I will invariably, the amount of money that I lose will be exactly equal to the amount of money that I made in the first trade. Which means I am against the idea of going out of pocket. Especially after I have made money in the first trade, I don't want a loss making day. It's okay if it's a zero profit, zero loss day but once you covered some ground, you cannot surrender. You can't give it back. That's not a good idea.
What happens in the subsequent trades? Number one, you keep a stop loss equivalent to the profits of all the trades or you keep a stop loss as per technical analysis supports and resistances, whichever is tighter. Which means even if your stop losses hit, taking tighter of the two would mean that you would possibly still take some money home. It's not really a great day when you surrender part of your profits, but hey, at least it's not a loss.
Subsequently, there are stop losses, which have explained in the screen trading tutorial in the Weekly Cash Alert six part videos, wherein the stop loss can also be ATP versus ATP. The bid versus the spread and reading those are screen reading signals. So here you go. I have shared my top four trading tips and tricks and my secret sauce. As a real world trader, we are constantly upgrading our statistical model are trading models and as and when I have something that our systems throw up, I'll be happy to share more with you in future videos.
So I say goodbye to you in this video till we meet again in my next. If you're watching this video on YouTube, please let me know what you think about this video and in the comments section, do let me know what you want in the next one. Don't forget to like this video if you're watching it on YouTube and subscribe to my YouTube channel.
Also, let me reach out to fellow traders who are interested in a 360-degree view of the financial markets and a knowledge based trading and investing methodology, by referring my videos to your family and friends.
Do take very good care of yourself, your friends, your family, your trades, and investments. Have a very profitable day. Vijay Bhambwani signing off now till we meet again in my next video. Thank you for watching.
Stay safe and have a great trading day!
Warm regards,

Vijay L Bhambwani
Editor, Fast Profits Daily
Equitymaster Agora Research Private Limited (Research Analyst)
Recent Articles