Which Stocks Will Do Well Over the Next Four Years?
Aug 28, 2020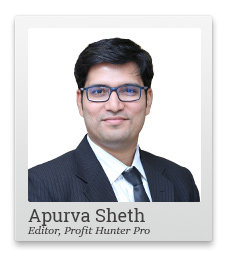 My last video on the 8-year cycle of the Sensex was quite popular. I received a lot of feedback and queries.
Keep them coming in. I love to hear from you.
In the video, I'll dig deeper into this topic. I'll show you which stocks tend to do well in the greed and fear phases.
I'll also show you which kind of stocks you should be betting on from now, until the end of the current greed phase in 2024.
Let me know your thoughts in the comments section below...
Hi, I'm Apurva Sheth and I welcome you to this latest edition of Fast Profits Daily.
So friends, last time I spoke about the eight year cycle in Sensex. Now on that video, I have got lot of queries and feedback and I thank you for sending in your comments. It helps me to know what kind of videos you like and what are your thoughts on that. So keep the feedback and queries coming.
Now, there was this one query by a reader called Mr Markandeshwar Gunu. He wanted to know what kind of sectors do well in various phases. So today's video is all about that. We will see what kind of sectors do well during the greed phase and what sectors do well during the fear phase.
India's Revival: A Once-in-a-Generation Wealth Making Opportunity
So let's start with it. Now, I'll just do a quickly re-cap of what we saw last time so that viewers who have joined recently are on the same page with other older viewers.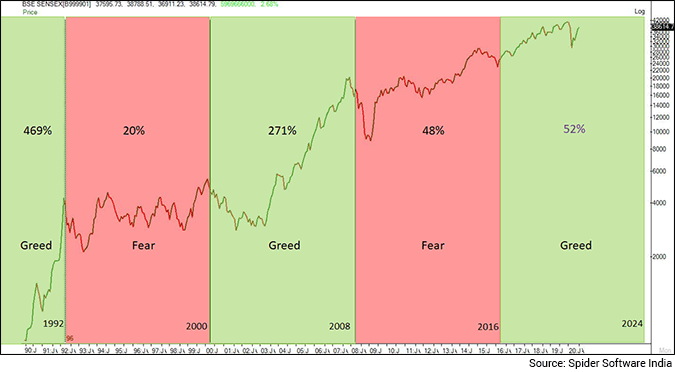 So here is a long-term monthly chart of Sensex with the greed and fear cycles marked on it. So Sensex generally tends to move up during the greed phase and it tends to consolidate during the fear phase. So as you can see out here, the first greed phase ended in the year 1992 with gains of about 469%. In the fear phase which ended in 2000, Sensex more up by only 20%. In the greed phase which followed next, Sensex moved up by 271%. In the fear phase which followed, Sensex moved up by just 48% and currently, we are in the greed phase which will last in 2024. Now from a point to point, the Sensex is up more than 50% from the point where it entered into the greed phase that was in April 2016. So from that point till date, Sensex is up about 50%.
So now coming to the main topic that what kind of sectors move in these various phases. Well, there's a simple rule to it. Stocks which are from the old economy, or old economy sector, tends to do well. So what are these old economy sectors?
In simple language, these are your roti, kapda, makaan. The companies which cater to the basic needs of humanity, that is, food, clothing, and shelter. These kinds of companies generally tend to do well during the greed phase.
So these are our stocks from the infrastructure space, from the housing space, from the metal space, from oil and gas, refineries, the basic needs which humanity needs, and companies which directly or indirectly caters to such needs generally tend to do well in the greed phase. So now we have the chart here again.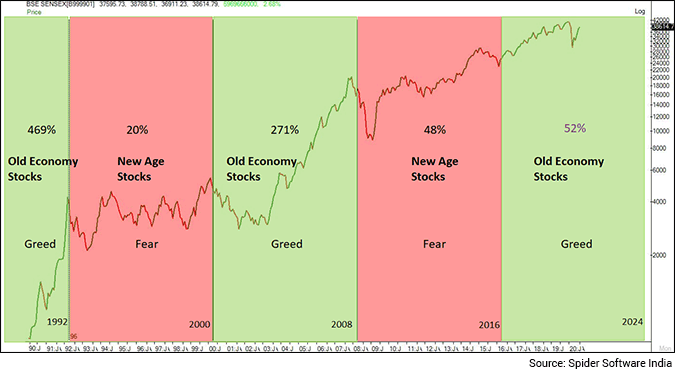 In the greed phase of 90-92 the kind of stocks that did well, were the cement stocks and textile companies. So among the cement space it was, ACC which did phenomenally well. From the textiles space, it was Reliance, Century Textiles and many other textile companies, some of which have obviously closed down, but that the period was for cement and textile companies.
So now in the fear phase what kind of stocks do well. So in the fear phase, the flavour changes. It is always the New Age stocks or something which has got to do with technology that will do well. So in the year 2000 or in the fear phase of 2000, it was the technology boom. So TMT, as it was called, tech media and telecom. So these three sectors were in favour during fear phase of 2000. There was the tech bubble which burst in the peak of February 2000. That was a point when Infosys, Wipro, and telecom stocks did well. Media companies like Zee Entertainment, these kinds of companies did phenomenally well during this period.
Now we moved again to the greed phase. In this in the greed phase of 2008 the companies which did well, changed a bit. These were again from the old economy space but the companies changed. So you saw a lot of infrastructure companies, power companies, metal companies, do well. Even companies from the realty space did well in this period. So if you remember, companies like Suzlon, Unitech, DLF, JP group stocks, all these infrastructure related stories or companies did well. Even metal stocks did well during this period.
Then came the fear phase of 2016. Now in this phase and the flavour again changed to New Age stocks wherein new age stocks from pharma, so pharma companies, your consumption theme stocks like Page Industries, Eicher Motors, these kinds of stocks did well and now we are again in the greed phase of 2024.
I feel that once again, the old economy stocks will likely do well. So you don't need to look out for new flavours or new companies which are there on the horizon. It's again these age old companies, which tend to cater to the basic human needs of food, clothing, shelter and slightly higher needs, like education and these days, telecom has also become a basic necessity. So companies which cater to such kind of needs tend to do well.
We have seen in doing the lockdown, during the covid phase, all that we consumed were mostly food, clothing, and shelter. We did not consume anything more than this and this is sort of a proof that during the greed phase, these companies tend to do well.
So that's all you can identify your stocks for trading and investment during the next 4-5 years, i.e. till 2024, the markets will remain in the greed phase and during this greed phase, you can look for investments in old economy stocks and as I've explained. These are stocks that intend to do well. So we will take this discussion forward. There are many interesting things that I want to share with you. So do watch out for more communication from our side and also share examples of stocks that have done well, why this phenomenon occurs, why there is this shift between or old new economy stocks. So there are a lot of things that I'd like to share with you in this video series. So watch out for it.
That's all from me for today. I hope you enjoyed watching this video, and in case you did, then please like it, share it with your friends and family members who want to become better traders and more informed investors. I am sure that these videos will help them a lot in identifying investing opportunities.
Also, don't forget to join our telegram channel wherein I share market updates on a daily basis, which also helps traders to identify stocks for trading. So that's all from me for today. Thanks a lot and have a nice day.
Stay safe and have a great weekend!
Warm regards,

Apurva Sheth
Senior Research Analyst, Fast Profits Report
Equitymaster Agora Research Private Limited (Research Analyst)
Recent Articles