Is It Time for Traders to Do Nothing?
Aug 31, 2020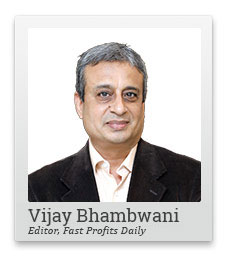 In this video, I'm about to disappoint some of you. I am going to talk about something that is not the mainstream view. It is a little off the beaten track, but then again, you know me for being a little different.
I want to alert you to what my trading system is telling me now.
Should you go long? Short? Should you just sit on your positions? Or sell everything?
What about doing nothing at all?
That's right. Doing nothing is also doing something.
I'll tell you all about it in this video. Let me know what you think.
This is Vijay Bhambwani here, and I hope the markets treating you well, you're keeping your finger on the parts of the market and you're making some good money in trading.
In this video, I'm about to disappoint a few of my viewers, and I am going to talk about something that is not exactly a very mainstream view. It is a little off the beaten track, but then you guys know me for being a little different.
You see, gauging from the feedback that I received from my videos, as a behavioural market participant, who goes by the 360-degree worldview, I get to have feedback from market participants. Believe me, everything is a tick or a cross on my mental spreadsheet. So whether you're talking positive or negative, your feedback is always welcome. It tells me something about the work that I'm doing and what the market participants are doing.
Basically, it's no secret that we all talk about our positions. If we're long, we'd like to hear only good news, if we're short we only want the market to go down. So basically, it is oppositions talking. Also, remember that as far as the systems go, this is not about boasting, this is not about antagonism, but this is about what I'm building up in this video.
JUST IN: Limited-Time Access to Full Transcript of Our Urgent Broadcast on India's Revival
As far of the systems go, they have been right so far. The video that I recorded on 20th of July saying that the worst is behind us and you should be preparing to make profits was based on the seasonality of the markets, given a quarter by quarter break up of what the market does in which quarter. Of course, a few guys misunderstood and said we expected a lot more from a so called an expert than the breakdown of seasons of the market. Since then, the nifty has risen 6% by the way.
On 6th of June, I recorded a video about how to catch a market bottom based on the Coppock oscillator. Pure behavioural finance. Pure behavioural finance. Here again, while the reviews were largely good, a couple of viewers, who basically did not get the formula right, ran down the Coppock oscillator, and the market from 6th of June is up 16%.
On 8th of May 2020, I recorded a video titled The Market Situation is Not as Bad as It Seems, based on four data points. I was actually accused of selling my soul to the editors of Equitymaster so as to entice subscribers to subscribe to services and make them go long. Incidentally, the market is up 26% from there on. So you know that the systems that I use, are a little off the beaten track. Nothing personal against guys who sent me negative comments. Please keep them coming. I thrive on your negativity also.
I love you guys, but what are these off beat systems that I use telling me now? That is more important. What is the outlook going forward? Are we in a market scenario where we should continue to ride the long and bullish wave? Or should we do nothing, sit on our positions or should be actually start short selling the market?
Well, we are not in a situation where you should be selling the market. I'm at least clear on that but this is a market where I would not like to do anything new.
In 2007, I used to in those days write a weekly column for DNA money and a daily column for Business Standard. Around August or September 2007, I wrote that the nifty would peak-out by 6,375. It actually made a peak in at 6,357. I was off by 18 points, but I was approximately five months early. What did I do?
I had learned lessons from the past. I have been trading this market since 1986. I have good milk run till that dotcom bust in the year 2000. I was travelling abroad to celebrate my wedding anniversary. I had huge long positions and the markets nose-dived after 16 March 2000. It's called the Dotcom bust. I almost went bankrupt. The lesson that I learned from this are hardship in life was that if you do nothing and if you pull your money out prematurely before a peak, you're still better off than the guy who is riding all the way down listening to Buffettology. I have nothing against Warren Buffett of Peter Lynch's ideas. I'm coming to that later. I have nothing against these guys, but if these guys are gonna ride the wave down, I would rather pull my money out maybe 5-10% earlier than the peak is made. Let the markets bottom out. I'll buy maybe 5 to 10% after the bottom is made, and thereby lose out a little on the top and lose out a little on the bottom, but net-net, I would not let my net worth go into minus. That itself will put me ahead of my contemporaries, my competitors, my cousin, my neighbour, who I envied and who I want to surpass in life. I simply get ahead by not losing money before a market collapse.
What do markets do when they come down? Let me give you a low down. This is not the first time that the markets have given us the impression that this time is different. The bull run is here to stay. Same voices, same talk, but nothing really changes. Let's take a look at the bank nifty. In January 2008, the bank nifty made a peak at 10,074, bottomed out in March 2009, at 3,314. It was supposed to be invincible. It only surrendered 71%. Only. The next time the bank nifty peaked out was in November 2010 at 13,303. It bottomed out in December 2011 at 7,766, thereby surrendering only 42% over a one year period. The next the bank nifty peaked out was in January 2015 at 20,907 and bottomed out at 13,407 in February 2016, thereby surrendering 36%.
Let's take a look at the Nifty 50, shall we? It peaked out like I said at 6,357 in January 2008, bottoming out at 2,252 in October 2008 itself, thereby surrendering 65%. November 2010, it peaked out at 6,338 and bottomed out only at 4,531 in December 2011, thereby surrendering 29%. In March 2015, the nifty peaked at 9,119 bottomed out in February 2016 and 6,825 thereby surrendering 25%.
Now, before you think it's only 25% or 65%, do remember, many of these declines have spanned over a year, and when you go long in futures, you have to pay cost of carry or financing costs. So every time you roll over your long positions, not only are you paying mark to market, not only are you paying span margin, but you are also incurring finance cost. So your loss will actually be much bigger than 25 or 29 or 62%. It will be at least at least 10 to 12 if not 15% higher due to financing costs.
Now, that is what can hit you when you hold on for too long and you ride the wave down. It's very nice to hear I am not scared of the market. If you cannot bear a 20% decline the very next day, after you buy stocks, you should not be in the stock market. I buy stocks, and I don't look at them for five years. Fine. Brave talk. Buy something and let it go down 5%. Believe me, you have to swallow your dinner hard. It doesn't go down the throat. It happens to me all the time.
Before you think that traders are not people who make money, and it's only the buy and hold Buffettologists who make big profits, let me remind you about the Robins Cup trading championship, where people like Larry Williams, who I am honoured to have met in person and have learned so much from, has taken US$ 10,000 and converted it to US$ 1 m in one year flat. He is the world champion winner of Robins Cup, and it's no coincidence he even trained his daughter, Michelle Williams, who is a Hollywood film actress, into winning this championship. So he has proved that these skills can also be taught.
It's not just buy and hold guys who know about money. We traders also know about money. So when we are telling you, when a trader is telling you that this is a phase, you need not necessarily liquidate your portfolio, you need not liquidate and short sell at all but it's probably not very wise to put in fresh money in to the markets.
I'm sure there would be a couple of people who think, I'm happening their joy. As a matter of fact, Jason Zweig, a behavioural scientist, has written an excellent book called your money and your brain. He says he has interviewed a lot of a game show participants and whenever the anchor think of KBC, Mr Amitabh Bachchan guiding the participant by telling him or her, if you do not know the answer, you can quit while you're still ahead by xyz amount, the participant at that point in time, faces a storm of emotions inside. So when Jason Zweig interviewed a lot of these participants after the show was over and the emotions had died down, said more than three-fourth of the people he interviewed in the game show, fell a great sense of anger towards the anchor because they failed the anchor by encouraging them to quit the show, was possibly denying them from being millionaires.
One friend of mine actually encapsulated the sentiment too very, very well by saying, Vijay, whenever I ask you for advice nowadays, you're telling me not to buy. Why are you keeping me away from me and my millions to be? So everybody is thinking of being a millionaire and caution is going out of the window. I am not telling you to sell. All I am telling you, hey, let's be careful out there. I am not keeping you away from your millions either but there are times when it is more sensible to not do nothing. Probably this is that time.
On this cautious note, I'll say goodbye in this video till we meet again in my next. If you're watching this video on YouTube, don't forget to click like on this video, if you agree with what you hear and see and subscribe to my YouTube channel. In the comments section, do let me know what you think about this video and what you want me to record in my next. Your flaming, you're trolling and your negative feedback is also welcome. It helps me learn more about myself. Let me reach out to more people who are interested in a 360-degree world view and knowledge based investment and trading regimen by recommending my video to your family and friends.
Till the meet in my next video, do take very good care of yourself, your health, your family and friends. your trades and investments. Have a very profitable day. Thank you for watching.
Warm regards,

Vijay L Bhambwani
Editor, Fast Profits Daily
Equitymaster Agora Research Private Limited (Research Analyst)
Recent Articles