The NASDAQ Whale Could Harm Your Portfolio
Sep 7, 2020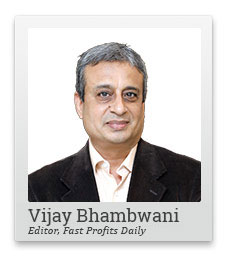 The stock market has rallied a lot recently. The Indian market has followed the US market up ever since the bottom in March.
But not everyone was gung ho about the market. The volatility has been extreme. I have warned you about the rally running out of steam.
Now we could have a trigger for a correction.
It has been discovered that Softbank was driving up the prices of select stocks in the US market.
If the biggest buyer stops buying, how can the rally continue?
In this video, I'll tell you all you need to know about the NASDAQ whale and what you need to do to protect your portfolio.
Hi, this is Vijay Bhambwani here and I'm back in this video to update you about something which is very critical that has occurred in the market. I hope you're keeping your years to the ground and watching everything that concerns prices, the geopolitical situation, the real politics, the market internals, etc.
Now I was reading news online and I came across a news item which is, frankly, fairly scary. This is about how Softbank, which is now being called the NASDAQ whale, which used billions of dollars in its treasury, the sheer money muscle power, to basically bid up options of the FAANG stocks. FAANG stocks are basically Facebook, Amazon, Apple, Netflix, Google, typically a tech based rally, and because of the weightage that these stocks enjoy, they basically pushed up the entire market and the benchmark indices, particularly.
So a sense of a bull market was created by lifting up these five stocks and one entity, which is Softbank. Which is why the name the NASDAQ whale is given to Softbank. No, what exactly happens when such phenomena occur? It's very simple, actually. Would you like to sit on a one or two legged stool? Would you like to ride a two legged horse? Would you write to ride a bicycle with only one wheel? I'm sure, you'd say it's not safe.
Today at 5pm: Get the details of India's #1 defence stock
Similarly, would you like to buy in a bull market, which is made of a very narrow composition of the stocks that are rising? Do you the member the bull market in India that we had in 2017 and 2018 which came to a very abrupt end after the budget was announced in 2018. Now the entire period of 2017 to 2018 is called the 'paanch share ki teji' or the five stock rally. The most heavily weighted, the index heavyweight stocks, were basically were pushed higher, and your midcap, small camp portfolios were languishing in 2017-18. The feeling of, well being the feel good factor and it is called was unmistakable but when you looked at your portfolio valuations evening after evening, especially if you're holding mid and small cap stocks, was that of hey, it's not doing all that great, is it?
This is why a narrow rally is not really a very good sign. Unfortunately, the ongoing FAANG rally is not only narrow from the point of view the number of stocks that are rallying, but it is also narrow from the point of view of how many people are pushing up the price. One guy. So if this one guy stops buying or something goes wrong, which, ultimately, invariably, things do, the rally could come down. If some of these five stocks start falling, the rally could come down.
I play by statistics because I feel statistics do not bring over a hangover of emotions. Now, statistically speaking, narrow rallies have a short shelf life, and unfortunately, the fallout of narrow rallies tend to be a lot more vicious. So in continuation of my last week's video, that I was talking about how you should, it makes actually more sense how you should exit from the market, even if you feel it's premature to do so and the peak has not been reached, rather than ride the down wave and let the stocks fall all the way and say, okay, I got these stocks with the 5 and 10 year view and I'm not gonna get wanted about a 10, 20, 30, 40% decline in my portfolio. Brave talk but believe me when your see a portfolio go down, the food doesn't go down the throat in the night.
Be very careful about at least not enhancing fresh long positions. If it all you decide to give my advice of live by, it's your choice. Of course you can disagree with me. You can choose to disagree with me. I welcome that but I would caution you from at least not buying more, because this rally is not only very narrow, but now the discovery of the NASDAQ whale makes it a lot more vulnerable. The law of the jungle applies when people smell blood. Invariably when we see one shark wounded or a one single big whale or any other creature in the jungle or in the ocean wounded, the others come and feast on him. I have a feeling that that vulnerability could be around the corner.
Not that I want the market to go down. I'm a trader. I'll start playing the markets on the long or short side, depending on which way the market looks like for today. To me doesn't make a difference. But if you're a portfolio investor, I feel I owe you this advice of being cautious. So hey, let's be cautious out there. There's a NASDAQ whale out there and the rally is pretty narrow.
On this sombre note, I'll say goodbye to you in this video till we meet again in my next. If you're watching this very on YouTube, don't forget to click like on this video and subscribe to my channel. In the comments section, do let me know what you think about this video and what you would want me to record in my next.
Also help me reach out to fellow traders who believe in knowledge based trading and investment and a 360 degree world view of the financial markets by recommending my video to your family and friends. Do take very good care of yourself, your health, your investments, trades, friends, and family, Have a very profitable day. Vijay Bhambwani signing off for now. Thank you for watching my video.
Stay safe and have a very profitable trading day!
Warm regards,

Vijay L Bhambwani
Editor, Fast Profits Daily
Equitymaster Agora Research Private Limited (Research Analyst)
Recent Articles