What is the Dabba Market?
Sep 8, 2020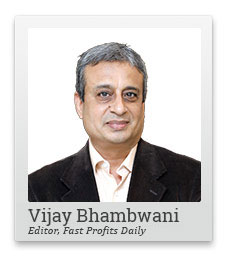 This is a topic that has been trending on the internet recently. I own my viewers an explanation about this undesirable aspect of the market.
I would like to make it clear that I am not encouraging you to trade in the dabba market.
In fact, I hope this video has the opposite effect on my viewers.
I do not endorse the dabba market and I hope you don't either.
That being said, I know there's a desire among many traders to know what this market is all about.
If you're one of them, this video has the answers.
Hi, this is Vijay Bhambwani here, and I hope you're doing well in the markets. You're earning good profits and the markets are treating you well.
This video is about an aspect of the market which some of you might be aware about but I am sure a majority of a participants in the market are not aware of the full facts on this issue.
Today morning, I happen to scan through the news and a leading pink paper has mentioned that recently they have observed a lot of participants are tending to basically skew towards that dabba market or the dabba trading market. What exactly is this dabba trading? What are the mechanics and what makes it go? I took a deep dive on behalf of my viewers so that I could present the facts to you.
AI is the Future: Here's How to Play this Opportunity in India...
The first and foremost thing that I would like to begin with in this video is that dabba trading is not recognised, encouraged or even legal as per the Indian laws. So this is a form of trading where transactions are off the books, do number, black money, call it what you want and therefore, is not disclosed in your IT returns. Which is why the government does not recognise it, does not encourage it, and deems it illegal.
How does it go and what really happens, and why does it happen? First in foremost a dabba trade is a trade which is of the exchange and therefore the participant has no right to redressal or to complain to anyone about. Secondly, all the payments given and taken in cash, which is of the records. Thirdly, in most cases, the guy running the dabba operation on the illegal trading operation, does not charge you a span margin on mark to market money etc. He might insist on a lump sum token security deposit and after that, you get to trade or you want.
Since there is not trading on the exchange, there is no STT or any other charges involved. Which is why people get tempted to try this out and this is where the problem starts. I'm using the word problem here.
Now there are two types of dabba operators. One is somebody who actually initiates your trade in the exchange but does settlement with you in cash. Which means there is actual money involved on his books and he is investing in span, margin mark to market margin and therefore, he charges you a higher brokerage on this kind of dabba trade. You're the only guy who is paying in cash. Somewhere or the other, the transaction is appearing on his books. Now this guy is actually taking a risk and therefore to reward himself for taking the additional risk charges you full brokerage.
Then there is the other guy who does not enter the transaction into the exchange servers itself. Therefore, no transaction actually takes place. He is your counter party. Now what is the concept of a counter party? I have explained to you the snap quote window, and the quick market view window which you get to see when you click on F5. There are five best buyers, five best sellers. Now many want to buy, you need a seller to sell to you, so that you can buy. So when you are a buyer, the seller is your counterparty. He is the guy who you buy from.
So assuming you want to transact in the dabba market and if the trade is not going through the exchange, your counter party is the dabba operator himself. Now, since no transaction actually goes through the exchange, he does not be any span margin, he does not make himself susceptible to mark to market or pay any brokerage to any broker. This guy is taking an additional amount of risk but making no capital involvement. In that case, he might charge you a whole lot less brokerage but this is more dangerous. I must warn you this is dangerous. There is actually no transaction taking place.
There are instances where I've heard since no transaction has actually taken place in the server and when the client is actually losing money but not yet squaring up or even if the client squares up at a loss, these guys even give you credit. Why? Because, hey, he never needs to pay anyone at all. No transaction actually took place. So which is why he is giving you credit. He can afford to because he is your counter party and he's going to keep that money.
Compared to this guy, the dabba operator who initiates a trade into the exchange is taking a bigger amount of risk and charging you higher brokerage. There the possibility of things going very wrong, are fewer, relatively, and remember, it is still illegal. I am not, I repeat, I am not encouraging you or trying to entice you into dabba trading.
What happens when the guy who you owe money to and has given you a liberal amount of credit and you do not happen to pay? Remember, this is like gambling den. This is where things can get ugly. Recovery agents might come to you. This is an aspect which people don't really think before rushing headlong into something that they should not be doing. Now, when I said I will explain to you what can go wrong, this is what can go wrong. Enforcement agents, recovery agents, etc, might just start knocking on your door.
Secondly, if it all you happened to make money consistently, there are chances and I've heard reports from people, remember having spent 34 years in the market, I know how to keep my years to the ground and get information or market intelligence as it is called, from the system. So I have heard reports where a trader who makes consistent amount of money and in case he is transacting in this illegal market, the dabba operator gets tired of paying him and my just say, okay, I'm not paying you go do whatever you want. Can you actually enforce it? No, because there is no contract. There is nothing in writing. The entire trade itself is a lie. This one more reason why it's a perfect example of what not to do, right?
Now, why does it thrive? Why does it survive? Like I said, no margin and therefore the weaker hands have a method of participating in the market and human nature being imbibed with greed, you're hearing stories of people making money or rather minting money off late, day after day, buying in the morning, selling in the evening or selling in the afternoon, and you get a feeling of being left out or FOMO as it is called - Fear Of Missing Out. You want to participate, but you don't really have enough money to pay margin in a broker's account and then trade. So this is where people get sucked in. Unfortunately, it is these very weaker hands who do not have recourse to remedial measures.
This is why you should not be doing it and time and again, both the National Stock Exchange and Securities and Exchange Board of India has been issuing advertorials in the leading business papers that this is something you should not be resorting to but this market does exist and I told my viewers and explanation or a narration of what it's all about.
Can this market actually impact prices? It is very difficult for somebody to conjecture. Remember, we are conjecturing because nobody knows the extent of the turnover, the exact amount of money being given and taken because it's all hush hush.
But since a limited amount of trades do go through on the exchange servers, many of them are where the dabba operator is your counter party, since the limited amount of money does go through the exchange servers, then might be a slight impact on prices. There is no mark to market system of payment except on Friday. So the closing price of Friday, determines whether you are going to have a debit or a credit. This is in sum and substance what the dabba market is all about. You and me as legitimate taxpayers as common citizens in this country, will obviously choose to trade through a recognised stock exchange or RSE platform, through a SEBI registered broker, and will insist on a contract note, a proper bill and all communication in writing. That's the way to go forward and to actually make profits or losses, which are recognised and accepted by your assessing officer, when you file your income tax returns.
Let's play safe. Let's be on the right side of the law. With that, I bid goodbye to you in this video till I meet again in my next. Do take very good care of your trades, your investments, your friends, your family, and have a very profitable day. In case you're watching this video on YouTube, please don't forget to click like on this video and subscribe to my YouTube channel. In the comments section, do let me know what you think about this video and what you would want me to record in my next.
Also, let me reach out to your fellow traders who are interested in knowledge based investments and trading by recommending my video to your family and friends.
Vijay Bhambwani signing off for now. Thank you for watching my video. Bye.
Stay safe and have a very profitable trading day!
Warm regards,

Vijay L Bhambwani
Editor, Fast Profits Daily
Equitymaster Agora Research Private Limited (Research Analyst)
Recent Articles