Big Bang Banking Reform
Sep 9, 2021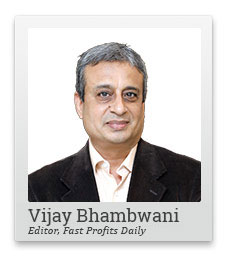 Have you heard about the huge reform in the financial sector?
Perhaps you did but didn't think too much of it.
Well you should because it has unlocked the doors to a lot of long term profits.
I'm talking about the change in settlement timings on the exchanges from T+2 to T+1.
This is huge.
And it's not a stock market reform either. It a major banking reform which is great news for investors.
Find out why in this video.
Hello friends. This is Vijay Bhambwani here, and I hope you're doing great in the markets and my videos are helping you decipher the markets better.
You see recently SEBI announced its freedom to the exchanges, which makes this optional of course, freedom to the exchanges to determine if they wanted to move from the T+2 settlement system to T+1.
T stands here for transaction. Currently in India every day is a new settlement and if you were to buy shares on a Monday on T+2 which is transaction day, which is Monday plus two, which means Wednesday, you will get the delivery of your shares in your demand account.
EV Stocks: Make a Fortune from Automobile Sector's Colossal Disruption
Alternately, if you sold your shares on Monday, you would receive the money in your bank account on Wednesday, which is Transaction day plus two days.
Now, this is being shortened to T+1. So if you buy your shares on Monday, you will get delivery on Tuesday, and if you sell your shares on Monday, you will get your money on Tuesday. Many have not yet understood the implications of the huge impact it will have in the markets.
Let me take you back in time when people like me who have been around in the market for years, as a matter of fact I have completed 35 years in the market, when we wanted money in our bank accounts to be credited faster, we opened accounts at Flora Fountain and in that vicinity of a kilometre of kilometre and a half, which is Flora Fountain Churchgate and at the most Nariman Point.
If you had a bank account in that area, if you were depositing a cheque for over Rs 1 lakh which was termed as high value cheque, provided that cheque was issued of also from a bank of back particular area, which is Nariman Point, Flora Fountain, and Churchgate, the money would be transferred to your account on the same day, provided the cheque was deposited in your account within 15 or 20 minutes of the bank opening.
Now this was something that we would give our right arm and a leg to achieve. As a matter of fact, if we received a cheque during banking hours from somebody but after the 20 minute time frame was over, we preferred not to bank it on Monday, but bank it on Tuesday in high value clearing, which is within the first 15-20 minutes of the bank opening, and have it credited on Tuesday itself rather than bank it late on Monday and have the cheque credited on Wednesday. So in India, the clearing time used to be the third working day.
The very fact that SEBI is telling you that we are ready to move to a T+1 rolling settlement system cycle, tells me that the future is here in Indian banking. This cannot be made possible unless the banks are now all ready to clear your cheques on day two, which means if you deposit a cheque on Monday, it gets credited into your account in the banking hours on Tuesday, rather than early morning on Wednesday.
Some of you may still not be clear as to what it mean and what is the huge implication, huge magnitude of this move. Allow me to explain.
When money moves fast from location A to location B, it can be rotated faster. So turnaround time or cycle time of money is smaller and therefore more transactions with the same amount of money can occur. Very Simply put, this is a massive GDP booster.
Secondly, you need not open an account at Flora Fountain, rush to the bank to physically present the cheque at 9 am or between 9 and 9:15 am, so that it goes for high value clearing. Anybody sitting in any part of the country can avail of this quick clearing system.
As a matter of fact, in the US, you can have your cheque credited to your account on the very same day late in the evening. The fact that you're NEFT which is online transfer of money less than Rs 2 lakh, the fact that your NEFT hours have been substantially extended, tells you that banks are now preparing to fight the e-wallets or the online or mobile transfer of money platform head to head.
This means earlier, I was fearing that banks would lose a certain amount of business to the e-wallet payment system, which means people would use their Paytm or Phonepe or Google Pay, Mobikwik, God knows what else, and abandon the banks, but with the banks moving closer and faster, thanks to longer hours of NEFT, immediate transfer of money through RTGS or real time gross settlement system, and now quicker credits, which means that T+1 is now happening.
If you read the tea leaves of the market, extrapolate this, you have to abandon the psychology of looking at the markets between 9:30 am to 3:30 pm. Long term is not the tip of your nose. Long term is actually long term. So condition your mind to think far into the future.
You see, on 13th of August, when I made that video about these are the shares to buy for the future, that video received a lot of views and many people criticised that video because there was not a single stock name. They thought ours resorting to click bait. I was baiting you with an attractive title but giving you nothing in return.
I am sorry but that's not the point. You guys are not getting what I was giving you. I gave you ample investment ideas. Some guys suggested that if you're saying online is the way to go forward and you should be with companies that are taking their business online, for example pharmaceuticals, I mentioned some names, he said my friendly neighbourhood pharmacist, is the chemist is giving me a 20% discount, just as the online a seller is giving me.
Fine but your friendly neighbourhood chemist will not come out with a public issue. A Tata backed or an Ambani backed online mobile app, 2, 3 or 5 years down the line, will come out probably with a public issue, and at that point in time, you will be rushing to buy the shares.
We, in the business of investments and trading, are looking forward to opportunities that will make us make money. So chances are that the medicines that you pay for will probably be funded by the profits that you make from the stock of these companies.
So, of course, this is not a critique of people who are passing this comment. Good, bad or ugly, I always welcome your comments. Please keep raining on my parade. I'm open to it.
So what is happening is that the Indian banking space will get a major booster shot and which is precisely what I am seeing on my terminal screen as I record this video on a Tuesday afternoon, which you will be seeing my dear viewer, on Thursday on Equitymaster's YouTube channel, post editing and post production work, etc.
I'm seeing that the Nifty is rather rangebound and the Bank Nifty is leaping in leaps and bounds. People who understand the implication of this thing that T+2 is being modified to T+1 have realised that this is not, I repeat, not a stock market settlement system announcement but this is more of a banking system announcement.
Professor Ramcharan, he is a management guru by the way, has said the biggest revolution to occur in the Indian marketing fields was the sachet system of the FMCG. You know, the Re 1 sachet of a shampoo. You barely get a few drops to pour into your palm and shampoo your head but it's one buck.
So you suddenly get into markets which were hitherto not available to you. Now that the banks are willing to fight with the e-wallets, they can penetrate India into the hinterland in what the RBI and the Finance Ministry call financial inclusion.
A lot more people will be able to shift money from point A to point B. Think of your domestic help transferring money to his remote village in Bihar, wherever. Think of a migrant labour who wants to send money to his wife and kids. He doesn't need to depend only on Paytm or Mobikwik or Google Pay anymore.
The bank will look after him just as the FMCG company sells that Re 1 sachet as passionately as a 500 ml bottle of shampoo. To me, this is big news, and I am already looking at the future 10 years down the line.
Which is why, in addition to the 13th of August video, which said these are the long term stocks to buy, on 3rd September I recorded a video, which again a lot of people misconstrued, when I said that the next decade belongs to the bulls.
The next decade will belong to those stocks which are focusing on financial inclusion, which are telling people even if you have Rs 50 to deposit and if it is going to lie with me at relatively small amounts of interest I will pay you or preferably zero interest, which means the float of these companies will run into thousands of crores, they have the muscle to basically move large sums of money with the RBI and impact everything from the bond market to the interest rates that NBFCs charge you for buying your water purifier, air conditioner or washing machine down to the guy who wants to send Rs 100 to his wife just as a shaghun for some religious ceremony.
This is the future. This is a big game plan. The big picture. Instead of focusing on names of stocks, look at the big picture. When you see the big picture, a 200 point fall on the Nifty suddenly starts looking small.
This is the perspective that I gained after being in the market for 35 years. Yes, today's problems do look big because it impacts your P&L today. But five years down the line, when you see back at what you were thinking, it will look like a storm in a teacup. Don't look at the storm in the tea cup. Look at the skies because that's how big the market is going to be.
On this confident note, I bid goodbye to you in this video, not before reminding you to click like on this video if you agree with what you saw. Click on the bell icon to receive instant alerts about more videos being put up out here and subscribe to my YouTube channel if you haven't already done so.
In the comments section, good, bad, ugly, love, hate, I welcome everything from you and help me reach out to fellow like-minded investors and traders by referring my video to your family and friends.
I wish you have a very profitable day my friends. Thank you for your patience and watching my video. Take care. Bye.
Warm regards,

Vijay L Bhambwani
Editor, Fast Profits Daily
Equitymaster Agora Research Private Limited (Research Analyst
Recent Articles