Alpha Waves for Rapid Gains
Sep 11, 2021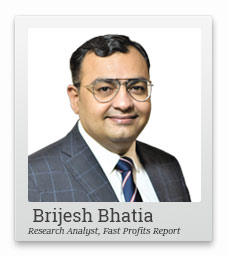 In the fourth video of this series on creating a second income from trading, I'll tell you how I discovered the secret to consistent profits.
By consistent profits I mean, making regular income from trading no matter the direction of the market - up, down, or sideways.
It took me about 10 years of research to crack it but I was able to finally develop my trading system.
Watch the video to find out more.
Hello viewers.
Myself Brijesh Bhatia.
Welcome to our series on 'Creating a Second Income from Trading'
In the previous video of this series, we saw that based on my extensive range of experiments...
I found that the best window for successful trading is around 2 to 3 weeks long.
Because this is the time-frame where you get to ride what I call an 'Alpha Wave.'
Alpha Wave is the foundation of my proprietary trading system.
Once you understand alpha waves, you can make the market work for you.
Today, I will tell you about how I discovered these Alpha Waves.
And how you could use it to potentially add tens of thousands of rupees to your income... every month...
You see, in the early days of my trading career, when I looked at the stock prices, I would wonder...
Why is this stock moving up for no reason?
Why is that stock falling?
Is there a way I can identify these rises and falls in advance?
It was like a puzzle for me. And I was determined to solve this puzzle.
I spent countless hours on research and studying.
But even after spending months, I couldn't find anything substantial.
I tried almost all the trading techniques available out there. But nothing seemed to work as I expected.
It was all noise in the market.
Just random up and down movements of stock prices. With no clear pattern.
Finding a strong signal amid this market noise was like finding a needle in the haystack.
It was very frustrating.
At one point, I felt like giving up.
But one day, I stumbled upon a very old book. It was probably a hundred years old.
The author of this book had written about some trading strategies.
At first glance, it felt ordinary and mundane. I thought, well there is nothing useful here.
But somewhere in the middle of the book, there was a mention of a trading technique that treated stock price movements as waves.
It was written in a very cryptic way.
I scoured the internet and my library to find anything I could about this technique.
But I couldn't find any definitive source.
So, I dug deeper myself. I started doing more and more research on this wave technique.
I discovered that stock prices move in waves. Sometimes in small waves... sometimes in big waves...
The small waves are just noise. Most traders get caught in small waves and lose money.
If you want to make big money with trading, then you should be able to spot these big waves.
Or what I call the alpha waves.
When a stock is in an "alpha wave", it makes a big move in a very short period of time.
Giving you a window of opportunity to cash out with sizeable gains, quickly.
Let me show you the money-making potential of these alpha waves.
Rs 20,028 in 12 days
Rs 48,392 in 20 days
Rs 55,856 in 12 days
Rs 85,977 in 9 days
Or even a whopping Rs 1,03,095 in 22 days
Just 3 to 5 trades like these are enough to create a second stream of monthly income.
My trading philosophy is, 'Trade Less, Make More.'
And I have developed my trading system around the same philosophy.
It pinpoints only a few trades... but most of them have the potential to generate thousands of rupees in just a few days.
Which could potentially translate into a healthy monthly income.
At my Alpha Wave Profits special event going LIVE on 14th September, I will show you how you could create a second stream of income for yourself.
And potentially ADD tens of thousands of rupees to your income... every month...
Irrespective of whether the market is going up or down.
You can find the link in the description to join my event for FREE.
In the next video of this series, I will tell you how I packaged everything I learned from my 10+ years of research into developing complete trading system.
A system that one could use to potentially ADD tens of thousands of rupees to his or her income... every month...
Irrespective of whether the market is going up or down.
So stay tuned. See you soon.
Signing off.
Warm regards,

Brijesh Bhatia
Research Analyst, Fast Profit Report
Equitymaster Agora Research Private Limited (Research Analyst)
Recent Articles