Perfect Timing: 16% Profit in Just 6 Days
Sep 14, 2020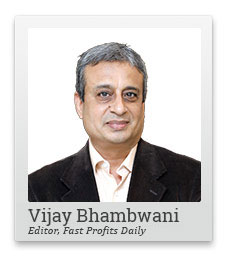 We closed our latest trade in natural gas a few days back.
I recommended booking about 16% profit. The trade was open for just 6 trading sessions.
Some of by subscribers were unhappy that I waited so long to recommend this trade. They had tasted profits in natural gas futures in my previous trades and were eager for more.
That's completely understandable.
But in the volatile and highly competitive global market for commodities, timing is everything.
In this video, I tell you how we got the timing just right.
Let me know how this trade worked out for you.
Hi, this is Vijay Bhambwani here and I come back with you to discuss about the latest trade that we close in the Weekly Cash Alert.
I have been a kind of giving you a heads up on next possible trade in natural gas futures and last week we managed to wind up a trade with a near 16% rate of return in eight calendar days, of which two were holiday Saturdays and Sundays. So six trading sessions, 16% plus returns. How did that come about? Why did I do that trade and why did we get out so early?
First of all, I can understand that my Weekly Cash Alert and subscribers were a little edgy, a little impatient about why I was not recommending a trade and I was sitting on the decision. In my previous videos I've updated you about the Narrabri project in New South Wales in Australia, the explosions in Damascus, the issue of Dominion Energy which the Oracle of Omaha has purchased and of course, the new gas find in Turkey.
UNLOCKED: Up to 3x More Gains During the Corona Crisis...
Now the hurricane season happens to be the latest potboiler, or the melting pot in which there is another variable, which is beyond our control. Seven more hurricanes are likely to hit the US coast and these can disrupt prices significantly. So you see, I have wanted to wait for the absolute right moment. Of course, it's a judgement call. I wanted to wait for the right moment before I exercised an option to short and then I wanted the waiting period between the initiation of trade and exit from the trade, the ingress and egress, to be as short as possible.
That serves two purposes. It keeps the waiting period small and therefore gives you less amount of stress. The element of surprise, the element of negative surprises, bad news, hurricanes etc would be cut down shorter. Which means you're mark to market that you would have to pay would have been far shorter and smaller.
Which is exactly what happened. We entered on third of September and in the late evening, on 11th of September, Friday, we exited those natural gas positions. Could I have recommended this trade earlier and could it have made profits? Yes, I would have recommended this trade earlier, but you would have had to face the prospect of seeing the price go up first, and I would have basically recommended that you would pay mark to market rather than square up this trade.
Now that would have driven you into a state of a little more stress. Obviously, you would have to write out a cheque to the broker. Remember, a mark to market margin is like a loan. You're giving it temporarily to the market, to the broker. When you square up this transaction, the money comes back to you but at the same time, it is definitely and out go from your bank account, Which means your rate of return on capital that you deploy in the trade happens to fall.
So the waiting period is longer. Your investment becomes bigger. Your rate of return falls. I don't know why you would want to do that. So all I would request you to have a little faith in me and my sense of timing rather than pushing me into a trade. I'm watching out on your behalf for any fresh opportunities, and I have absolutely no hesitation in alerting you to a fresh trade at a moment's notice. I gain nothing by holding back of fresh trade from my subscribers and all that ends well is a happy ending.
My subscribers would have noted that in the first half of this financial year we are actually winding up with 30% plus gains in these trades. Typically, they have all been natural gas because crude oil has been out of the reckoning thanks to the 100% margin and the negative pricing on the April expiry. So a win clocked 30% plus profits in the first half of financial year 2020-21 as compared to a net loss at this time in financial year 19-2020.
I assured you that financial year 2020-21 would be far better than financial year 19-2020 and, God willing, we are on track because the first half has gone well for us. Typically speaking, as long-term investors in the Weekly Cash Alert, subscribers would have noticed, the second half of the financial year tends to be better and more frequent where trades are concerned, as compared to the first half.
So well begun is half done. We already are three-fourths of the way of the annual profits earned last year in the first half of this year itself and the second half, God willing, promises to do even better.
On this optimistic, positive and very, very favourable note, I bid goodbye to you in this video till we meet again in my next. If you're watching this video on YouTube, please don't forget to click like on this video and subscribe to my YouTube channel. In the comments section, do let me know what you think about this video in what you would want me to record in my next and help me reach out to fellow traders who are interested in a 360 degree approach to the financial markets and knowledge based trading.
Do take very good care of yourself, your health, your investments, trades, friends, and family. Have a very profitable day in the markets. Vijay Bhambwani signing off for now. Thank you for watching.
Stay safe and have a profitable trading day!
Warm regards,

Vijay L Bhambwani
Editor, Fast Profits Daily
Equitymaster Agora Research Private Limited (Research Analyst)
Recent Articles