Our Next Trade Could Happen Soon
Sep 15, 2020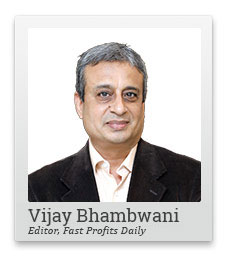 A couple of weeks ago, I recorded a video about the potential of seven tropical storms making landfalls in the US.
Well, one of them might just give us our next fast profits opportunity soon.
Hurricane Sally will hit the US gulf coast tomorrow. It has already caused disruption to the crude oil and natural gas markets.
This could trigger a short-term move in prices. We should be ready for it.
In this video, I'm laying out my plan for my subscribers.
Hi, this is Vijay Bhambwani here and this is an update on my recent trade on natural gas, which we successfully closed on the 11th of September, which is Friday, after having entered on 3rd of September in the previous week.
Now, a lot of my Weekly Cash Alert subscribers have asked me as to why after initiation in the forward months, did we actually square up in a hurry?
Last 2 Days: Discover India's #1 defence stock now
If you remember a couple of weeks ago, I had recorded a video about a potential of seven tropical storms hitting and making landfalls in the US mainland and of them, one of them, Tropical Storm Sally, is now having crossed over Florida is preparing to make a landfall, to the extent that Chevron Corporation and Murphy Oil have actually, I kind of evacuated their oil and gas platforms to avoid a potential loss in life and BHP, BP, which is British Petroleum, Royal Dutch Shell and Hess Corporation are also on standby having kept only skeletal staff on their oil and gas installations. They are likely to evacuate under a moment's notice should push comes to shove.
Now, in such a kind of volatile scenario where weather of course, as you know, is under control of nobody. It's a variable that can actually give you a very nasty and sudden surprise. I decided it would be prudent to lock in 16% profits since it was available in such a short period of time. To keep things in perspective, it would take you three years in a bank fixed deposit to run that kind of return and here you are, making it in a little over a week and that too, when a tropical storm is actually approaching the US mainland.
If it all prices do go up, which I think and I suspect they will because Sally is expected to, if the weatherman out there are to be believed, Tropical Storm Sally may just turn into a hurricane and devastate the coast with wind speeds of 80 mph, of which is roughly 130 kilometres per hour. This storm can potentially disrupt oil and gas installation, which will take weeks, if not months, to put back in 100% capacity utilisation all over again.
Now, just to make just to put things in perspective, why is the Gulf of Mexico so important to the US. This location, this geography produces 17% of all US crude oil and 5% of all US natural gas. Last month we had Hurricane Laura, which devastated the coast, and it caused a disruption or shut down of 1.5 million barrels of oil per day and that's how big the loss was. Which is why you saw prices of oil spike up temporarily in spite of the fact that the Saudis have been cutting the OSP of the official selling price. So we took a calculated decision to get out of the natural gas trade at the 16% profit, although it has the potential to give us even more but why not just enter at higher levels and make even more money on the next trade?
That is what I have in mind. So Weekly Cash Alert subscribers get ready. Fasten your seatbelts. You might just get a new trade pretty soon but like I said, hurricanes are under control of no one and we'll have to take things as they go. I am keeping my ear on the ground for you, and I'm gonna watch out for the trading opportunity as and when it comes. You just have to pull the trigger and initiate the trade.
On that optimistic note, I bid goodbye to you in this video till we meet again in my next. If you're watching this video on YouTube, do let me know what you think of this video in the comments section. Also subscribe to my YouTube channel.
Help me reach out to fellow traders who are looking for knowledge based investments and trades by recommending my video to your family and friends and join Equitymaster's a telegram channel with the handle Equitymaster official, wherein I post three updates Monday to Friday, post market hours, which will help you become a better trader. Vijay Bhambwani signing off for now. Do take very good care of your health, your friends, your family, your trades, your investments. Have a very profitable day. Thank you for watching my video.
Stay safe and have a great trading day!
Warm regards,

Vijay L Bhambwani
Editor, Fast Profits Daily
Equitymaster Agora Research Private Limited (Research Analyst)
Recent Articles