What Do the Charts Say About Buying Smallcaps Now?
Sep 18, 2020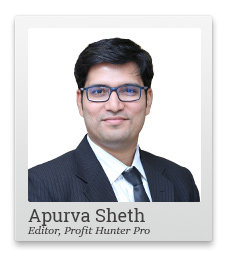 The number one question in the market these days is about which smallcap to buy.
This is understandable. The market regulator's recent rule on multi-cap mutual funds has been a sentiment booster for smallcaps.
But does this mean you can buy any smallcap you like?
No. That will only get you into trouble.
What do the charts tell us about buying smallcaps now? Should you buy now or wait? What are the gains you can expect?
I'll answer these questions in this video. Check it out.
Let me know your thoughts in the comments. I love to hear from you.
Hi, I'm Apurva Sheth and welcome you to this latest edition of Fast Profits Daily.
So, friends, over the last couple of weeks, we have been seeing the eight year cycle in Sensex and how the eight year cycle impacts Sensex, various sectors as well as stocks.
Now last week, we saw how you could use the Maslow's need hierarchy model to identify multibaggers in Sensex. Now, over the last few weeks that have spoken about the eight year cycle, there have been some queries. I will address these queries in my video of next week. Today, I want to cover something very important. I would like to say that it's a burning issue right now.
Free Signup: Learn how India is poised to emerge as a global power
So friends, last Friday, the market regulator came out with certain rules regarding the multi-cap schemes of mutual funds. A lot has been written about the new rules and how it could impact small-cap stocks. It's been said that there could be a lot of buying in the smallcap space going forward. So the new rules come to play by February 2021.
So funds will either have to change their names to suit what they are doing, or they have to keep their names, are multi-cap schemes and actually make it a multi-cap strategy by also including at least 25% of small-cap stocks in their portfolio. So over this week we have seen that lot of brokerages and people who are followed on Twitter or social media pages have come up with their own list of small-cap stocks and how this could benefit these various companies.
Now I am seen certain frenzy in retail, especially in the retail audience, who don't know much about the regulations or don't know much about how the smallcap space works. So I want to actually warn this audience. Although these things are good for small cap space, it does not mean that each and every small-cap stock will see a sharp rally.
In fact, small-cap stocks have already gone through a good up move and there could be chances that they may consolidate. So I'd like to show you first why there is a chance that small-cap stocks could rally but before that rally there could be consolidation. So I'd like to show you why the small-cap stocks are placed much better than any other segment. In fact I even than a video and I have even written a few articles on why small-cap stocks is the space to be in 2020 and even beyond that.
So today, I would like to show you what I had written earlier in January, and I even came back with similar views on the smallcap space earlier in July as well. Now let's see what's there in smallcap space or why I am so bullish on smallcaps. But you should keep this one thing in mind. They have already run up quite a bit, and this there could be chances of correction or consolidation. So let's check out the charts.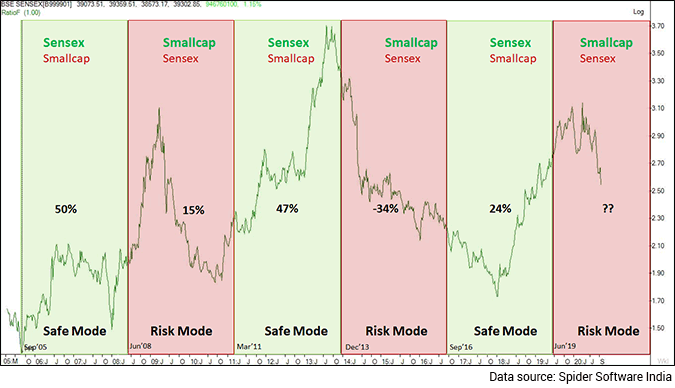 So, as you can see on your screen out here, this is a ratio chart of Sensex to smallcap. Now I have covered ratio charts in detail in my earlier video, you can check out it out here. Now what exactly are ratio chart? So basically what we are doing is that we're dividing the price of Sensex with smallcap index. So it's a simple thing. You can do it in an Excel itself. You can download the closing prices of the closing prices of Sensex and small index and then divide the prices and to get this ratio.
So as you can see out here, this is the ratio. Now I have combined two things in this chart. So first we are not looking at the traditional price charts. We are looking at our ratio and we are also using our greed and fear cycle which I have been talking for so long. So here, when we divide the price of Sensex to smallcap, we get this ratio. If the ratio is moving up, that means that the Sensex is outperforming the smallcap index and when the ratio is falling, it means that the Sensex is underperforming smallcap stocks.
Now out performance does not necessarily mean that only Sensex is moving up. It can simply mean that Sensex is more than the smallcap index and same case with underperformance. If the ratio is falling that does not mean that Sensex is falling. It could simply mean that small-cap stocks are moving more than the Sensex and that's the reason why it is underperforming. So this is relative performance and not absolute performance. So keep this thing in mind.
Now as you can see out here, the Sensex to smallcap ratio moves in a greed and fear cycle of 144 weeks. Now there isn't any magic number to this. I have simply observed this with trial and error and come up with this 144-weeks cycle. The greed and fear cycle started in September 2005. Sensex was in the greed mode or what describes this better is safe more and risk mode. So although I've marked it as green and red, but this means when Sensex stocks move higher, people prefer safety over taking risks and when small-cap stocks are moving higher, that means that people are taking more risks and would like to trade in small-cap stocks. So greed phase is safe mode for us and fear phase is risk mode for us. So now the Sensex to smallcap ratio entered safe mode in September 2005 and stayed there for 144 weeks.
Now, during this period, Sensex stocks outperformed small-cap stocks by 50%. The ratio turned in favour of small-cap stocks. The markets were in risk mode and people wanted to take more risks. So now, as you can see out here, smallcap is in green and Sensex is in red. This means that small-cap stocks should ideally outperform Sensex, but in this case, this is an exception wherein the Sensex still moved up by 16%. This is an exception which we can ignore.
Next, in March 2011, the ratio entered safe mode and here again, Sensex stocks moved up and outperformed the small cap stocks by 47%. The ratio entered risk mode in December 2013 and small-cap stocks outperformed Sensex. Now since in this case, we are looking at Sensex to smallcap ratio, the Sensex stocks dropped more than the smallcaps. So here as you can see, Sensex dropped by 34%. So on a relative basis, Sensex stocks dropped more than the smallcap stocks.
In September 2016, the ratio entered safe mode and Sensex stocks outperformed small-cap stocks by 24%. So if small-cap stocks moved by Rs 100 Sensex stocks moved by Rs 124. Now again in June 2019, this ratio has entered risk mode, which means small-cap stocks are likely to do well and so far, we have seen that small-cap stocks have already started out performing the Sensex stocks. Now this ratio will stay in risk more till March of 2022. So this means that there is still a long enough period for small-cap stocks to catch up or to move higher.
Now over the last 5 to 6 months since the market bottomed out in March, we have seen that small-cap stocks have rallied exponentially. They're up more than 60-70% from their bottoms. So now since after this news hit the markets that the multi-cap schemes will have to add more small-cap stocks to their portfolios and after this, there has been a lot of excitement in among the retail players or among the brokers who have been pitching small-cap stocks and because of that reason, smallcap index was up almost 4 to 5% on Monday. This is the largest gain in the last five years in the smallcap universe. Now it is good that there is this excitement, however one should the keep in mind that the smallcap index is already up a lot from the bottom.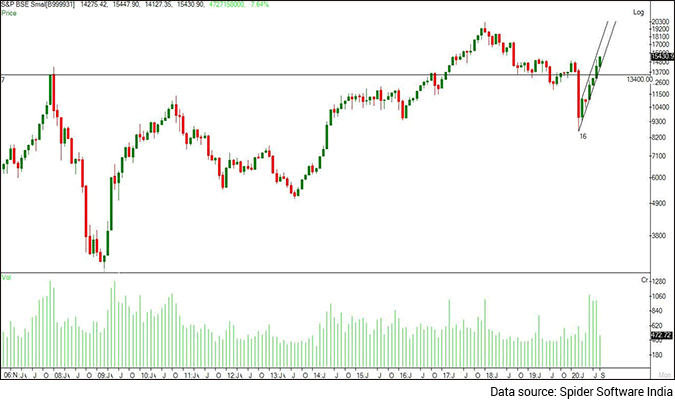 Now, as you can see, this is the chart of smallcap index. The index as you can see, is all already up more than 70 to 80% from its bottom. So as you can see out here, the base was somewhere closer to 8,500 and right now it is trading close to 15,430. So it's already up 80 to 90%. Now one more thing that you can observe, let me just zoom in to the chart so you can see much more closely. The smallcap index, except for this one red candle in May, the index has been on a winning spree for the last five to six months from April, May, June, July, August, and this is in September. So the index is on a winning spree and the rally is exponential. Obviously, the fall was also a large one and we have seen that sharper is the fall the sharper is the rally. So that's there. The index has moved up.
However, there is a lot of frenzy in the markets and you could say that shady stocks with no fundamentals have also started moving higher and people been pitching these kinds of stocks. So you need to be cautious and you also need to keep this in mind that the index has already moved up 80 to 90% from its bottom. So you don't have a go overboard. Yes, there is this positive environment for small-cap stocks, but you need be rational and make proper decisions when it comes to smallcap space. You have seen a lot of small-cap stocks which were promising, which we're supposed to be good are not existing anymore. So you don't want to be in a situation where you end up buying shady small-cap stocks.
Now, apart from this, there are also a couple of things which the markets may be ignoring right now. So one among them is the US presidential elections, which will happen on fourth of November. Now they could be some volatility in the global financial markets around the US elections. Apart from this, there is also geopolitical tensions. Apart from that coronavirus cases have been increasing day by day. Israel is going for a complete lock down for 21 days. There is this second wave which is happening in Europe. So apart from that, the economy is still recovering. So a lot of these things are there, which could have an impact on the markets and as you can see, the smallcap index has already moved up sharply.
So the best way would be to go for only for quality stocks and even for them if they have run up a lot and valuations do not fit in, then you can wait for some corrections. Now, in the past, I have recorded a video wherein I showed how 50% retracements are excellent buying opportunities in the markets.
Now, the smallcap index may or may not retrace by 50%. However, there is this support level of around 13,000-14,000. This was the previous top for the smallcap index. So that could be one place wherein you could identify some opportunities. So don't go overboard and wait for some consolidation of corrections before you enter the smallcap space and remember that there is a long period for the small-cap stocks to do well. So if you haven't bought any of them yet, then you may be feeling the fear of missing out. You may be feeling FOMO. However, the best approach is to wait with patience. The markets will give you an opportunity.
So that's what from me for today. I hope you enjoyed watching this video. If you did, please hit the like button, share it with friends and family members and also subscribe to our channel. Also, don't forget to join our telegram channel wherein I post regular updates about markets. So that's all from me for today. Thanks a lot and have a nice day.
Stay safe and have a great weekend!
Warm regards,

Apurva Sheth
Senior Research Analyst, Fast Profits Report
Equitymaster Agora Research Private Limited (Research Analyst)
Recent Articles