An Important Hurricane Update for Energy Traders
Sep 22, 2020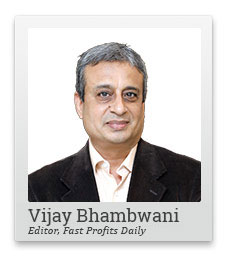 As your editor, I've promised to keep my eyes and ears open to the latest developments in the world of commodities and send you timely updates.
My subscribers have had a string of profitable trades in crude oil and natural gas.
And as you might expect, I've been keeping a hawk eye on these commodities for our next trade.
Today, I have an important update for you regarding the extended US hurricane season and how it will impact our trades going forward.
Let me know your thoughts on this. I love hearing from you.
Hi, this is Vijay Bhambwani here. I hope you're keeping your finger on the pulse of the market, the markets are treating you well, and you're basically learning a lot from these videos and implementing some of the things that I have been talking to you about. Now, in this video, I want to update you about natural gas and crude oil assuming that you are an energy trader.
Last 2 Days: Discover India's #1 defence stock now
You see hurricanes are named after letters of the alphabet and typically 21 letters of the alphabet used with a few like X, W, Z not being used. So 21 letters of the alphabets are used to name hurricanes, and it's only happened twice, including this year, that the hurricanes have been so many, that the National Hurricane Centre has run out of letters of the alphabet to name them and therefore, they resort to naming hurricanes after the Greek alphabets. So you have alpha, beta, gamma, epsilon, etc.
Now alpha has already come and gone and as a matter of fact, so far this year, we already have seen 23 hurricanes come and go. Some basically change course and therefore did not do any damage. Some, of course, were too weak to cause any serious of problems to the oil and gas installations, and some, like Hurricane Sally, have caused heartbreak and heartburn to the insurance companies. Even as I record this video over the weekend, I'm hearing reports of damages having crossed US$ 5 billion.
So the update I want to give you about in this video is that the hurricane season is likely to get extended in the US this year and my just span up to November, which is when the winter would have basically set in and natural gas prices would have started firming up due to the heating demand.
You would have noticed how oil prices have been fairly firm on Wednesday and Thursday last week. Of course on Friday, there was a little bit of a profit taking, but that's just routine stuff. So what's the outlook on natural gas and for our traders and my subscribers in the Weekly Cash Alert service, what do we expect?
Now as I said, Hurricane Alpha has already come and gone. It is now Hurricane Beta which is expected to make landfall in the US coast and it's basically a couple of 100 miles away from Texas, and it might also in case it changes direction, hit Louisiana. It's moving ahead at almost 100 kilometres per hour and it's expected to be serious disrupter in oil and gas installations.
So hurricane Teddy, which is another hurricane, which of course is way off is also in play and moving at 180 kilometres per hour but it's so far 600 miles southeast of Bermuda and the swell of this hurricane can reach the east coast of the US and that, of course, is likely to cause floods and unmotorable roads, even 10 inches of rain in some parts of the areas where the hurricane makes a landfall, which means life can be disrupted.
So Beta up by itself, Hurricane Beta is expected to bring along with 15 inches of rainfall and also disrupted day to day traffic. Now after Beta, we are having anticipation of further hurricanes like Gamma, Delta, Epsilon, and we also have hurricane Vicky in play, which of course, is also expected to be serious. All in all, this is not just a weather update. All and all, there's a blueprint here for trading. What we do with natural gas and crude oil?
I think we go easy on shorting these counters because winter demand coupled with disruptions from these hurricanes might just see prices being buoyant, and hey, we don't even know how are severe the damage to the oil and gas infrastructure that these hurricanes will cause and to that extent, how long will it take to put the infrastructure back in place.
So I'll be assessing the situation on the fly as and when another, update is needed, remain assured I will update you in this YouTube video playlist but for now, let's go easy out there. Let's not rush into any kind of trades in crude and natural gas because we have a very busy season where hurricanes are concerned and like I said in my earlier video about a month or two ago, this is the busiest hurricane season in almost 116 years. This is not a time when you want to trifle with oil and natural gas prices in a hurry. Traders who trifled around with them during Hurricane Harvey, Hurricane Isaias, Hurricane Katrina in the past, will tell you how severe it can get. So let's be careful out there and wait for the appropriate time to enter these trades.
On this cautious note, I bid goodbye to you till we meet again in my next video, Vijay Bhambwani signing of for now. Do take very good care of health, your family, your friends, trades, and investments. Have a very profitable day. Bye for now.
Stay safe and have a great trading day!
Warm regards,

Vijay L Bhambwani
Editor, Fast Profits Daily
Equitymaster Agora Research Private Limited (Research Analyst)
Recent Articles