Multiply Your Money in Sugar Stocks
Sep 22, 2021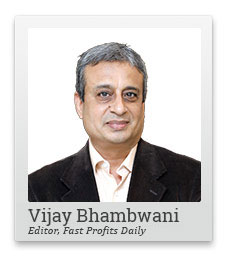 In the video I made recently about making money from market cycles, one of my viewers requested I make videos about cycles in individual sectors.
Your wish is my command!
I'm kicking things off today with a video on the sugar sector.
In this video, I'll tell you how I learnt to time the sugar cycle to multiply my profits...and how you can too.
I hope this video will add value to your trading and investing journey in the market.
Let me know your thoughts in the comments. I love to hear from you.
Hello friends. This is Vijay Bhambwani here. I hope you're doing very well in the markets and my videos are helping you understand the issues in the market better.
I am trying to record videos that basically make you understand trader psychology, the mindset of a trader, the bigger picture, tying up the loose ends and trying to make sense and sensibility out of the plethora of data that descends upon you in the financial markets nowadays.
The idea is to cut through the jargon, simplify things, so that you can understand what you must do in no uncertain terms and take home even bigger share of the market's profits that the markets have to offer, to the savvy, to the knowledgeable, and to the clearly aware investor.
Latest: Richa Agarwal's Top 3 Stocks for 2022 Revealed
Friends, in the video that I made recently about making money from market cycles, one of my viewers requested that I start making videos about cycles in individual sectors and individual stocks. This channel, my playlist, is made for my viewers and to make them feel a higher sense of satisfaction, obviously, with the help of profits. So your wish is my command.
I am going to talk about a sectoral play in the market which, if you decipher very well, can make you extremely rich. You see Equitymaster has a policy of not making stock recommendations on social media. So pardon me if I do not take names but to a veteran market player, I think I have given you enough to go by, to understand what is being said here without violating any guidelines. So I am going to talk about sector after sector and today, I am going to tell you and as a matter of fact, share it in a story form, as to how I learned about this sector, which is the sugar sector.
You see, I wrote a book on commodities trading in 2008 which got published by CNBC TV 18 in 2009.
Now, in order to learn about agricultural commodities, I needed to learn from the industry, from the people who are actually manufacturing, selling, distributing these commodities and to be very honest with you, I did not have too much of knowledge about the sugar industry.
So I made a couple of phone calls and I decided to travel. I took a flight. I travelled down to a company which was a sugar company, and I was fortunate enough to be admitted into the presence of the managing director, who helped me understand the nuances of sugar industry and, by extension, how I learnt to time sugar shares and why these shares fall all the way down to single digits and can become multibaggers, all within a span of a couple of years.
Now, since I believe in a 360 degree worldview, I owe it to you to let you know the when, where, why, how, of why these stocks come down so sharply and then become multibaggers all over again and how you can super time it so that you can earn multiple profits as compared to your contemporaries and your next door neighbour.
You see sugar as a crop is cyclical in nature. The sugar cycle ranges between 7 to 8 years. Now, if you were to assume that the cycle is seven years, what you will see, for four years, the farmer will see consecutive years of the sugar crop being higher and higher. Then the soil starts to get exhausted. It tires out and then the crops starts to fall for the remaining three years.
How does it help the stock price? Let me explain. Now, in the years that the farmer has a bumper crop, he goes pleading to or rather with folded hands to the sugar mill, saying, look, I've got this much crop. Can you please buy?
Now, the sugar mill, seeing an abundant crop, will basically offer a lower price, buy the goods cheap, and basically produce a sugar out of it. Of course, there are a lot of processes. Molasses are being made. Ethanol is being made and also remember, that in this country, the government believes in taking care of people via the PDS or the public distribution system.
So what it does is that it takes a certain amount of sugar, which is called a levy quota sugar, from the sugar mill at a fixed price, which maybe given to, at a loss to the mill, and distributes it via the ration shop, via the public distribution system and the remaining sugar is allowed to the mills to be sold at a controlled price.
So the profits of the sugar industry to that extent are carefully watched by the government. Sugar is a politically sensitive commodity. Now in the year when there is a glut, the pricing power is gone from the mills' hand. Remember that the levy quota has also to be given and to the government, maybe even at a loss. So in those years, the mills don't really profit too much.
Now comes the period when the soil starts to get exhausted. The farmers output starts dropping. Instead of the farmer going with folded hands to the sugar mill, the sugar mill sales guys and purchase managers actually come to the farmer and say, look, instead of selling your crop to xyz sugar mill, you sell your crop to me. You have such a long standing relationship with us, and therefore you must sell your crop to me.
The farmer this time has the negotiating power where the price is concerned. Now that the pricing is done by the farmers, the sugar mill also has to raise the price of sugar. At the same time, the government says, look, we want to have the poor, and therefore you must continue to give us the levy quota sugar and we will allow you to charge a higher price on the free sale that you can actually do out of what is left of the sugar after you give to the government.
So in those particular years, the profits of the sugar mills tend to be higher and if there is still even more a shortfall either because the rains are scanty and there is a drought or there is basically a flood and the crop is completely destroyed, in those years, the government might even resort to import of sugar, say from countries like Brazil etc. Brazil happens to be the largest, a swing producer of sugar. So there might even be imports, in which case the prices of sugar go through the roof and the sugar mills can earn even higher profit.
Now the market knows, I'm talking about the stock market. Now the stock market knows that anything that is scarce will see a price premium and therefore, profiteering by the marketing, by the distributing, by the producing, by the manufacturing, depending on which sector we are talking about, by the companies involved in that sector.
Therefore, the prices of sugar stocks you will see, come down to single digits and then gradually go up and become 10 baggers, 15, baggers, 20 baggers. Yes, I am talking 10, 15 and 20 baggers. You will be surprised as to why these very same stocks are falling down from triple digits or maybe double digits to single digits. Well, now I've shared the secret with you.
This is something that was an eye opener for me. When I learnt it from the managing director of that sugar company, I said, oh my God, this is something that will enable me to make good amount of money every 5 to 7 years without fail.
Now all you need to do is just go and Google and see where we are currently, where we are in the seven or eight years sugar cycle and then you know what time and approximately which season and which year, you have to buy the sugar shares again and score multibagger profits.
Here again, without violating Equitymaster or SEBI norms about giving names of individual stocks, I have given you enough. Rather than give fish to eat, I have taught you how to catch the fish and how to put food on the table for many, many years and as we traders call a big profit from a trade or an investment, we call it catching a whale. I think, I believe, I am very sure I have helped you catch a whale. It is now a question of you being patient, timing yourself in the sugar cycle and making superlative profits.
Friends on this cheerful note, I bid goodbye to you, not before reminding you to click like on this video. Subscribe to my YouTube channel if you haven't already done so. Click on the bell icon to receive instant alerts about fresh videos being put up out here. Good, bad or ugly, I welcome all your comments in the comments section. It helps me know what you want me to do next.
Help me reach out to fellow like-minded investors and traders by referring my videos to your family and friends. I thank you for your patience for watching my video. This is Vijay Bhambwani signing off for now. I wish you have a very, very profitable week ahead. Take care. Bye.
Warm regards,

Vijay L Bhambwani
Editor, Fast Profits Daily
Equitymaster Agora Research Private Limited (Research Analyst
Recent Articles