My View on the IPO Market
Sep 23, 2020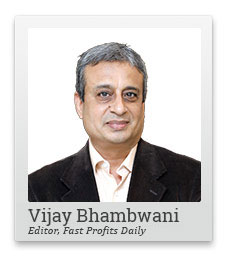 Over the last few weeks, I have realised that the risk-reward ratio in the market has moved against the bulls.
That's why I've been recommending caution.
In a recent video, I recommended traders should do nothing in this market. The sharp correction in the market has validated my view.
But in my recent videos I had left out something important: The IPO market.
As your editor, it is my duty to share my view with you about this topic. Therefore, I have recorded this video for you.
Enjoy the video and let me know your thoughts on the recent spate of IPOs.
Hi, this is Vijay Bhambwani and I hope you're keeping your finger on the pulse of the market, you're observing how the markets have had a mini meltdown on Monday, and as I record this video, mid-session on Tuesday, I am noticing that my trading terminal screen is awash in the colour red.
I hope you remember my videos about on 9th of September about why I am recommending caution and on 1st of September, I advocated why this could possibly be a good time to do nothing and definitely not buy afresh.
India's Revival: A Once-in-a-Generation Wealth Making Opportunity
I would strongly suggest that my viewers in this Fast Profits Daily channel, subscribe to the Equitymaster Telegram channel, with handle Equitymaster Official. I put up three updates Monday to Friday late in the evening, based purely on my in house developed statistical trading model, and I put out data as to how the market is behaving. Based on that data, I found that the risk reward ratio, since the last three weeks or more, was definitely not in favour of the bulls. I've have talked about the Jensen's measure, where taking on one additional unit of risk must result in you earning at least 1.5 additional units of profits. Otherwise the risk is not worth it.
So based on my statistical model, three weeks ago, I found that the risk reward ratio did not favour the bulls and therefore, along with other data like markets falling on higher volumes as compared to rising on lower volumes, and the market breath i.e. the number of gainers versus number of losers, was definitely tilted towards a fall. That aside, in this video, I am going to give you one additional data point which will interest you and from my point of view, I think if you don't know it already, you should learn for a lifetime.
This video is all about IPOs. I noticed Equitymaster has sent out mails and there are also videos on this subject about how IPOs, at least 90% of the ideas that are coming in the pipeline in the immediate future, should be avoided. I completely agree with that point of view.
Now, there are two ways to look at the markets vis-a-vis the IPOs. First of all, as a behavioural finance student, a lifelong learner of behavioural finance, do remember that everything in the market is relative. So time is relative to price. Return is relative to risk. Yield is relative to the investment. So you basically calculate one against the other. Nothing is to be taken in isolation. Today, I am going to take the secondary market in relative comparison to the primary market or the IPO market.
Now, seeing the success of the Happiest Minds IPO and Route Mobile IPO etc, you would be tempted into thinking that the IPO market is extremely bullish and the returns are superlative. No problem with that line of thought. I'm thinking from the behavioural point of view. Money tends to be finite or limited in everybody's hands. The richest guy in the world may it be Jeff Bezos, may it be Warren Buffett, maybe Bill Gates, maybe Carlos Slim, have all got finite wealth. There is a number attached to the net worth that they have. They cannot write out cheques to amounts of infinity and expect those cheques to clear. We all have limited wealth. So does the collective market.
Now, if it all IPOs are coming in and offering shares, investors also have finite wealth and if the IPO is attractively priced, there is a temptation to sell in the secondary market to be able to subscribe to the primary market IPO. So historically, whenever there have been a spate or a flurry of IPOs being offered in the primary market, it has had a downward pull effect on the second market. Don't take my word for it. Feel free to google. Whether it is the Harshad Mehta boom, whether it is the Ketan Parekh boom, whether it is the 2007-2008 boom, which terminated in January 2008, you will see that while the going was good, while the secondary market was booming, promoters of companies took advantage of the buoyant market conditions and floated a lot of IPOs. That basically resulted in some selling in the secondary market, which triggered a decline.
Now the secondary market is a very unique creature. It pulls in people. As long as your neighbour is making more money by trading in stocks, you've attempted into getting in but do remember at the back of your head, you're always nervous. You always fearing you might lose your paper profits. So the minute you see signs of selling or people getting off the bus, there is a flight towards safety, a flight towards cash to lock in your gains before they evaporate. This is what is triggered when the IPO market starts to overheat. People tend to rush out of the investment door in the secondary markets, fearing that the other guys might just tear down prices. Let's get out while there is still profit available. This is what is possibly likely to occur if you wait too long.
Remember in the pipeline are IPOs to the size of which you haven't seen before. If the sections of the media which have reported on this issue are to be believed, the LIC IPO, which I can only call a whopper a whale, a giant, is hold your breath, to the size of 80,000 to 90,000 crores. Not this amount of money is going to get sucked out of the secondary market. Would you like to be left holding somebody else's babies? Stocks that are falling because everybody else has gotten off the bus? I don't think so.
So whenever the IPO market overheats, it's definitely a red flag for the secondary market. The more IPOs that there are coming, do remember that equivalent amount of selling might, I'm using the word might here, unless you have infinite wealth, there might be a spate of selling in the secondary markets. This was a data point which I had not yet mentioned in my past videos, and I felt I was duty bound to update you of and therefore have recorded this video for you.
On this sombre note, I would say goodbye in this video and we will meet again in my next. If you're watching this video on YouTube, do let me know what you think of this video and what you would want me to record in my next.
Don't forget to click like on this video and subscribe to my YouTube channel. Also help me reach out to knowledge based investors and traders who are looking for learning the 360 degree worldview of financial markets by referring my video to your family and friends.
Do take very good care of yourself, your health, your family, your friends, your trades, and investments. Have a very profitable day in the markets. Vijay Bhambwani signing off for now. Thank you for watching my video.
Stay safe and have a great trading day!
Warm regards,

Vijay L Bhambwani
Editor, Fast Profits Daily
Equitymaster Agora Research Private Limited (Research Analyst)
Recent Articles