Can the Nifty Fall to 10,200?
Sep 24, 2020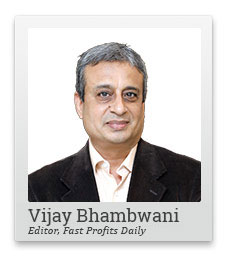 Many of my views have asked me to share my view on the stock market.
In a previous video I have recommended caution. However, I did not talk about any specific levels on the Nifty.
The first half of this video is all about that. I'll show you why the benchmark index has reached a key support level and what could happen if it were to fall below it.
In the second half of the video, I'll give you another update on the potential timing of our next short sell trade in natural gas futures.
I'll cover a lot of ground in this video. So let's get straight to it.
Hi, this is Vijay Bhambwani here, and in this video, I am going to address two specific topics. Number one, I am going to talk about the Nifty. For a change, I am going to talk about the stock market index and I'm going to talk about generic levels of where I think the Nifty can fall. Of course, being a behavioural technical analyst, I would like to share with my viewers the why of what I am saying.
The other aspect might just bore a couple of you who think that I am putting up weather updates and I am talking innocuous things which don't really matter. So feel free to tune off from that segment of the video but I think I am addressing very serious folks who are serious about the money that they deploy in the market, and they worry about anything that can impact their trade in the near or in the medium to long-term. So I'm gonna talk about Hurricane Teddy.
First things first, the Nifty. On the first of September, I recorded a video which you would have no doubt seen by now titled why it could be a time when traders did nothing new. At least stop buying. I backed it up with a video on ninth of September saying why I am recommending caution, and I gave you reasons as to why I feel the markets are in for a downturn.
I also recorded a video about IPOs and how a flurry of IPOs can actually suck out money from the secondary market because people have finite money and therefore they sell the shares that they own to subscribe to the shares that they want to buy in IPOs. All in all, this is a pull push which real world traders will definitely feel as a part and parcel of the day to day trading and investment process.
So first, the Nifty. Now that it started falling, we know that a top has been put in place, established and executed. If you were to take Fibonacci, Fibonacci is the science of numbers that has predictive value in the markets. Traders use Fibonacci pretty often. If you were to use Fibonacci levels, you would realise that the first support of the Nifty comes round about at 10,800 levels. As I record this video today, which is Thursday at approximately noon time, the Nifty has already tested the 10,900 mark. So you're almost there. About 100 points here and there from the 10,800 level.
If this was to be breached, the possibility exists, remember, I'm using the word possibility, the possibility exists that the Nifty can go to 10,200 give or take a little here and there. I am not being laser precise for a reason. I've checked. Talking about the indices is in confirmation, even on social media, with research analyst and investment adviser rules of SEBI. So I'm not really recommending a trade.
I'm just giving you specific generic levels in confirmation with the law of the land. So 10,800 is the first level you need to watch out for. 10,200 is the second level you need to watch out for. If at all 10,800 is breached, 10,200 becomes a possibility. If at all 10,200 is reached, I assure you I will record another video for you. So this satisfies a few viewers who have said they need more specific levels. This video is for you.
Now, will the decline in a linear in fashion? Linear means like a straight line. If you take a foot ruler and draw a straight line. No. No market movement is absolutely linear. So there will always be bouts of volatility. Remember that in a falling market, the only guy who is interested in buying is a bear who has shorted at higher levels and who is now covering up at lower levels. He's actually booking profits. So I do expect the bears to book profits at lower levels, and they're buying might just result in some spikes upwards.
But if you are a Fast Income Alerts subscriber and a Weekly Cash Alert subscriber, you would have seen those six tutorial videos where I have shown you live trading terminal screens and the F5 snap quote window and I have taught you how to discern whether the markets are falling to rise or they're falling to fall further from the ATP, LTQ, etc. So that said, I will, of course, record a fresh video as and when we come to the 10,800 or 10,200 levels but the ride is not going to be linear. There is going to be a lot of ifs and buts along the way. Volatility will keep coming and going and which is why, I have basically been telling you in my videos as also the Equitymaster Telegram channel, which I strongly suggest you subscribe to, it has the handle Equitymaster Official, you must trade on very light exposure or footprint. Keep a very small exposure so that any untoward shock does not really result in a material impairment of your trading capital.
I have also recorded a video recently about how much of your capital you need to allocate for trading. Remember the rule. Any number between 70 to 80 minus your current, prevalent age, that is the percentage amount you need to deploy in for trading. I would also educate you in a future video about why the markets fell and how you can smell the markets before they are about to fall. Why did I start harping upon the fact from first of September, even though it might have seemed premature at that point in time, and many of you would have been surprised as to why this guy who was bullish all through April, May, and June when everybody was saying the markets cannot sustain, is now saying sell. I will share all those secrets with you.
Now let's go to Hurricane Teddy. Do you know what is the distance between Mumbai to Delhi in a straight line, in a linear fashion? As in in air combat manoeuvring language, it's called as the crow flies. Straight. If you were to see the distance between Mumbai and Delhi and if I was to tell you that there is a storm, or a hurricane, brewing near the US coast which is as wide as the distance between Mumbai and Delhi, what would you feel?
Remember, this is not a weather update. I am addressing serious people here who deploy money seriously and they treat their capital as sacrosanct. Anything that impacts the markets, impacts them. So now you know that hurricane season, which is the busiest in 116 years, is likely to devastate many US towns. veteran in traders like me who lived and traded through the markets and especially through Hurricane Katrina, Hurricane Isiah, and a whole lot of these devastating a tropical storms and hurricane in the past can tell you that Katrina is something that an average US citizen cannot take out of his memory. Which is why the US market, the stock market, the commodity market, will all feel nervous.
Remember, the US is approximately, I might be a bit off here and then a few percentage points, the US market is approximately 44-46% of the global market. If that market falls, everything falls. Which is why I am giving you the reason why, as to the markets will feel nervous. When you have a hurricane this big, 1,000 1,200 miles long, wide, and it's already made a landfall in Canada, which is why last night you saw natural gas futures getting a circuit up. Some of you might have been surprised that I've been recommending a short sell at the appropriate level. Remember, I have been telling you we will shot at an appropriate level. I also recorded videos naming Hurricane Beta, Hurricane Alpha, Hurricane Gamma, Epsilon, Hurricane Teddy, Hurricane Theta, and Hurricane Sally. So I have been saying, hold on. We will basically enter when the time is right, and right now, is not the right time.
If Katrina is anything to go by you will remember, if you have been trading the commodity markets from 2003 onwards, when Katrina came, crude oil and natural gas hit circuits up for few days. That's not a time to be on the wrong side of the markets. Therefore we need to be very, very careful about how we time this trade. Extremely careful. What really happened after Katrina left? It left a wake of devastation in its in its tail end, but crude oil collapsed the way it rose, in lower circuits. For my Weekly Cash Alert subscribers, I want to try and time the market so that you enter when the probability of success is the highest. Of course, I'm not guaranteeing that will catch the absolute top but I would like to see to it that you make money on the fly when natural gas prices start coming off.
So we will keep our ears to the ground. I'm going to update you about Hurricane Teddy, Hurricane Theta, Gamma, Epsilon also as and when they come and they make landfalls. I've got a hawk eye or hawk eyes rather, on these developments and I am gonna keep my subscribers and investors aware of these issues.
So do take very good care of yourself, your health, your family, your friends, your trades, and investments. Vijay Bhambwani signing off for now and do help me reach out to like-minded traders who are interested in a 360 degree world view of the financial markets and want knowledge-based investment and trading systems.
If you're watching this video on YouTube, don't forget to click like and subscribe to my YouTube channel. In the comments section, do let me know what you think about this video and what you want me to record next. Thank you for watching. Till we meet again in my next, bye for now.
Stay safe and have a great trading day!
Warm regards,

Vijay L Bhambwani
Editor, Fast Profits Daily
Equitymaster Agora Research Private Limited (Research Analyst)
Recent Articles