Why the Market May Rally for a Few Days
Sep 28, 2020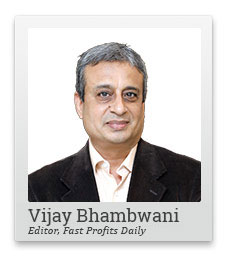 This is a follow up to my video - Can the Nifty Fall to 10,200?.
There is an important development which will impact the market in the short term.
It doesn't change my view, but it does have implications for traders who might want to play the market over the next few days.
I think this development will keep the markets buoyant, at least for a couple of days, and you need to know about it.
As your editor, it's my duty to inform you of the same.
Enjoy the video and let me know your thoughts about it.
Hi, this is Vijay Bhambwani and I'm hoping that you're keeping your finger on the pulse of the market, my videos are helping you understand the market better, help yourself to become better traders, and I'm also adding to your knowledge base. Hey, these videos are for you and I aim to add value to your experience in the market and make you better traders. I love to hear from you. Keep your feedback coming.
This video is actually an update to my previous video when I said the Nifty has the potential to go to 10,200 once the 10,800 level was breached. The 10,800 level was indeed breached on Thursday when the Nifty made a low of 10,790 on an intraday basis. So is the 10,200 view still intact and is there any possibility of a change in the blueprint?
FREE REPLAY: Discover What Richa Revealed in Her Smallcaps Summit
Now, before you comment whether negatively or positively, I assure you of one thing. I am not changing my view about 10,200 being possible. Remember in that video also, I said there is a probability there is no guarantee because markets cannot be expected to be laser precise. Human beings are a ball of emotion and their emotional decisions, both panic and greed, can impact prices and lend volatility. The higher the volatility, the more nervousness there is and right now, volatility is at its highest. The Bank Nifty is the most volatile after 2nd September 2020 and Nifty 50 volatility is at a multi month high. So it's going to be a very, very bumpy ride. Remember the roller coaster ride, the proverbial roller coaster? You are on a roller coaster.
So I am not changing my view about 10,200 but there is something that I need to update you about which you need to know, at least for the next two or three sessions, and that is that the markets tend to move in cycles and every smart trader must know, at which point in time, on the calendar the trader is currently at vis-a-vis the market, so as to know whether he or she should be going long or going short.
Now if you're a Weekly Cash Alert subscriber, you have received the booklet ,a 16-18 page pdf booklet called the Weekly Cash Blueprint, wherein I have broken all the commodities on a month by month basis, telling you which commodity should rise or fall in which particular calendar month of a year and more importantly, why. The why is always more important to me as a behavioural technical analyst because I want to know the underlying reason so I can gauge as to how big or how long on the time frame will a particular price move unfold.
Now between November 2019 to January 2020, I am definitely sure it was before the lockdown was enforced, I had recorded a video on Equitymaster's Fast Profits Daily playlist, which you can scroll through the archives and given reasons why the equity markets are also susceptible to trade within time cycles. Veteran Fast Profits Daily viewers will remember I had broken down the calendar in quarters, and then I told you what happens in which quarter of the year and what happens in which month of the quarter, and then, you can actually break it down to the year in the election cycle, and even the week of the month and day of the week. Now this is not about the weather. I am not giving weather forecasts. I'm talking about calendars. I'm breaking down the market into cycles.
So in that video, I had recommended that you must pay particular attention to quarter endings and right now, we are in the end of September and this is the first half year ending of the financial year and also the second quarter's ending. Which is why the most powerful people in the financial markets, which is the mutual fund industry, is going to buy, so as to lift up their NAVs because SEBI law is very clear about the mutual fund industry reporting, via the news media, their performance, which is their NAVs, by declaring it in at least one regional newspaper and one national newspaper.
Just apply your mind. Do you think the mutual fund industry will be proudly declaring lower NAVs or higher NAVs? You be the judge. I think, till the end of September, and maybe till slightly longer because the retail trader does not really think along the lines that you and I think. By now you know how I think and what my thought process is likely to be. So we know that the retail guys might just, unknowingly or involuntarily, keep buying even after the mutual funds have seen the 30th September timeline go by. Which is why the rally might just prolong a little but the underlying reason is that till 30th September, if you are going to short, you're going to be banging your head against a wall, which is extremely strong, which is the mutual industry in this country and the same law applies to the mutual fund industries the world over. Every quarter they will come out with their NAV announcements, which is why I think the markets are likely to stay firm for the next couple of trading sessions.
I repeat my 10,200 view, or the bearish market view that I have, is not changed. It's just that the next couple of days, this is what it's going to be like and remember, I said in that video no move in the market should be expected to be linear. You can't take a foot ruler and draw a straight line and say this is how the market's going to go. It's crazy to assume that the markets will go as you expect them to. No such myths should be nursed.
Now let me just walk you through a couple of numbers, which will fortify my view that what happened on Friday in terms of the rally on the broad market, in the capital markets in India, was the handiwork of institutions rather than retail traders. So on Friday the Nifty rose 2.26% after falling 2.93% on Thursday. Which means the majority of the declines of Thursday we're almost, almost covered up. On Friday, the Bank Nifty rose 2.57% after falling 3.41% on Thursday. So in relative comparative terms, the Bank Nifty continued to underperform the Nifty 50. We know why. Banks are particularly soft in in terms of performance, and they are some of the weakest stocks out there in the markets.
Also remember, this is a universal phenomenon. Whenever there is a time of crisis, whenever they're the time of a god or man-made kind of disturbances, either war or hurricanes or earthquakes, etc, there is likely to be a whole lot of loss, and these losses are likely to result in a lot of insurance claims. In India, you may have corona pandemic, in which case the insurance companies are facing a lot of claims in the US, 116 year high activity in hurricanes in the Gulf of Mexico in the US coast and a lot of damage caused by Hurricane Sally, Hurricane Teddy, and a whole lot more hurricanes in the pipeline. Hurricane Gamma, Hurricane Beta, has already come and trashed the coast. Hurricane Epsilon, Hurricane Vicky, etc. Now all these insurance companies basically have either been promoted or majority of their stakes are held by banks and when the insurance company loses, the banks also lose. Which means the financial sector is likely to remain under pressure and back pressurises the stock market. So this is why the banking sector is underperforming because the insurance companies, they're gonna face a lot of claims as we know, the insurance companies are either directly or indirectly connected with an ambit umbilical cord to the banking space.
Now the market capitalisation on Friday rose by 370,863 crores after falling 392,444 crores on Thursday. Now this looks like the handiwork of pretty strong hands. When the market capitalisation rises by 370,000 crores in one trading session, I think it's an institutional rally rather than a retail fuelled rally. The advance decline ratio on Friday was 4.36 which means for every one loser, there were 4.36 shares, which was gainers, and the same ratio on Thursday was 0.19. Which means for every one gainer, there were more than four shares losers and this reversal can only be brought about by institutions. This cannot be the handiwork of retail traders. So you can banish the thought that Robin Hood traders on newbie traders have triggered the rally on Friday.
Now here's something more interesting. What about the volumes? The turnover in the index futures, I'm including Nifty and Bank Nifty both, the turnover of the index futures was 580,863 lots on Friday. Whereas on Thursday, which was a huge, huge declining day, was 731,370 lots. I admit that Thursday was an expiry day and a certain amount of volumes could be attributed to the rollover process also but the fact remains and you would have seen it in my updates in Equitymaster's Telegram channel, which you must join with the handle Equitymaster Official, as to how the turnover on Friday, was definitely lower than an average week end days turnover.
Now let's go to the stock futures turnover on Friday. It was 829,014 lots. On Thursday, it was a whopping 1,495,553 lots, which is almost double. Not by no stretch of imagination, even if you were to take the fact that Thursday was an expiry day and therefore the turnover was 1,495,553 lots, it couldn't fall by almost half on Friday. So definitely the turnover is poor on a Friday, in spite of the fact that the markets have almost gained back the declines of Thursday.
So retail participation was definitely lacking on Friday. It was the institutions which have pushed up the markets. Nobody could have triggered 370,000 crore worth of market capitalisation gains in one trading session. So before you get to see 10,200, get prepared in the next couple of trading sessions to see a rally, which maybe weaken in internals, which may tell you that the retail is not buying, but hey, the biggest guys in the market, the mutual fund industry is hell bent on propping up its NAVs.
This is the 'why' of what is likely to happen. Will the mutual fund industry definitely succeed in pushing the markets higher? That remains to be seen. When will I change my bearish few? Only when the recent top at 11,700 plus on the Nifty is taken out on the upside and when I said a top has been activated and established, I do not mean a permanent top. A top was made in 2008. A top was made in 2011. A top was made in 2015. Was it a permanent top? No. All tops and all bottoms do get taken out. At least all tops. Bottoms need not be but what I meant when I said that the top has been established and activated it's a near-term top. It need not say that the market will never go above this at all.
So we must keep swinging both ways, and I mean only in the market, as an when the weight of evidence that emerges, forces us to change our opinion. As of now, as we speak, as I record this video, I don't think the weight of evidence tells me that I need to change my bearish view. I'm still cautious. I am still very, very cautious and somewhat bearish on the market, and I will change my view if it all I am required to and I assure you, you will get a fresh video from me in that situation.
On this note, if you're watching this video on YouTube, I remind you to click like on this video, if you like what you saw. Please do subscribe to my YouTube channel. In the comment section, do let me know what you think of this video and what you would want me to record next and help me reach out to traders who need to learn a 360 degree view and a behavioural finance view of the markets by recommending my video to your family and friends.
Do take very good care of yourself, your health, your family, your investments, and your trades. Have a very, very profitable day ahead. Vijay Bhambwani signing on for now. Thanks for watching my video.
Stay safe and have a great trading day!
Warm regards,

Vijay L Bhambwani
Editor, Fast Profits Daily
Equitymaster Agora Research Private Limited (Research Analyst)
Recent Articles