The Gold and Silver Bull Market is Not Over
Sep 29, 2020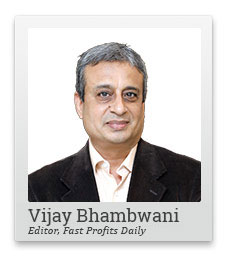 I've received a lot of requests from viewers for a video on the trend in gold and silver prices.
The recent price volatility in the bullion market has rattled many traders.
Understandably many are worried about the sustainability of the bull market.
So is the rally over? Will gold and silver prices fall?
I don't think so.
And in this video, I'll tell you why.
Watch the video and let me know what you think. I love hearing from you.
Hi, this is Vijay Bhambwani here. I hope you're trading well in the markets and the markets are treating you kindly, you're making money in the markets in your trading and investments and also, I am able to add value to your knowledge and your trading experience by a way, of these videos.
Now, in this video, I am going to answer a couple of queries that I have received from the Fast Profits Daily viewers and also some subscribers of my services at Equitymaster.
Last 2 Days: Watch the Replay of Great Indian Wealth Project Special Event
The all-important question or questions is, are the up moves in gold and silver under attack by any stretch of imagination or due to any weight of evidence? Why are prices falling? Why is this volatility that you saw last week in silver?
Of course, in relative terms are silver always has been more volatile than gold and is the weakness in gold likely to extend. In this video, I am going to address these two questions specifically.
Do remember that for over a year now, I have been recommending investments in gold and silver and have even called silver, in my last year's video, even called silver 'the new gold', where the return is concerned, the potential return is concerned and that hypothesis of mine was amply vindicated because when I recommended booking part profits in gold and silver, gold was returning 65% odd and silver had doubled.
But in my videos, I have been very, very clear, undeniably clear that silver is going to give you extreme amounts of volatility and it might even unnerve a whole lot of traders. Which is why I said you should split the amount of money that you invest in bullion and allocate 60 to 70% in gold and 30 to 40% in silver, depending on your risk appetite.
Now, you see why I was saying that. The kind of volatility that you saw in silver intra-week, last week, can unnerve the strongest of minds and that is silver for you. I remember saying that silver is like your mythological character Kumbhakarna in the Ramayana. Somebody who sleeps for extended periods of time, suddenly wakes up, and the earth shakes. That's silver.
On a more generic but statistical platform, I think silver is at least 30% more volatile as compared to gold, in relative comparison of course. Minimum 30% more volatile. So it's really for the strong hearted, the strong nerved, and the deep-pocketed traders and is the rally in gold and silver done and dusted? Is it over?
No. A simple answer. No.
Why are the prices falling? Remember what I have been saying in my videos that prices of gold and silver are likely to remain subdued till the US election is not done and dusted, the results are not out, and possibly likely to rally only in 2021.
Let me give you the reason again. You see, ahead of the US elections, in what is known as the US presidential cycle, you can Google search that, it's actually a trading and investing system by itself, which probably is known to relatively fewer people who actually deploy their money in the markets, not just paper tigers.
Now the US presidential cycle is basically a known a pattern in the markets where the real estate sector, the stock markets, the US dollar are pump primed and pushed higher. To that extent, oil prices are pushed lower so that inflation falls, gold and silver prices are subdued so that there is no threat perception.
Normally, gold and silver rise when the economy is feared to fall. Now if gold and silver a subdued, it is basically implying that the economy is well. You know, the three idiots are saying, 'all is well, all as well'. Basically, you are trying to imbibe a feel good factor in the economy. So if you want to give a feel good factor in the economy, silver and gold are down.
And remember, the dollar is the invoicing currency globally for commodity trades and if the currency is getting stronger, obviously it can basically by a lot more of the commodity. This means the commodity is falling in value. So you can't have a strong dollar and strong bullion prices at the same time. One of them has to give.
You know, it's like a see saw. You put a heavier kid on a see saw in the garden. The heavier kid actually pulls the see saw on his side lower, and the lighter kid jumps up. So when a dollar is getting more and more stronger, which is what you'd have seen in the Dixie. It's actually crossed 94 now. Gold and silver will remain subdued.
Now all the logic for investing in gold and silver is still intact. World over the printing presses of the central banks are running 24/7. Everybody is printing unbacked currency. Therefore, the buying power of the fiat currency on the paper currency is likely to come under attack. It's likely to erode.
You will have higher inflation next year, as a matter of fact, if you actually go to the fao.org, Food and Agricultural Organisation dot org, it is a subsidiary of the United Nations Organisation and therefore is extremely credible. I am not just referring to any run of the mill website or a hole in the wall masquerading as some knowledgeable people. FAO enjoys extreme amounts of credibility and they say food inflation in 2021 is likely to rise thanks to corona.
Now if food inflation is likely to rise remember, you're going to have human misery going up. Now, this is something I have been saying in my critical videos, especially podcasts and year end videos, wherein I give a slightly broader and longer term a view on the market. I have been saying that I am going to go long on human misery and go short on human happiness. This is what I mean.
So as long as these factors remain in place, I rule out the possibility of gold and silver bull market to have ended. Now, let's talk some levels because some of you are very keen on levels and prices and would want some numbers. So where do I think the rally in silver would have terminated?
If I see silver trading sustainably below 47,000 per kilo, I will say that the rally in silver is under extreme amounts of threat of terminating. Unless and until that happens. I thinks silver is still intact. Welcome to volatility. A repeat again, welcome to volatility. You will see silver going to 70,000 plus and falling to 55,000 very shortly. Now, this is the kind of extreme volatility that you will have to learn to live with.
Is my view that silver will cross the all-time high that it made recently again? Yes. I'm sticking my neck out and saying yes. You are likely to see silver go significantly higher than the 70,000 mark that you saw recently.
Let's come to gold. Where do I think Gold will terminate it's a bull run and will come under attack? Now, as far as I'm concerned, the bull market in gold, at least for short term and medium term traders, for long term traders, it never ended, but for short and medium term traders, the next leg in the up move got signalled in October-November 2018.
Weekly Cash Alert subscribers latched on to physical bullion, both gold and silver, in June 2019. So the bull run that commenced it gold from my point of view in November 2018 is still intact and unless I see gold trading below 48,000, 48,500 per 10 grammes on the MCX sustainably on a closing basis, if it goes intraday breaches that value, I actually don't get perturbed too much.
Of course, I would sweat behind the neck, but I want really lose sleep. I want a closing below 47,500-48,000 sustainably. Then I might just a look, there is a problem with gold. Silver, the levels I've already told you about. What would I do if I were you and if I had bought gold and silver?
I would sit tight. I would wait and I would wait for 2021 for higher prices where I can potentially book profits.
With that assuring thought, I'll bid goodbye to you in this video, but not before reminding you, if you're watching this video on YouTube, don't forget to click like on this video and subscribe to YouTube channel and in the comments section, do let me know what you think about this video and what you want me to record next.
Also, let me reach out to traders and fellow like-minded, knowledge-based traders and investors who would want to imbibe a 360 degree worldview to the financial markets in their trading regimen by recommending my video to your family and friends.
So I bid goodbye. Do take very good care of your health, your family, your friends, your trades, and investments. Have a very, very profitable day ahead. Vijay Bhambwani signing off for now. Thank you for watching. All the best.
Stay safe and have a great trading day!
Warm regards,

Vijay L Bhambwani
Editor, Fast Profits Daily
Equitymaster Agora Research Private Limited (Research Analyst)
Recent Articles