Are Metals Still the Best Sector of 2021
Sep 29, 2021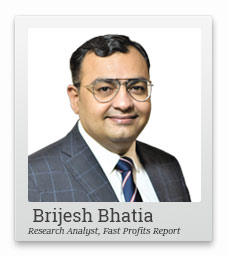 At the start of the year I did a video in which I said the best sector of the 2021 will be metals.
That call worked out well for many months.
But now metal stocks have fallen a bit recently. There is a certain amount of fear in the market. So is the rally over. Should you sell your metal stocks? Or should you hold on?
I'll tell you the answer in this video.
Let me know your thoughts in the comments. I love to hear from you.
Hello viewers. Welcome to the Fast Profits Daily. Myself Brijesh Bhatia. I have been receiving many queries about the sector which I have recommended at the start of the year, indicating that the sector of the 2021 will be metals.
We have seen metals in last nine months nearly doubling from the lower levels. So what one should do? Is this the end to a bullish trend or a pause to the ongoing momentum?
Watch Now: The Great Indian Wealth Project
I believe it is a pause and I will show you why I'm saying so that it is a pause. So if you haven't watched my video of first January where I've indicated the sector of the 2021 will be metals, do watch it. There is a link in the description and you can watch that why I have recommended metals as a sector for 2021. So let's jump onto the first chart over here, which is the copper chart, the comex copper chart.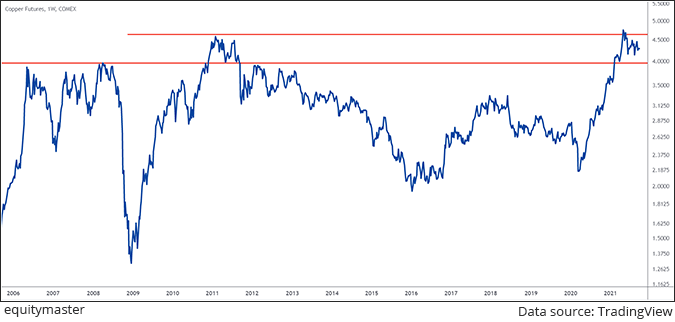 So if you look at the chart over here, comex cooper has been resisting around 4.65-4.7 dollar mark again now, and if you look at the momentum, the same highs were made in 2011 when many commodities was having the bullish momentum or a bull run.
As we save in the technicals that history repeats itself and price on charts are not to be forgotten. There is always a scar on the price action if you look at historical charts. So again, the same level of 4.65-4.7 is playing as a resistance for comex copper over here and from here we have again seen a slight dip into the copper prices.
Remember, our thesis was that copper will rally in 2021 and metals will continue to rally, be it aluminium, zinc, or lead, and again the metal index into the India with rally. But if you get the copper, it's slightly resisting over here. Even if you look at the previous supports, which were there around the four dollar mark held strong and bulls are managing to all those levels.
So till four is held or around 3.9 level is held on the comex copper, I believe that the bullish momentum would continue, and again, this is a weekly chart. So I'm taking a slightly longer term trend over here. Any break above 4.8-4.85 dollar mark on copper could be a resumption in the bullish momentum of the copper prices.
Second chart if you look at it here, this is the CNX Metal, which is Nifty metal index weekly chart.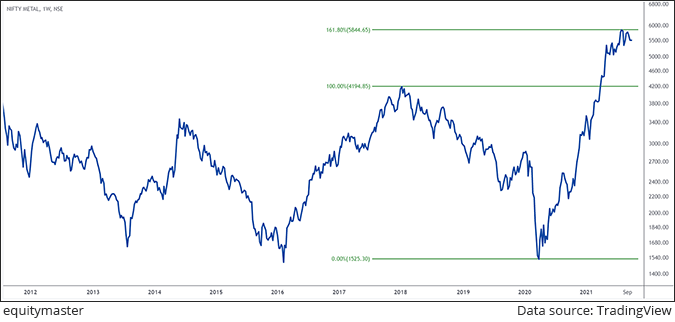 Now if you look at the rally right from around 2018, where it started taking a lower level and till 2020, it was going down and down, the bottom which was in 2020, and if I just take 161.8% of 2018-2020 fall, the resistance is around 5,800 levels and we have seen similar highs. Prices are back towards 5,500 now on the index and it is being slightly consolidating.
The positive for the bulls something is here that if you look at the previous highs which was a somewhere around 4,200, it has taken it, surpassed with a stronger momentum and now the consolidation is going on.
So I believe, yes, this is just a pause to this ongoing bullish trend into the metals space and one should continue to hold into the longer term trend of copper. I believe till 4,800-4,750 levels is not breached on the CNX metal index, this bullish trend will continue, and I foresee probably around much higher levels coming into the CNX metal index in next 6 to 12 months.
So in case you are holding onto long positions into the metal space, which we have at the start of the 2021 highlighted, continue to hold on. Any break above 4.85-4.9 dollar mark on the comex copper if you see, add up to or pyramid it to your stocks, which are then into the metal space like Tata Steel, Hindalco or whatever you think, JSW Steel, which is going stronger, depending upon the momentum, at that point of time, you can add up, or pyramid your position.
In case you've missed this rally, you can even add, you can look for fresh entries about the comex price of 4.85-4.9 dollar or probably even if you look at the 6,000 mark on to the CNX metal index, or the Nifty Metal index, that could be again a breakout level.
So that was an update on what way the queries, which we're getting about the metal indices and I believe you should not miss the next leg of bullish momentum coming in the metals whenever this breakout happens.
So signing off. Brijesh Bhatia. Do not forget like the video in case you believe that these videos are helping out to make profits and do comment in case you think of some of the topics we should cover in our videos.
Signing off. Brijesh Bhatia. Thank you.
Warm regards,

Brijesh Bhatia
Research Analyst, Fast Profit Report
Equitymaster Agora Research Private Limited (Research Analyst)
Recent Articles