A Big Change in the Way We Trade is Coming
Oct 12, 2020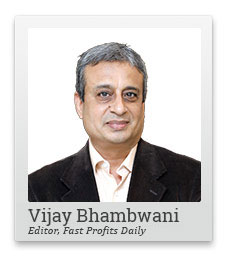 Today's video is a little different.
You see, over the last few months, I've been on the look out for big changes happening in the market caused by the pandemic.
Corona has changed the way we work, travel, communicate...
...but will it change the way we trade the markets?
Yes, it will...and I've found a big change, happening right now, which will hit us soon.
I won't be wrong to say this is a change that we will see once in a generation. That's because it is the new generation of Robin Hood traders who are driving this change.
I think it is very important that you are aware of what is happening, dear viewer.
Watch the video and let me know what you think...
Hi everybody. This is Vijay Bhambwani. I hope you're enjoying your trades in the market, the markets are treating you well and my videos are helping you become better traders.
I begin this video with a unique perspective on the markets which are changing forever. You'd have no doubt received a lot of WhatsApp forwards, you would have read on social media and via email, etc, about how the corona pandemic is changing the world forever and irreversibly.
So basically a lot more people working out of their homes, work from home becoming the norm, especially for techies and how people will venture out lesser often with work, so public transport might just get a little more decongested and how people might just wind up buying more personal modes of transport from the safety point of view, etc.
Now will the financial markets be impacted, apart from the fact that sales of some goods and services will go up and some will go down.
But will the way we actually invest and trade in the financial markets also change? Yes. This is exactly what I'm talking about in this video.
Expires Tomorrow: Full Replay of Our Urgent Broadcast on India's Revival
I'll update you about two things that I have noticed after the corona pandemic which is likely to change the way you and I work the markets.
Number one, I saw US based website called marketwatch.com deploying web bots or web robots. They have a web bot call Robo Eddie who basically number crunches an Indian company's quarterly numbers as soon as they announced in the media and within three minutes, yes, three minutes it's already done the number crunching and will tell you whether the numbers are better or lower as compared to the previous quarter and therefore the impact on the stock price.
So there goes artificial intelligence encroaching upon research jobs. Now let's come back to trading the markets and even investing in the marketplace there. I had recorded a video on Robin Hood traders on 22nd of June 2020 in this playlist, and in that video, I discussed how these Robin Hood traders were actually leading the charge in the market upwards.
If you thought Robin Hood was a brave new idea, let me tell you about something that's even more aggressive, even bigger and it's spreading fast. I am talking about eToro.
It's a web trading, a market trading online platform, which is promoted by two brothers with a partner based out of Israel. It's now currently in the UK spreading to the US, and you shouldn't be surprised if it basically spreads it's footprint in a whole lot more places.
I'm talking of eToro and eToro in the end of 2018 was valued at US$ 800 million. The number of users which have started joining this platform has grown exponentially times to Corona. Therefore, I believe the valuation would have risen even faster.
The company has also received venture capitalist funding from whole lot of financiers and therefore has deep pockets. The business model is unique and the way it will impact the market is also therefore extremely different for the want of a better world.
It's more like a social media website cum online trading platform. So think about your mobile trading app on your mobile phone merging with Facebook or Twitter. The minute to insert a trade, the minute you execute to trade, the same is updated to your social media account and everybody who is connected to you on social media reads about what you have just traded.
You might be a little puzzled about why this is going to help you, but I'm coming to that in a minute. Now, each trader, depending on how much he or she has made on the trading platform, is categorised as a cadet, which is a newbie, a champion, an elite trader, or an elite professional trader. The most unique thing about this trading platform is that it does not charge commissions for trading.
It basically offers you spreads, the difference between the bid and the offer spread, and it allows you to trade every kind of asset out there. It allows you to trade cryptocurrencies, equities, commodities derivatives on all these markets and even currencies.
The beauty of the trading platform and this is the crux of it all, is people are monitoring how much money you're managing to make. People are monitoring how many trades out of 10 or out of 100 you're turning profitable. The more you're turning profitable, the more they can copy your trades by simply pressing one button saying copy trade. Vijay Bhambwani's copy, one Vijay Bhambwani's trade, the last one, which they see on the screen.
So at any given point in time, we could suddenly see 5,000, 10,000, 50,000 investors jumping onto the bandwagon just because one trader they trust and follow, has just bought or sold something. Which means trading directions will accelerate significantly.
You're either very quick or you're dead. That's what eToro will do to the markets. Now, if you're a champion level trader, you could receive anything between 400 to 800 US dollars every month for the followers who deploy money based on your trades.
If you're an elite trader, you could receive anything between 1.5 to 2% commission on the entire amount deployed by your followers in the market through eToro.
It gets even better. If you're an elite professional trader, you might get between 2 2.5% commission on the entire amount deployed on eToro by your followers. So basically this then becomes like a multi-level marketing scheme in a way, right?
So what it will do to stock markets or any other market where it is present is that it will make trends much, much more volatile. Trends that will turn at the turn of a dime. Volatility will go up extremely fast and a whole lot of other traders who deploy the routine old world metrics on volatility etc might just get late entries and late exists.
Like I said, volatility will go extremely high. The thing about eToro is that it is for a younger generation who are savvy with mobile phones, were quicker and by nature, therefore, more aggressive. The market is nothing but a sum total of all the actions of all the traders present out there. The market is likely to get a lot more aggressive and not more reckless.
In my one hour long podcast on 23rd of September 2020 with Rahul Goel and Sarit Panackal, I said the markets are likely to get even more emotionally charged from here on. This is what is happening.
The markets are going to run purely on emotions. When you can simply copy the trade of a successful traders just because you trust his track record, without actually thinking whether what he is doing his right or wrong, the herd mentality following the winner's money, by throwing even more money, after that money, is likely to impact trends.
It's not always going to be rational, but hey, that's the way the market is going to be. So I call for a greater degree of caution. I call for more sagaciousness and thoughtful deployment of money. Maybe even cutting down your exposure in short-term trading. I am talking about short-term trading only.
So you have to be extremely careful out there because this market is already on a perch and volatility is just about to hit the roof.
On this guarded note, I bid goodbye to you, not before reminding you to click like on this video if you're watching it on YouTube. Subscribe to my YouTube channel. In the comments section, do let me know what you think of this video and what you want me to record next.
Also, help me to reach out to knowledge based investors and traders by referring my video to your family and friends. Vijay Bhambwani signing off for now. Do take very good care of your health, your family, your friends, your investments and trades.
Have a very profitable day. Thank you for watching my video. Bye.
Stay safe and have a profitable trading day!
Warm regards,

Vijay L Bhambwani
Editor, Fast Profits Daily
Equitymaster Agora Research Private Limited (Research Analyst)
Recent Articles