Market Linked Debentures
Oct 14, 2021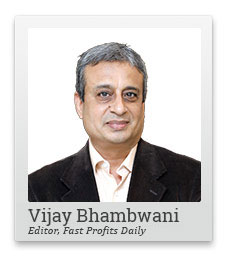 In this video I'll share a new investing idea with you.
Market linked debentures (MLD) are the new kids on Dalal Street...and they are quite popular too.
They offer far above average returns for a fixed income instrument and they come with LTCG protection.
Today, I'll tell you all about MLDs and why you should consider investing in them.
Let me know your thoughts about this new instrument. I love to hear from you.
Hello friends. This is Vijay Bhambwani here. I hope you're doing very well in the markets and the markets are treating you kindly.
Friends, in this video, I want to talk to you about a new instrument that is basically making the rounds in the fixed income markets and how traders and smart investors are really getting above average return from this instrument.
Friends, where I come from, people in my community believe that any kind of risky venture, whether it is business, whether it's trading, whether it's dabbling in any kind of financial activity, a prudent investor or a player or a trader, call it what you want, will start taking risks with capital only, only after he has made a portfolio of fixed income investments that is sufficient basically pay for his living expenses. If not living expenses, some aggressive ones even go to the extent of saying, paying for lifestyle expenses as well.
EV Stocks: Which is Tanushree's Top Pick?
So whether it is continuing with your holidays or continuing with your lifestyle expenditure and shopping etc, not just survival, home and hearth expenses, your portfolio should be good enough, the fixed income portfolio should be good enough to allow you to survive on interest income alone. Only then you go out there and start taking risks in the market.
Now, that kind of freedom of mind kind of liberates the trader and starts to allow him to take trades not because of financial compulsions and square them up not because he needs the money, but because the market justifies an exit.
So the instrument that I am talking about now is the market linked debenture or the MLD. This is a unique kind of debenture to the extent that the returns are not fixed. They are not known to you and there's a reason. Please bear with me.
The reason why the returns are not known to you is because they are linked to a certain event occurring. So, for example, you would have a debenture which is linked to the Nifty and an underlying instrument, and the yield would be say 75% of all gains made in the Nifty for the period that you held the debenture.
So, for example, if the debenture of was for a period of five years and the Nifty rose 100% in that five years, your yield would be 75% of the Nifty's gains, which gained 100%. So you would make 75% return over a five year period because you were to get 75% of the gains of the Nifty.
Now what happens in the counter example? What happened at the Nifty fell? So would certain amount of your capital be taken away from you? No. The answer is no.
In that case, there would be something called the PP clause, the principal protection clause, which would come in. In that case, you would not receive any kind of interest or return on your investment, but you would get your capital back just as it was. So to that extent, there is a safety net.
Now, why would somebody want to invest in an event linked to the Nifty is something that you would, as a fixed income investor, ask? So the point is that do not invest in any such MLD or market linked debenture which is led to equity indices or equity shares.
The best thing to do is therefore to go in for those debentures which are linked to government bonds. For example, the ten year benchmark government bond is a good place to pack your money.
Now a few points about this debenture. Typically speaking, the tenure of these MLDs or market linked debenture, starts from 13 months because it has to be more than 12 months to be able to be eligible for long term capital gains. So it starts from 13 months and can go all the way up to 60 months.
The face value typically of these debentures is 10 lakhs, although it is not a hard and fast rule. In the example that I am about to share with you of Rural Electrification Corporation, the MLD was issued on eighth of July 2020. The maturity was on 31st July 2023 which is still in the future. The underlying instrument that debenture's yield was linked to was the government of India 6.45% bond, which was maturing in 2029. The trigger for determining the yield was 50% of the government of India bond yield.
So if the yield which was originally at the issue price at 6.45%, fell below 50% of that, which means 3.22%, if the year fell below 3.22%, you would not receive any kind of return on that debenture. But if it stayed about that, you would get the 75% of the yield on this government of India 2029 bond.
Now, since it is a government of India sovereign rated bond, the yield is unlikely to a fall by 50% or more. So to that extent, you're more or less protected and the beauty of this MLD or the market linked debenture is that there is a long term capital gain tax protection.
So if you were to hold this debenture for 12 months or more, which is why I told you typically MLDs are issued at 13 months or higher. So if you were to hold this debenture for 12 months or more and then sell it in the secondary market, this is very, very critical, if you were to only sell it in the capital market, in the secondary market, the price that you would realise would obviously be higher when the issue price, because accumulated interest would have come in.
Remember that this debenture does not pay you any regular interest. Interest is determined only at the fag-end or at maturity because that's when the debenture issuer determines whether the yield of the underlying has been up or down.
So assuming that the underlying instrument yield has not gone to zero and therefore you're not going to get only a principal but there is some profit left, the value of that debenture would be higher. The price of that debenture would be higher.
Since you held it for more than 12 months, 10% of your capital gains will be taxed only. So to that extent, it actually makes sense not to hold it till maturity and pay tax on the debenture yields but to sell it a couple of days before the debenture is due for redemption in the secondary market and pay nothing more than 10% of the capital gains on the entire transaction, or maybe even six months before maturity because you need actually a buyer who would want to wait for six months to get a little bit of profit on his investment. May be two or three days before maturity, they may not be a liquid market or a buyer at all.
So to that extent, the one thing that you must be very careful about his never, ever invest in a market linked debenture, which is going to be unlisted. Only invest money in those MLDs or market linked debentures which have a listing option.
Do not invest money in debentures which are going to be equity linked. If there are any investors out there who have spent long enough time in the markets, they will instantly identify with what I am saying.
If the 2000 and 2008 experience of ULIPs or unit linked insurance plans is any indication, people did not know that they were investing in instruments that will link to equity returns. They thought they were buying regular insurance products, but because the market's collapsed in 2008, to their horror, when they went to redeem their ULIPs, they actually got money less than their principal, yes, less than their principal because the markets had collapsed.
So if you if you are a fixed income investor, you would not want to link your returns to the performance of any equity benchmark index. Therefore, I think the government of India sovereign bond would be a better anchor to link those debentures to.
I think there are a whole lot more issuers like the Rural Electrification Corporation who are going to come out here. Remember, this is a time when public issues of companies offering so many equity offerings are abound, it's only a matter of time before companies start issuing MLDs or market linked debentures left, right, and centre.
Pick the right product and get above average returns and get away with paying nothing more than 10% capital gains on your investment.
On this cheerful note my friends I bid goodbye to you. I wish you have a very by profitable time in the markets, but not before reminding you to click like on this video if you liked what you saw. Subscribe to my YouTube channel if you haven't already done so. Click on the bell icon to receive instant alerts about fresh videos being put up out here.
In the comments section, do let me know what you think about this video and good, bad or ugly, I'm always looking forward to your feedback. Help me reach out to fellow like-minded investors and traders by referring my video to your family and friends.
Thank you for your patience and watching my video. This is my Vijay Bhambwani logging off for now. Till we meet again in my next, take care, bye, bye.
Warm regards,

Vijay L Bhambwani
Editor, Fast Profits Daily
Equitymaster Agora Research Private Limited (Research Analyst
Recent Articles