What Should You Do Now After the Market Crash?
Oct 15, 2020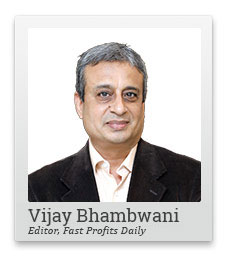 It's not every day the Sensex falls more than a 1,000 points.
The crash has taken many people by surprise but if you're a regular viewer of my Fast Profits Daily videos, you will be aware that I have been recommending caution for more than a month.
In this video I'll tell you what I think of this crash, what levels on the Nifty you should be looking at, and what is the best course of action now.
Let me know your thoughts...
Hi, this is Vijay Bhambwani here, and I hope you're keeping your finger on the pulse of the market, you're watching what's happening in the markets right now and trading the markets well.
I also hope my videos are helping you add value, knowledge and skills to your trading acumen, and it's helping you generate higher profits.
In this particular video, I want to discuss what's happened in the markets as on Thursday, and what you have seen in financial markets is nothing short of a mini melt down on indices, the Nifty and the Bank Nifty.
If you have not joined Equitymaster's Telegram channel, I would urge you to instantly join the Equitymaster Telegram channel with the handle Equitymaster official, wherein I put in three reports every evening, aftermarket hours, with statistical data pointing towards the market outlook.
Before 11:59pm TONIGHT: Get Our Most Important Research for Just Rs 2950 295
Now, since many weeks now, I have been cautioning readers in the telegram channel to keep your exposure footprint extremely small because the market's statistical Beta is very, very high. Statistical Beta basically talks about intraday volatility based purely on price action, and it warns a trader of danger lurking ahead, either of a market top forming or a market bottom forming, or maybe even just the weaker hands being shaken out by the stronger hands without necessarily a top or a bottom forming.
What we have seen is a very sharp decline in the headline indices, with the Nifty actually falling twice the extent on an average day as compared to an average days gain, which tells me that there has been a sharp degree of selling at higher levels.
The fact that this selling has come with higher volumes and increase in open interest tells me that sellers are actually adding onto their shorts and not necessarily squaring them up in anticipation of lower levels.
In such a scenario becomes critical to watch out for certain levels as indicators of support. Where is the next support, which you should watch out for, and if it should get breached, you should get slightly alert about what would be in store?
So I think that 11,200 to 11,350 band on the Nifty is an adequate support to watch out for in the immediate future. If the Nifty were to breach the support, the bulls could be in some more trouble for the simple reason that in the leveraged segment by leverage I mean the futures segment, mark to market payments can force traders to exit their long positions.
That could be a very unwelcome situation wherein losses for the traders might edge them out, even though they might want to continue. Not this could basically trigger up volatility even further. So then it becomes a vicious circle.
Higher volatility pushing traders into a corner and traders being pushed into a corner are triggering higher volatility. So the next couple of trading sessions are extremely critical. You should be on your guard and against all temptation, I think, you should not give in to the pressures of averaging, doubling up on your long positions or trying to bottom fish the market.
Let the market settle down. Let the market indicate that it's finding a bottom or has found a bottom before you start to get your toes wet again. This is the time to play safe and emphasise on capital preservation rather than jump into the markets with a view to earn profits.
With this cautious note, I will sign off from this video, but we will meet again in my next not before reminding you if you watching this video on YouTube, to click life on this video if you liked what you saw and in the comments section, do let me know what you think of this video and what else you would want me to record in my next.
Also don't forget to join my YouTube channel to get more content, more alerts on my fresh videos. Also help me reach out to like-minded investors and traders who are looking at a 360 degree worldview of financial markets and knowledge based investments and trading, by referring my video to your family and friends.
Do take very good care of yourself, your health, your family, your trades, and investments. Vijay Bhambwani signing off for now. Have a very profitable day ahead. Thank you for watching.
Stay safe and have a profitable trading day!
Warm regards,

Vijay L Bhambwani
Editor, Fast Profits Daily
Equitymaster Agora Research Private Limited (Research Analyst)
Recent Articles