One of the Best Investment Opportunities in the Market Right Now
Oct 16, 2020
Warren Buffet said, 'Be greedy when others are fearful.'
The market is a little fearful right now after Thursday's crash.
But traders and investors are not feeling equally worried about all sectors. Some stocks are causing greater fear than others.
In this video, I'll show you why the most hated sector in the market has the highest potential upside.
People are rightly fearful of these stocks...and that fear has created a good profit-making opportunity.
Enjoy the video and let me know your thoughts. I love hearing from you.
Hi, I'm Apurva Sheth and I welcome you to this latest edition of Fast Profits Daily.
So friends, today I want to talk about one of the best investment opportunities in the markets right now.
I'm sure that you must have heard the famous quote from Warren Buffett than be greedy when everyone else is fearful. At Equitymaster and specifically at Fast Profits Report and Fast Profits Daily, I follow this principle even while I am recommending training recommendations.
So one is the most hated investment in the markets right now? Undoubtedly, those are banks.
Now, markets have bounced back sharply from the low of about 7,500 to almost 12,000 and the sectors which have participated the most in this bounce back our IT and pharma and out of the laggards, Bank Nifty or banking is the most terrible performer in the pack.
So banks are right now going through tough times and there isn't much of clarity with respect to moratorium. There is a case in the Supreme Court going on with respect to the same thing. So there are a lot of uncertainties and investors are shying away from the sector at this movement.
But that's when there is the biggest opportunity to invest in a particular sector when everyone else is fearful. So people are, right now, shying away and that's when contrarian investors or smart investors should start thinking of investing in this sector or at least keep the sector in the watch list.
EV Stocks: Which is Tanushree's Top Pick?
So today I will show you a simple chart, which points out that there is a good opportunity, an opportunity which was not see in last 5 to 6 years. So what is this opportunity? So let's see on the charts.
Now, I have been talking about ratio charts in my videos and articles earlier. I keep on getting queries on the ratio charts and how one should use them and how one should actually go and plot ratio charts.
So today, I will show you with the live example how we could use ratio charts and that we will see with Bank Nifty, why it's the biggest opportunity right now. So let's get started now.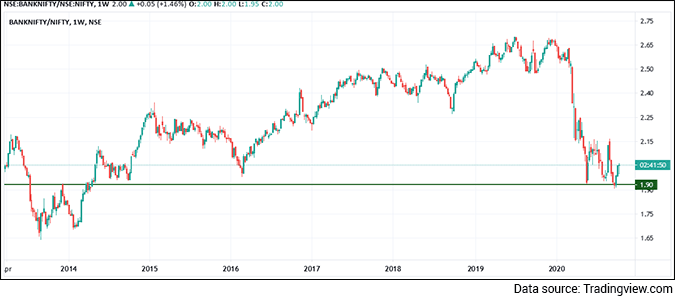 I have the page of trading view open on my screen right now, and we are using the full featured chart. So once you go on the full featured tab, you will see a screen like this.
Now I have the chart of Nifty out here. Now, what we are interested in is the performance of Bank Nifty with respect to nifty. So what, we have to do here is type in the NSE code of Bank Nifty which is in front of your screen here and then what we are doing is we are dividing Bank Nifty by Nifty.
So as you can see there are these mathematical operators and what we are using his divide. So you can click on it and then type in Nifty, which is the code of the benchmark index and then click enter. That's when you will get a ratio chart of Bank Nifty by Nifty.
Now you can see that the Bank Nifty or this particular ratio charge was in an uptrend since 2016. It was dropped over here, it bottomed out and then for most of the time, it was trending higher, apart from a few consolidations.
However, later in 2020 when the market's collapsed in March, due to the coronavirus outbreak, Bank Nifty started underperforming, the Nifty terribly. So the magnitude of underperformance in Bank Nifty was higher compared to Nifty and that's why we are seeing this ratio chart falling.
Now a falling ratio chart does not necessarily mean that only one particular sector, or one particular security is falling. Like in this case, Bank Nifty. Bank Nifty was wasn't the only security to fall. Nifty also fell along with it but Bank Nifty fell and the magnitude of the fall was larger. Hence, you are seeing on the ratio chart that the ratio dropped.
Now, the most interesting thing out here is that the ratio has dropped to a six year low of about 1.9 and this ratio, the Bank Nifty to Nifty ratio chart last traded around these levels in the year 2014.
So as you can see out here it traded at this ratio last in the year 2014. This is a six year low for Bank Nifty to Nifty ratio chart.
So, this suggests that Bank Nifty has underperformed drastically compared to Nifty, and chances of a reversion could be high for Bank Nifty and that's what we have been seeing for the last 4 to 5 months. Bank Nifty has formed a base around 1.9, the Bank Nifty to Nifty ratio has formed a base around 1.9, and it has been attempting to form a base and move higher. However, it's facing resistance around levels of around 2.1.
So 1.92 to 2.1 is the range where the Bank Nifty to Nifty ratio chart is trading around. So out of this, the best point to get into banks would be when the Bank Nifty, Nifty ratio is trading closer to 1.9.
I'm not saying that the troubles of the sector will go away immediately but sooner or later it will go away, and the Bank Nifty would again start out performing Nifty. That's how the characteristic or that's what the nature of Nifty is. It outperforms when the market is doing good and it would underperform when the market is doing bad.
So it it's sort of a high beta sector and it's underperforming right now but this under performance will not last for too long, and as you have seen, 1.9 is a good level or good support for the Bank Nifty to the ratio. So that's what one could look at.
Now, that's not the only thing that I have recommended or have being suggesting. I have recorded one more video, wherein I have taken a contrarian bet on the PSU banking space. I have suggested that the banks are likely to outperform and even within them, PSU banks out of all the banks.
Private sector banks are generally good performers and people generally to invest in HDFC, HDFC Bank and all the other good private sector banks However, people tend to avoid the PSU banks which generally are underperformers.
However, I feel that there is a scope for good performance in the PSU banks as well. So I have already recorded a video on contrarian trading in the PSU banking space.
This is what I would like to bring to your notice. Although banks may be facing trouble, I'm sure you would be aware than no economy or no economy like India can do good without support from banks and if the economy has to bounce back then the banking sector will have to bounce back.
So that's all from me for today. I hope you enjoyed watching this video, and in case you did, then please like it, share it, subscribe to channel and also forget to join our Telegram channel wherein I post regular insights on the markets on a daily basis.
So that's all from me for today. Thanks a lot. Have a nice day.
Stay safe and have a great weekend!
Warm regards,

Apurva Sheth
Senior Research Analyst, Fast Profits Report
Equitymaster Agora Research Private Limited (Research Analyst)
Recent Articles