PSU Stocks Are Looking Positive Now
Oct 19, 2020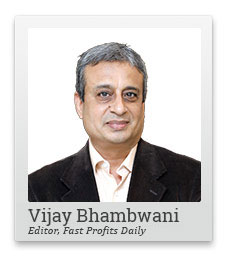 Recently, I put up an update on Equitymaster's Telegram Channel. I said PSU stocks are seeing interest. In other words, the market seems to be changing it's negative view on them.
This is interesting because these stocks have been in a deep slumber for a very long time.
Could the tide be turning? Is there money to be made here?
In this video, I will share my view on PSU stocks and why I believe, the market is finally turning positive on them.
Please share your views. I love hearing from you.
Hi, this is Vijay Bhambwani and I'm back with you to talk about a very critical aspect about this market in my video of today.
I hope you're keeping your finger on the pulse of the market. You're also watching, going through all the updates that I put up on Equitymaster's Telegram channel and have already joined that telegram group with the official handle Equitymaster Official. If you haven't already done so, I would urge you to join today because Monday through Friday, I put up three updates every day post market late in the evening that basically throws out results which help you to screen stocks based on statistical models.
Now, recently, I put up an update saying that the biggest losers over a 20 day period the basic look back period of 20 days in the statistical model, showed that PSU stocks were lagging behind the market and I mentioned that there is a possibility of reshuffling of the PSU pack.
A couple of alert watchers of my Fast Profits Daily videos have immediately raised a question. Hey Vijay, what does it mean by reclassification of the PSUs? What exactly are you hinting at?
SHOCKING: Ex-Swiss Investment Banker's Lucrative Income Generating Secret
To answer your question, let me tell you a very short story. The French and the British during the times of Napoleon Bonaparte were basically bitter rivals for international domination. Both wanted to capture as many lands as possible to be able to a rule over the world so to say.
So, Napoleon had a very unique manner in which he would shortlist generals who would accompany him to conquer new lands. He would ask them if they were lucky for him in that particular campaign in that particular war.
Now, some, not knowing what he meant said, we are very good warriors, and therefore, we will prove lucky to you. Napoleon would put cast them aside.
Others would try to get a little more ingenious and say we have consulted an astrologer and your horoscope matches with mine and therefore we are lucky for you. Napoleon would cast them aside as well.
Now there were another kind of generals who would say we are lucky for you because we know you want to conquer a country. We ourselves will fight very hard and try to pocket some of the riches for our own selves also. So, since we have a vested interest, we will fight hard for you. Guest what? Napoleon would take these generals on his campaigns.
So the biggest bankable aspect in financial markets based on behavioural finance and based on my 360 degree worldview based on behavioural studies is, that the most dependable thing that you can latch on is vested interest, especially if it is somebody really powerful and big who has a vested interest in seeing something happen. Chances are it will happen, and you should basically latch on to that trend.
Recently, there was an announcement that the government has basically instructed public sector units, which have stock prices significantly below their book values, to buy back their shares and if the stock price is significantly above the book value, to declare huge amounts of dividend pay-outs and or other incentives.
What do you think is going to happen to the share prices of these companies? Either they will buy back their stocks or they will declare huge dividends. Now, this is a classic example of vested interest, which is by a very powerful entity.
You can have anything more powerful than the government. If the government wants these stocks to go up, think about it. Which way do you think these stocks will go?
I have hinted at you and now in this video, I have even specified in no uncertain terms as to what I mean by reclassification of PSU stocks.
On this profitable note, I say goodbye to you, not before reminding you, if you're watching this video on YouTube, to click like and subscribe to my YouTube channel. In the comments section, do let me know what you think of this video and what she would want me to record next and help me reach out to fellow like-minded traders who are interested in a 360 degree view of the markets and knowledge based investments and trades by referring my video storey of family and friends.
Do take very good care of yourself, your health, your family and friends, your investments, and trades. I hope you have a very profitable day. Vijay Bhambwani signing off for now. Thank you for watching my videos.
Stay safe and have a profitable trading day!
Warm regards,

Vijay L Bhambwani
Editor, Fast Profits Daily
Equitymaster Agora Research Private Limited (Research Analyst)
Recent Articles