Time to Trade Housing Finance Stocks
Oct 19, 2021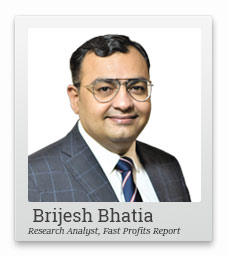 In this video I'll share my view on trading housing finance stocks.
Housing finance stocks are offering a great short-term trading opportunity right now and I don't want you to miss it.
These stocks have broken out on the charts with strong bullish momentum and have a lot of potential to go higher.
Watch the video and let me know what you think about trading these stocks. I would love to hear from you.
Hello viewers. Welcome to the Fast Profits Daily. Myself Brijesh Bhatia.
So Nifty is at 18,500 and market has seen a roaring 2021. Since start of the year, we have seen markets trending bullish, bullish, bullish and just ahead of Diwali, it's been still trending on a bullish note, and we expect that this bullish momentum could continue in the markets.
EV Stocks: Which is Tanushree's Top Pick?
Well the sectors have seen rotating very, very frequently and we have seen, if you look at the last 3 to 5 weeks, we have been considering sector set ups regularly. So we started with power, auto, real estate, and since then most of the sectors have been trending aggressively. One sector which we are considering in today's video is housing finance companies.
If you look at the real estate index, it has seen, since they break out in September, a rally of around 25-27% in a quick time. It is largely driven by the housing finance companies, the home loans, and we look at the structure of these companies, they are on the verge of a breakout. If you look at the short terms, they have already broken out on the charts.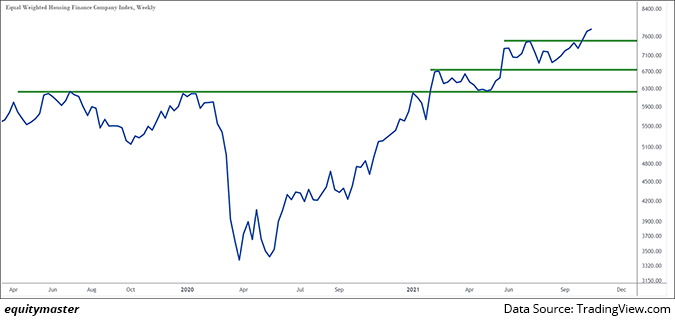 So here we created an equal weighted housing finance company index with the marketcap of minimum 7,500 crores. If you look at the stocks HDFC Ltd, LIC Housing Finance, PNB Housing Finance Canara Bank, and Hudco. So we created an equal weighted index over here.
If you look at this weekly chart, we broke out of 2019 highs being tested. Those broke out. We rallied again. The next break out was around 6,700-6,800. Retested and now the fresh breakout has been witnessed around 7,500 levels, which is 7,600 levels now. So we expect this rally to continue with the momentum.
The most interesting part over here is if you compare it with the CNX Realty Index, which has been a huge rally, if you look at it, the similar rally plays out. So let's look at the chart over the here.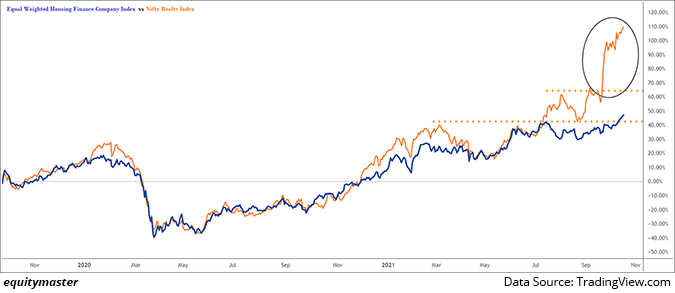 If you look at this, the orange line is CNX Realty Index and the same set up was there. The break out, rally, retest, and again the fresh break out and that break out has seen a huge momentum of around 25-27%.
If you look at the September mid, till now, most of the realty stocks have seen a huge upside momentum. If you are our subscriber of Fast Profits Report, we have a special report on realty stocks, a couple of stocks and booked some profits over there.
So now we expect that if the similar scenario plays out how the realty index plays, the housing finance companies could rally or witness a fast and furious rally coming into next 1 to 2 months. So if you look at the break out, the orange line break out was seeing the momentum. If you look at the equal weighted index, which we created, it's breaking out on similar lines.
So probably there could be a chance that the housing finance companies would lead the way the CNX realty index has seen and you should not miss this trading or investing opportunity to the housing finance companies.
Again, the stock selection will be very crucial. We believe that the midcaps and the largecaps have still a huge room for the momentum into the benchmark indices.
So select a stock where you think that the fresh break out has happened and kindly avoid the stocks which are being trading at the lower levels of which are yet to break out.
Probably there would be the covid levels. There are some stocks into the finance companies as well, which are yet to break out of their covid levels.
So keep in mind about the stock selection that the outperformer we continue to outperform into the next leg of the rally.
So signing off. Before I sign off, I request if, in case you are gaining out of our sector videos do comment to the section below that how are you rating our videos and how do you like our content onto the sectorial side.
Signing off. Brijesh Bhatia.
Warm regards,

Brijesh Bhatia
Research Analyst, Fast Profit Report
Equitymaster Agora Research Private Limited (Research Analyst)
Recent Articles