How to Invest When Inflation is Higher than Interest Rates?
Oct 20, 2020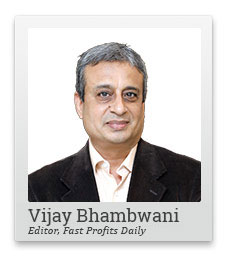 A big worry for many people is the low interest rate they're getting from their banks.
Fixed deposits hardly pay anything beyond 6.5% these days.
On the other hand, the latest inflation data tells us that prices are rising at over 7%.
This is indeed a challenging situation.
How can we handle with this situation as a trader? Should you take more risk to earn higher return?
Find the answer in the video...
Hi, this is Vijay Bhambwani here and I'm back with you in this video to talk about a critical aspect of the market, in continuation of the video that I recorded on 22nd of September which was titled - How Much Money Should an Investor Set Aside for Trading?
Now, let me begin by hoping that you are keeping your finger on the pulse of the market. You're enjoying your trading and my videos have added enough value over a period of time to help you segregate some stocks which you are trading rather profitably, and the markets are treating you kindly.
FREE Event: The Great Indian Wealth Project
In this video, I want to talk about the recent press release about the retail inflation, which has now crossed the 7% threshold, namely 7.34%.
Now, if you go by the 22nd September video, which is your age, your retirement age minus your present age and therefore that residual number being the amount of money that you should segregate for higher risk investments and keeping the remaining figure in relatively low yielding but safer investments, which would be the kind of money that you would save for your sunset years.
As I have been indicating in these videos on Equitymaster since the end of 2019, calendar year 2019, going forward, yields on investments of any kind, whether you're talking about fixed income investments like bonds, fixed deposits, you're talking about savings cum endowments like insurance policies, you're talking about seniors citizen's plans you are talking about any kind of a return which is linked to risk free return rate, which is the 10 year benchmark bond yields, or even bank prime lending rates, you are likely to witness a decline in your fixed income returns or yields.
Now if you were to focus and therefore keep a majority of your wealth in low risk and therefore lower yielding securities like fixed income, how do you make both ends meet, especially in high inflation scenario wherein the retail inflation is now actually at 7.34%, and fixed deposits are yielding anything between 5.5 to 6.5% depending on how old you are. Obviously, senior citizens do get an advantage of marginally higher interest rates.
How do you bridge this gap and what do you do because real effective yield is actually negative? If you take the inflation of 7.34% and hypothetically, you are receiving 6.5% interest, you are still 0.84% in the negative. At some point in time, you will dip into your reserves and you will consume your capital.
This basically pushes investors knowingly or unknowingly into taking higher risks. Now, here in lies the problem. This is the crux of the video that I have recorded for you. Is it well worth your while, your effort and the risk to diversify or divert your money from low risk instruments into higher risk and therefore higher yielding instruments to be able to bridge the gap between lower yields and higher inflation so that you are not forced to eat your capital?
Now this is walking the razor's age. The problem with higher risk taking is that while the lure of higher potential, this has not been confirmed but potential reward, is what leads the people into taking higher risk, the problem is that they do not compute the risk mathematically enough.
Now there is something called the Jensen's measure which fund managers use wherein the mathematical formula states that if you're taking one additional unit of risk, you should expect a minimum of one and a half if not two additional units of reward. It is only then that the risk is worth it.
Otherwise, the risk will basically wind up costing you money, costing you dear, because in that case you might just wind up losing a portion of your capital. Now this, like I said, is walking the razor's edge.
If you were to allocate higher amount of your capital to higher risk and higher yielding instruments, and God forbid, if there is some adversity in the market wherein the market falls or your investment goes against you, you are now faced with a dilemma. A far bigger magnitude than just yields.
Earlier, you were getting 6.5% yield hypothetically on your fixed income securities, and you were hoping up with 7.34% inflation. So the difference was only 0.84, but now, if you lose your capital in a high yielding higher risk instrument, you not only will lick your wounds and go back to a low yielding low risk instrument, which obviously will even lower interest than before because your capital is eroded. This is something that you must keep in mind.
I admit that people who invest in financial markets have to be born optimists. Let me tell you why. I run an incorporated company. I know how companies are run and what it takes to run a company. I have to be a diehard optimist to invest my company's paid up capital into the paid up capital of somebody else. Some somebody else's company promoted by that person, which means passing on my money into the direct control and command of another person and hope that he will do a good job of it.
Believe me, I have to be an optimist, and therefore that's the only way I can sleep easy in the night after investing in somebody else's company.
But does it mean that one a loses sense of rationality and become a diehard optimist even in the face of insurmountable odds?
No. I would urge you to assess your risk and reward even more carefully, and if it all, you feel that any stock, any mutual fund, any other investment that you're entering, has a risk higher than your risk appetite, I would recommend and I would request you, please do not enter into that risky investment because the risk is far beyond your risk appetite.
The risk that you are taking must be commensurate with your appetite and must not adversely hit you're a lifestyle if a certain amount of money was to be lost. It would actually make sense to trouble yourself and fasten your seatbelts and tighten your bed buckles and cut down your expense a little. It's a nasty a proposition that I put forth to you, but it would make more sense.
Does it mean that you should cease your investments? No. By all means, continue to invest in a long-term portfolio creation in solid companies because solid companies tend to be relatively lower risk.
Do not fall into the temptation of taking higher risk, which is unjustified. This is what I mean.
At all times, remember that formula which I talked to you about. Your retirement age, which you have set a goal for yourself, 68, 70, 75, 80, minus your current age. Whatever is the figure, should be the money that you should be risking. The remaining must always be in low risk and therefore maybe even lower yields.
These are tough times. You do not want to escalate them by losing money on this cautious and sombre note, Vijay Bhambwani signing off for now till we meet again in my next video. If you're watching this video on YouTube, don't forget to click like on this video, if you agree with what I said.
Also, subscribe to my YouTube channel. In the comment section, do let me know what you think of this video and what you would want me to record in my next.
Also, let me reach out to like-minded traders and investors who want a 360 degree worldview on financial markets and research and logic-based investments and trades by recommending my video to your family and friends.
I'll sign of now, not before hoping you have a very profitable day ahead and do take very good care of your health, your family, your friends, investments, and trades.
Vijay Bhambwani signing off. Thank you for watching my video.
Stay safe and have a profitable trading day!
Warm regards,

Vijay L Bhambwani
Editor, Fast Profits Daily
Equitymaster Agora Research Private Limited (Research Analyst)
Recent Articles