India's Fuel Crisis May Ease Soon
Oct 21, 2021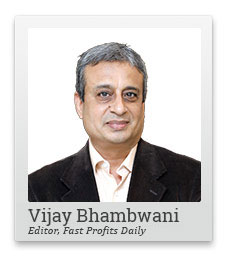 Recently, I read news about a very positive development. It's something that, as an Indian, brings we comfort because it will be very positive for the economy.
In this video, I'll tell you why I believe the International Energy Agency inviting India to become a full time member, is a gamechanger.
This one event holds the potential to end the nation's perpetual fuel woes.
Watch the video for the details.
Let me know what you think about this important issue. I love to hear from you.
Hello friends. This is Vijay Bhambwani here and I hope my videos are helping you become better traders, grasp the bigger picture even more effectively, and in turn, try and plan your trading blueprint even more effectively, so you can make bigger trading and investment profits.
Friends, off late, I have made some videos in which I have talked about how there is a big boom coming in India over a 10 year time frame because the Indian bonds are going to get listed in the international markets, which will result in approximately US$200 bn coming into India thanks to the sovereign debt becoming a part of the global indices.
EV Stocks: Which is Tanushree's Top Pick?
Then about the free trade agreements, especially with the UAE under CEPA, the Comprehensive Economic Partnership Agreement. Now we have negotiations going on with UK, with the European Union, and Australia.
So free trade is happening between India where the exports will jump up, which is why the Indian currency is showing the resilience that it is, and our stock market is defying gravity and rising in spite of the fact that the Asian markets are either stagnating or even coming down.
So when you look at it from a cause and effect theory, my 360 degree worldview is able to grasp better as to what the cause is in the market and therefore, how long the impact will last. Now, since these are macro issues which are long lasting, the bullishness will also be percolating for a period of time.
Now, in today's video, I want to talk about a very sensitive topic which I am sure many of us as Indian, traders, investors, as well as consumers, are worried about. Rising fuel prices and how Indian government is thinking of tackling the issue.
Now, every time fuel prices go up in the international domain, does it mean that you and I need to shelve out more and more money for refilling fuel tanks in the car, bike, jeep or whatever vehicle that is we have of choice? The answer is no and I'll give you concrete reasons as to why.
Now, the International Energy Agency, which is the Prima Dona monitoring agency comprising of 30 nations, which put together, are responsible for 75% of all global consumption of energy, has invited India to be a full time member.
The Indian government has basically ensured that India is an associate member of the International Energy Agency in March 2017 but an associate member has observation powers rather than any proactive participation.
There are four more countries which have applied for membership of the International Energy Agency, which are Israel, Chile, Colombia, and Lithuania. But the International Energy Agency has invited India to be a member of its own body and the primary requirement of the International Energy Agency is that the country being invited to be a part of itself should be a member of the OECD, Organisation of Countries for Economic Cooperation and Development, which condition India as it is fulfils.
Now why I am saying that the Indian fuel prices will be less volatile after becoming a member of the International Energy Agency is currently India has a strategic petroleum reserve, which is sufficient to last for 9.5 days of consumption at present levels. But a primary precondition of becoming a member of the International Energy Agency is that the government, which joins the International Energy Agency, should have a SPR or strategic petroleum reserve of 90 days, nine zero.
Remember, we have nine and a half days of reserves. So our reserves of fuel have to go up approximately 10 times more.
Now, you know when you have 10 times more fuel reserve, then you have currently what really happens is that when fuel prices go up in the international market, prices at the petrol pumps don't need to go up in lock step, in tight correlation with the overseas markets.
The government can simply help itself to the reserve that is lying in the Strategic Petroleum Reserve, which is what China has been doing off late and release that fuel to the oil marketing companies.
Therefore, the public would be spared of the volatility of fuel. You're seeing fuel prices going up 10, 15, 20, 25 times in a matter of months. All that need not happen once you have 90 days of Strategic Petroleum Reserve, number one.
Number two condition of the International Energy Agency is that the government, which has been invited or wants to by itself become a member of the International Energy Agency, must have a concrete plan to cut fuel consumption by a minimum, a minimum of 10% nationwide.
So now, suddenly, that jigsaw puzzle, the puzzling pieces of the government's moves of why they are pushing for higher degree of ethanol doping, now hoping does not means drugs, I am talking on doping, as in mixing ethanol with petrol, now you suddenly know why the government is stepping up efforts to mix ethanol with petrol, thereby called doping in scientific terms, so as to cut down fuel consumption and reach the 10% threshold to satisfy the needs of being a member of the international energy agency.
Obviously, as a member, you have privilege rights to receive a priority in fuel supplies, etcetera, and remember, India will be a part of an organisation which collectively, currently, is consuming 75% of the entire globe energy. Once India joins in, it will automatically cross another round figure.
Now, a few fun facts about what it means for India. India is the third largest consumer of energy in the world, which is why the international energy agency wants India, as against the four other countries, which I told you want to join in and have applied, we has Indians have actually been invited. That's different.
Now, India is seen as a swing consumer of fuel, which means that Indian demand for fuel go up, the international prices of fuel also go up because the fuel suppliers know that Indians consume so much of fuel. So obviously, we are a very influential elephant in the room kind of consumer of fuels. So being in the International Energy Agency's membership roaster would obviously be to our benefit.
Friends, we are now looking at a threshold of India sitting on the big league table and playing with the big boys. Obviously, that means getting an assured supply of fuel at more reasonable prices and of course, what excites me is the 90 day Strategic Petroleum Reserve. The 10 times increase in our reserves is obviously going to cushion the prices, which are far too volatile and are moving too frequently, sometimes on a day to day basis which will give immense amount of relief to the citizen and to the government.
Good times ahead, my friends and I hope that the Indian government, along with the International Energy Agency's executive director, Mr Fatih Birol, who are in active kind of online parlances very frequently with our Oil Minister, Mr Hardeep Puri, are managing to put pen on paper as fast as possible so that the currency and fuel prices can become even more stable.
Obviously, I do expect the stock market to cheer this move and better times ahead. All the more power to India and all the more power to Indian investors.
On this cheerful note, I bid goodbye to you in this video, not before reminding you to click like on this video if you liked what you saw. Subscribe to my YouTube channel and click on the bell icon to receive instant alerts about fresh videos being put up out here.
Good, bad or ugly, I always look forward to your comments in the comments section. Also help me reach out to fellow like-minded investors and traders by referring my videos to your family and friends. Thank you for your patience. I wish you have a very, very profitable day ahead.
Vijay Bhambwani signing off for now. Bye.
Warm regards,

Vijay L Bhambwani
Editor, Fast Profits Daily
Equitymaster Agora Research Private Limited (Research Analyst
Recent Articles