Better Days Ahead for the Markets
Oct 22, 2020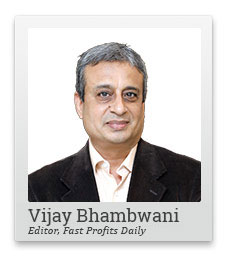 In the middle of the lockdown back in May, I recorded a video on identifying a market recovery based on commodity prices.
Some viewers either didn't agree with me or couldn't grasp the concept.
I get it. It's a tricky thing to predict stock prices based on commodity prices.
But I stood by my view and I was proven right. Commodity prices have indeed recovered along with the stock market and are now pointing towards an economic recovery.
There are better days ahead for the market in 2021.
Let me know your thoughts.
Hi, this is Vijay Bhambwani, and I'm back with you to talk about a very critical aspect of the market that I have been watching unfold over the last couple of weeks and I am so happy about observing these changes in the markets that I decided to record a video on this subject right away.
For those of you who have been regular watchers of my videos on the Fast Profits Daily channel, you will remember that on 20th of May, I recorded a video saying commodity prices can predict the way the markets are going to move over a period of time.
Although it seemed like a strange concept to some, gauging by the feedback that I received on that video on 20th May but I think I'm amply justified in claiming this and the markets since 20th of May two 22nd of October 2020, have amply proven this hypothesis to be correct.
At that point in time, I had said, usually watch prices of base metals or industrial metals because these commodities are used as raw material by industry and as and when the consumption of these raw materials rises, the prices will go up and it will indicate that industrial activity per se, is being boosted by are increasing demand.
Tomorrow at 5pm: Get the details of India's #1 defence stock
Now if you washed since then, over the last five or six months' time frame, some of these base metals have actually been outperforming the kind of appreciation that they have seen in the last year or year and a half.
To be sure, some of it may be attributed to a weak United States dollar because the dollar is the invoicing currency and in the currency is weak, the commodity prices tend to become stronger.
But even then, you can actually, after filtering out the dollar factor, can see that base metal prices are actually ageing higher.
Let's not forget that at some point in time, the lockdowns world over, at least in major parts of the world, will end, the lockdowns triggered by Corona and life will begin to pick up its thread where it left off from pre lockdown.
Which means factories will come back humming to power, to life, and people will get out of their homes. They will start reporting for work. Consumption of goods and services will go up and in anticipation of that you're basically seeing prices of industrial metals going up. Now let me give you a few statistics and some fun facts.
Aluminium is at its highest after May 2019. Copper on the MCX is at a multi-year high. On the overseas commodity exchanges, it is at its highest after June 2018. The difference is because of the currency factor, the USDINR the rupee versus the dollar, is at 73 a half right now and a few years ago it was all the way down up to 47-48. Which is why we can explain the copper prices being at a multi-year high, although in the overseas markets, it's only a two and a quarter year high.
Nevertheless, lead has been stagnant. Nickel on the MCX is at its highest after November 2019. Remember, nickel goes in the manufacture of making stainless steel. Nickel with iron ore is melted together to produce stainless steel. So this tells me that the steel industry might just be picking up slowly but surely, and sure enough, the Chinese demand is amply proving my point.
Zinc is at its highest after June 2019 and this is on the MCX. So basically what we are seeing is industrial activity seems to be poised to pick up over a period of time and in anticipation of that, base metal prices have already started rising.
Does it mean that the stock market will jump tomorrow morning itself? I'm not implying that. Why, I as a behavioural technical analyst, I would love to answer the why and how more than what. So I am gonna share my reasoning with you. Feel free to disagree in the comments of course.
You see, if you take if you if you see a guy taking his dog out for a walk, you will see that the man, the owner, might be walking in a straight line but the dog, especially the younger frisker puppy dogs, will basically gyrate from left to right. Of course, they can only do so till the length of the leash around their neck permits them. So the general direction of the dog will also be forwards but he will hardly be walking in a straight line.
The economy verses the stock market is also something similar. There are times when the economy is doing well and the stock market is also doing well. Now when the economy and the markets are going in the same direction, this phenomena and economics is gone pro cyclicality.
But there are times when the economy is going in one direction and the stock market is going in the opposite direction. This is called counter cyclicality. So is it possible that by the time the economic recovery comes in, the actual economic recovery comes in, the stock market could be undergoing profit taking?
Yes, very possible. In the next couple of months, you might see profit taking in the stock market, but the manufacturing sector might just be picking up. That's a function of the puppy dog going from the left to the right but the general election will be forward.
What is so positive about the commodity prices rising? Now one should not only think in terms of the market. Look at what's happened after the lockdown. Job losses, pay cuts, reduction in force, which means again layoffs. I think once the base metal prices rise even higher, provided the consumption figures of base metals also match up, we think that employment prospects will gain.
Even if the stock market were to dive down because of profit taking, let's not forget more people getting jobs would mean more consumption, more investments in financial markets. Which means once the counter cyclicality phase is over and pro cyclicality phase starts, the next leg of the bull market of the stock market will begin.
This is my hypothesis, which I strongly believe in. I think we need to give it a couple of months for it to unfold. Let's not go out there and start bottom fishing and buying stocks tomorrow morning itself. This is very patient investor's game plan, but this is something that you need to keep your eyes and ears open for. Commodity markets, commodity prices, giving you hints about the broader market direction even in equities.
Remember, financial markets are all married together by money. Money flows from one asset class to the other. Depending on where it feels it will generate the highest amount of returns and right now equity markets are up but very silently commodity markets seem to be catching up to equities and telling me that economic activity might just pick up sizably enough come 2021, which is not too far away. Just two months mor, and 2021 will be upon us. So I expect a better market in 2021.
On this optimistic note, I'll sign off from this video, but assuring you there will be many more videos to come. If you're watching this video on YouTube, don't forget to click like on this video if you like what you saw and heard. Also subscribe to my YouTube channel in case you already haven't.
In the comments section, do let me know what you think about this video in what you would want me to record in my next. Also, let me reach out to like-minded people interested in a 360 degree worldview of the financial markets by referring my video to your family and friends.
Do take very good care of yourself, your health, your family, your friends, your investments, and trades. I wish you a very profitable day ahead. Vijay Bhambwani signing off for now. Thank you for watching my video.
Stay safe and have a profitable trading day!
Warm regards,

Vijay L Bhambwani
Editor, Fast Profits Daily
Equitymaster Agora Research Private Limited (Research Analyst)
Recent Articles