My View on ITC
Oct 23, 2020
The stock of ITC is the talk of the town these days.
On social media, you will hear polarised views about this company. Some same it's a great buy. Others think you should sell/avoid it.
So which one is the right course of action?
As a chartist, I trust charts over personal opinions.
So what do the charts say about the stock of ITC?
In this video, I have the answer for you.
Let me know your thoughts in the comments.
Hi, I'm Apurva Sheth and I welcome you to this latest edition of Fast Profits Daily.
So friends, what if I want to tell you that there is a company which has a CAGR profit growth of about 14% over the last 10 years? It has sales growth of about 10% over the last 10 years. This company is available at a PE multiple of less than 14. It's a debt free company, and the dividend yield on this company is more than 6%. Last but not least, the return on capital employed is a healthy 33%.
Would you invest in such a company? I bet you will. The numbers look terrific.
However, despite such good numbers, the street is divided on the future outlook of this company and this company is none other than ITC Ltd.
Over the last couple of days there has been lot of heated discussions on ITC and its future outlook on social media websites, and there have been several blogs written about it. A couple of days ago, the Rahul Shah shared his views on stock of ITC with respect to how it is currently placed in terms of likely investment. So If you haven't seen that video, then you must watch that video here.
EV Stocks: Which is Tanushree's Top Pick?
Now today, I want to share my perspective on ITC. Rahul has already shared a view on ITC in terms of fundamentals, so I'd like to jump straight into the technical view of ITC. This has been probably the first time that I'll be talking about the stock and I hope you are excited about it.
So let's check out the charts of ITC but before we do that, I'll take you through ratio chart of the BSE FMCG index with ITC. Now I have recorded videos earlier wherein I have shared insights about ratio charts, how they are helpful and how they help us determine the best investment out of two stocks or two indices.
So whenever a ratio chart rises, that indicates that the security which is there in the numerator is outperforming the one which is there in the denominator. So here, we have the BSE FMCG index as the numerator. We are dividing the price of the BSE FMCG index, with the price of ITC. It's a weekly chart from 2016.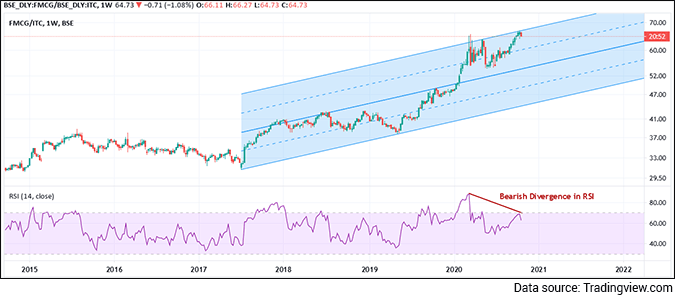 So as you can see out year the BSE FMCG index has been outperforming ITC over the last couple of years. The BSE FMCG index to ITC ratio chart is currently trading in this rising channel. It was initially trading within this bottom edge of the raising channel.
However, in January 2020, it moved up and started trading in the upper half of this channel. After hitting the upper edge of this channel in March, it has slipped lower and once again, it started a rallying upwards and it has again hit the upper edge of this channel right now.
So based on the ratio chart of the BSE FMCG index to ITC, indicates that the ratio could fall lower, which means that chances of outperformance of ITC compared to the other FMCFG stocks are higher.
Apart from that, there is one more thing which indicates the same. So out here I have plotted the RSI on the chart. RSI is nothing by the momentum indicator, which indicates the strength or weakness in the counter.
So here the weekly RSI is forming a bearish divergence. Which means that the price is moving higher and the RSI is falling lower. So you can clearly see that the ratio was hitting higher highs whereas the RSI was hitting lower highs.
This indicates that the momentum is slowing. This nowhere indicates that they could be a fall. In this case, since we are seeing the ratio chart, it does not indicate that the ratio would fall. It simply indicates that the chances of an up move are lesser.
So in this case, the chances of the BSE FMCG index outperforming ITC are less. So it could probably happen that the BSE FMCG index and stock of ITC could in similar magnitude. So this is what the FMCG to ITC ratio chart is suggesting. There could be chances of a pause in a move and ITC could now start outperforming or at least, the underperformance could stop.
Now, apart from this, will now see what the weekly charts of it is indicating. So here I have the weekly chart of ITC ltd.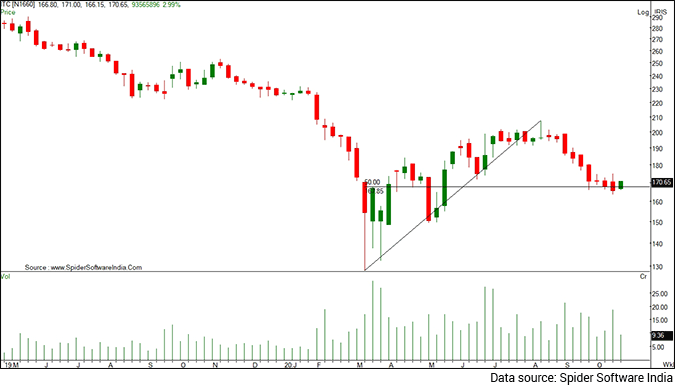 Now I have drawn 50% retracement from the recent lows that were hit in March. So the low of March was 128 whereas the high that the stock hit in August was around 207. So this is roughly about Rs 90 kind of move, and stock is currently trading around 50% retracement. Now I have recorded a video earlier where I have mentioned that 50% retracement levels are excellent opportunities to enter into stocks where you have missed entries earlier.
Apart from that, we have seen that whenever a stock is in a strong uptrend, it does not continue to move in a straight line. There are consolidations and there are zig-zag moves, even when a stock is in a strong up trend.
So 50% retracement acts as a discounted level for entries into. Now, wherever we see discounts in malls or on shopping websites, we jump into it but we rarely see people jumping into stocks when they are available at a discount.
So here you're it is trading at 50% retracement or if you can call it a 50% discounted level of what it was trading of the previous move. So this could be a good entry point from a medium to long-term perspective.
Obviously, there are many other things apart from the ones that we have seen and when all the things are put together, we see a good case, then that that's exactly a good point to invest in ITC. So we must keep an eye on the stock. The street is divided but that's where the maximum opportunity lies. Ehen everyone is fearful, that's the time to be greedy and ITC could be the kind of stock. So you must keep this stock in your watch list and delve into it whenever it gives a good opportunity.
So that's all from me for today. I hope you enjoyed this analysis of ITC and in case you did then please like it, share it, and subscribe to our channel and also share your feedback on this video. So that's all from me for today. Thanks a lot and have a nice day.
Stay safe and have a great weekend!
Warm regards,

Apurva Sheth
Senior Research Analyst, Fast Profits Report
Equitymaster Agora Research Private Limited (Research Analyst)
Recent Articles