Don't Miss Out on the Great Profit Opportunity in PSU Stocks
Oct 26, 2020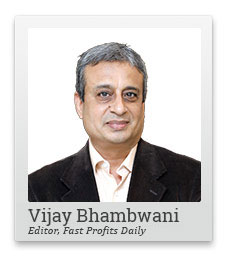 In my video, PSU Stocks Are Looking Positive Now, I told you why I'm bullish on PSUs.
Let me tell you, the sharp move in these stocks has taken even me by surprise.
In this video, I'll show you how you could have made up to Rs 300,000 in just three trading sessions!
I'm not joking! This is big money we're talking about here.
I believe, this is one of my most important videos I've done in a while.
Watch the video and let me know what you think of these stocks.
Hi, this is Vijay Bhambwani here and I'm with you in this video to talk about something that frankly surprised even me. Although I was anticipating the outcome to be exactly the way turned out a way but the time frame took me by surprise.
Now, for those of you who haven't really joined Equitymaster's Telegram channel, let me tell you something. You guys are missing out on a great opportunity. This video is about that great opportunity.
I have a feeling that many a times what is available in the free domain, in the public domain without paying any charges, is normally not taken as seriously as it should be and people discounted off as saying, if it was all that valuable, it wouldn't be available for free. Now this is actually the basis of an iteration in behavioural finance, a study that I am a lifelong student of, and I swear by.
It says that even if you were to reveal your most profitable trading regimen in the public domain, chances are majority of the people will not really trust it because they would feel sceptical about anything that's floating in the free domain and people normally tend to continue with the force of habit, doing what they are doing, even if it is not yielding optimal results, due to force of habit alone.
Now on this telegram channel, which goes by Equitymaster Official as it's handle, which I think you should join right away, I post three updates every evening post market hours. These are based on statistical studies that I have made a model of, and I have been refining over and over again since 2007. That's how old this study is. It blanks out emotions. It does away with any kind of subjectivity, guesswork, any kind of conjecture, or ifs and buts.
It's based purely on numbers and on 19th of October 2020, on the Equitymaster Telegram Channel, in my third and last evening post, which is a stock screener, which is based on a look back period of 20 days, and it gives you the top 20 stocks based on volatility, top gainers, top losers in price, highest volume gainers, highest open interest gainers, and highest MWPL, or market wide position limit gainers.
Now on 19th of October, feel free to check it out and verify what I am saying. I'm open to the idea of being verified. On 19th of October, I wrote that the biggest losers were the stocks, the public sector units, and this segment is likely to get reclassified very soon.
I followed it up with a video on 20th of October, which is a couple of days ago in this very playlist, wherein I said that PSU stocks to me are looking attractive. Now as I record this video on a Sunday evening based on the closing prices of Friday, the 23rd of October, it's time to do a reality check.
What has happened to the PSU stocks, which were appearing as laggards in the list of 20 stocks over the last one calendar month, which is the last week of September up to 23rd of October, which is the last trading day's data that I have, as on Sunday evening and those stocks which were from the PSU space appearing in the biggest losers, how have they done?
I have compiled a list of all these stocks, and I am going to give you this list so that it kind of makes you get up and smell the coffee. These are such powerful returns that you should never, ever in your life call any stock boring, uninteresting, should be looked over, glossed over, or whatever.
Now I have taken not the 19th but 20th because if I took the 19 returns would have been higher. Let us assume that you didn't react on the 19th but reacted on the 20th after watching the video on YouTube, which came one day after the telegram post. I'll also explained to you the methodology.
All the PSU stocks that appeared as laggards. Now what I have done is, for example, Bharat Electronics. On 20th October it closed and Rs 90.30. Remember, this stock screener is of futures, so there's gonna be market lots etc.
So on 20th October it closed at Rs 90.30. On 23rd of October, which is Friday it closed at Rs 92.80. The market lot is 7,600. So had you bought one lot, you would have been plus by Rs 19,000 as on Friday evening.
Bear me out. I know you would basically say it's assuming that you bought it this and this date and still held it on to it on so and so date, so it's a hypothetical study. So I am gonna address that scepticism also.
So BEL gave you 19,000. BHEL, Bharat Heavy Electronics, gave you 10,500. Bank of Baroda, 9,430. Bharat Petroleum, which is BPCL, 14,130. Canara Bank 5,250 based purely on only one lot. Coal India 14,430. Gas Authority of India ltd 11,285. Hindustan Petroleum which is HPCL 27,540. Wow, this is good! Indra Prastha Gas 19,730. IOC, Indian Oil Corporation 17,955. National Aluminium Company NALCO, one of the few losing PSUs. We would actually lose 8,500 bucks here. NMDC 7,370 in gains. NTPC, fasten your seat belts. Profits 32,490. ONGC, boring stock, right? But it enriched you by 12,705. Power Grid Corporation, who would have thought of power grid as a fancy stock trade? Hey, it gave you 49,200 bucks. Punjab National Bank, another loser, but Rs 1,400 only. That's not much. Power Finance Corporation, Another boring stock 14,880. Rural Electrification Corporation 18,300. Steel Authority of India, 36,100. SBI, another gigantic stock didn't really do much. It gave you a loss but guess what? It was only 600 bucks. Less than the cost of a meal in any decent restaurant.
Now what is the total of all these stocks? The total is, had you taken one lot of each company in the futures, on the long side, you would have up with gains of Rs 297,196 after taking into account the losses.
Now, I know this is a hypothetical study based on the closing of 20th and the closing of the 23rd. Nobody can actually buy at exactly the closing of 20th and basically book profits on the closing or 23rd, which is Friday. So there's gonna be some price distortion, some slippage, jobbing differences etc.
How much discount would you like to give? Assuming it's 297,000, for the sake of brevity, for the sake of simplicity, lets round it off to 300,000. How much of a shaving would you like to give it? Would you like to shave of one third? You're still left with Rs 2 lakh. Remember, we're talking of three trading sessions. 21st, 22nd, and 23rd. How about Rs 2 lakh in 3 trading sessions?
What if you want to take away even more amount of money because nobody really wants to wait from the bottom to the top or wait and let the profits ride? We all sometimes, myself included many a times I get off the bus fast when are making money. Hey, let me not just with too long so that the profit actually become a loss. Would you actually be happy if you took only half the money home? Come on. Half is reasonable. You'd still take home 1.5 lakh.
What if you're extremely pessimistic, extremely sceptical? You're the kind of a guy who hits and runs in small, small winds and says, okay, I'm making a part of the profits. I'm gonna go home. I'm, out of here. What if you took home only one third of this money? You still take Rs 1 lakh in three trading sessions. All from stocks which have appeared in the biggest losers list in my telegram channel post of Equitymaster every evening and I told you, based on my statistical study, these stocks are likely to get reclassified.
These are the stocks that people don't really give a second look to. Many people I talk to tell me, Vijay, I think you're getting too old. You are looking in the garbage heap. These are not stocks that we like.
What are you after? You after glamorous stocks? Are you after the money? Give me the money any time. I'll go for the money. You keep the glamour. It's your call.
So don't ever discount anything just because it's available for free. Sometimes some of the most powerful ideas come from the free domain, including Equitymaster's Telegram channel. I urge you again if you haven't already done so, join in. You're missing the action.
I have many more refinements in my statistical data models. Just like you tweak the knob of a radio set and old time radio set to switch the stations, I can tweak many knobs and super refine my studies to an extent where we can basically get ahead of the market. Just like you saw in this PSU stocks list.
I urge you, go back in time and monitor whether all these stocks have appeared over the last one calendar month in the top losers list on the PSU space or not. I kid you not. Statistically, it's possible to be far ahead of the market. We're gonna take you there.
On this promising note, I bid goodbye to you in this video. I'll meet you again in my next. If you're watching this video on YouTube, don't forget to subscribe to my YouTube channel. Click like on this video and also press the bell icon to alert you of any further videos.
In the comments section, do let me know what you think about this video and my next. What would you want me to record in my next? Hey, this channel is for you. We want to help you get there. Help me reach out to like-minded traders, who are mathematically inclined, who want to base their investments and trades on logic, knowledge, and a 360 degree worldview approach in the financial markets by referring my video to your family and friends.
Vijay Bhambwani signing off for now. Do take very good care of your health, your family, your friends, your trades, and investments. I wish you a very, very profitable day ahead. Thank you for watching.
Stay safe and have a profitable trading day!
Warm regards,

Vijay L Bhambwani
Editor, Fast Profits Daily
Equitymaster Agora Research Private Limited (Research Analyst)
Recent Articles