Important Update for Traders on the Rupee and Interest Rates
Oct 27, 2020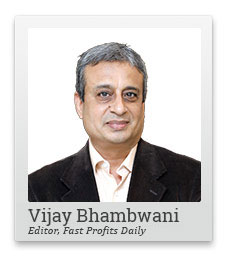 As your editor, it's my responsibility to keep you updated on the latest developments in the market which could impact your trades.
This video is about two assets which have moved sharply and are likely to cause some amount of turbulence in the market.
The USDINR has moved up and the 10 year benchmark bond yield has moved lower.
This has implications for your trades and in this video I'll tell you all about it.
Share your thoughts in the comments. I love to hear from you.
Hi, this is Vijay Bhambwani here. I hope you're keeping your finger on the pulse of the market, the markets are treating you well and, you're earning good trading profits based on the videos that I have been recording here and I have been able to help you become better traders.
In this video, I want to draw your attention to an event that has occurred in the market, which is crying out for your attention if you have not already noticed it by yourself. I am talking about the USDINR, the United States dollar versus the Indian rupee and how it is likely to impact your investments, your trades, your portfolio, and generally your life, in coming a few weeks.
You see, the US dollar in the prompt month futures on the National Stock Exchange currency derivative segment, has crossed the 74 mark for the first time after the third week of September 2020 and at that point in time, it had scaled a high of 74.11. It's marginally lower than that and what does it really imply for you?
Learn: How to Potentially Accumulate Rs 7 Crore in Wealth Over the Long-term
First things first. India is an import dependent nation. So any and everything that we import is likely to become more expensive. Let's start with crude oil. Crude oil, as you know is a multiplier commodity. The price of crude oil goes up, everything from fruits, vegetables, milk, eggs, etc, all tend to become a little more expensive.
So rising dollar versus the rupee or falling rupee versus the dollar is inflationary in nature and this is something I call imported inflation. Inflation not because things have become expensive here, but because they are imported and the rupee has become weaker. Therefore, it cost us more to import these things. Which also means your laptop computers, your desktop computers, your tablets, your mobile phones, your electronic items that are basically sourced from overseas, will all become more expensive.
A certain segment of the stock market will also receive a slight setback. Which segment? The segment that depends on its raw materials from overseas. If the raw material is imported, that might become a lot more expensive and unless the company can successfully pass on the price rise to the consumer who basically accepts it without any compression in demand if that is the case, the company might just get by, but otherwise the profit margins of these raw material importing companies are going to hit.
India imports a substantial amount of its edible oils, especially palm oil. I expect that to become a little more expensive. We also import a lot of pulses, dals, etc, which might become a little more expensive. Overall, I expect inflation to go up.
The second thing that I noticed along with the USDINR crossing 74 after so many weeks was that the India 10 year benchmark yield, that is the 10 year bond yield guaranteed by the government of India, has now fallen to 5.81%. Which means the return on your fixed income is likely to do down.
This is a double whammy. On one hand, your cost of living or inflation, I also call it the Misery Index, because mehngai or inflation, is supposed to make you feel miserable. So on one hand, the misery index is going up. On the other hand, your fixed income investments are coming down. A certain segment of the stock market might take a hit, which is using imported raw material by the companies, and your essentials, which is edible oils and pulses etc might just become a little more expensive.
Those of you who think that it's a simple case of hedging yourself by way of going long in the USDINR, unfortunately, it's a little more complicated than that. Let me tell you why. Being a behavioural technical analyst, I love to share the reason why I rather than merely giving you a blueprint and saying this is what you must do. So here goes.
The answer lies in the banking regulation act. The Banking Regulation Act basically says that the Indian currency markets will operate only during the Indian banking hours, which is nine AM to five PM. Unfortunately, the overseas markets, especially the US market, which is the largest market in the world, opens late in the evening, a few hours after the Indian currency markets have shut down for the day and a whole lot of price discovery takes place after the Indian markets, the currency markets have shut.
Which means, the next day morning, the USDINR either opens with a gap up or opens with a gap down. Now it's not necessary that it plays to your advantage all the time. Which means that an average Indian currency trader is constrained to square up the trade as far as possible during intraday itself. So if you're thinking of a long-term hedge, you're are faced with the dilemma of whether you should take the risk of a gap up or a gap down, which might work to your disadvantage.
This is why the USDINR and the bond yield occurring at the same time, the dollar rising and the bond deal falling at the same time, is somewhat of a concern for traders in the absolute near term. Is there safe way out. Yes, I think you could basically hide in the relative safety of those stocks, which tend to be basically a relative safe haven. I'm using the word relative here.
For example, FMCG. Companies that are making a consumer stables and those items which basically do not really see any compression in demand. For example, toothpastes, right? These are life essentials. They're not really going to have too much of a demand compression. You have no choice but to run towards the safety, even if it means lower returns.
At this point in time, you should focus on capital preservation in the near term. Over the long-term, of course, due to inflation and outperformance by equities over a long period of time, capital appreciation will also come.
But at this point in time, keep your ears to the ground, monitor the USDINR and the bond yields together, and I assure you I will update you as and when an update is warranted. Take very good care of your portfolio. Like I said, focus on capital preservation first. Have a very profitable day ahead.
Vijay Bhambwani signing off for now, not before reminding you, if you're watching this video on YouTube, don't forget to click life on this video and do subscribe to my YouTube channel if you haven't already done so. In the comments section, do let me know what you think of this video and what you would want me to record next.
Also, let me reach out to fellow like-minded traders who believe in a 360 degree worldview and knowledge based investments and trades by recommending my video to your family and friends. Bye for now, see you again in my next. Thank you for watching.
Stay safe and have a profitable trading day!
Warm regards,

Vijay L Bhambwani
Editor, Fast Profits Daily
Equitymaster Agora Research Private Limited (Research Analyst)
Recent Articles