Stocks or Index: Which is Better for Trading?
Oct 28, 2020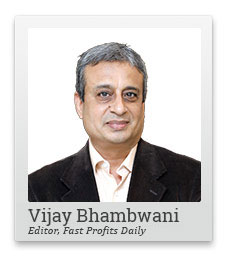 In this video, I am answering a question which I frankly thought I would have encountered a while ago.
These videos are for you. Keep your feedback and queries coming in. I'll record videos as per your requests here in the comments section, as well as on my social media.
The question is, 'Am I better off trading the indices or should I be focusing on trading individual stocks in the F&O?
I'll answer this question from my perspective. I'll try to take a 360 degree world view of the whole exercise and I'll share with you my reasons why.
So let's dive right in...
Hi, this is Vijay Bhambwani here. I'm back with you in this video hoping that you're keeping your finger on the pulse of the market, you're trading the markets well, you're enjoying the trading profits that you're garnering from your day to day trades in the market. I also seriously hope my videos are making a difference to your trades.
In this video, I am answering a question which I frankly thought I would have encountered a while ago. I've been trying to record videos as per your requests both here in the comments section, as well as in my social media contacts that some of you have established with me but very seriously, I would have expected this question far, far earlier.
The question is, am I better off and I'm only addressing traders, am I better off trading the indices or should I be focusing on trading individual stocks in the FNO?
So I am gonna take this tricky question and I'm gonna answer it from my perspective, of course and coming from me, you can remain assured, I'll try to take a 360 degree world view of the whole exercise and I'll share with you my reasons why.
Discover: India's #1 Defence Stock
Let's start with the indices. Now, the indices are nothing but a composition of constituent stocks, which are basically given weightage as per their paid up capital, trading volumes, price appreciation, etc.
Now the Nifty is made up of 50 stocks. The Bank Nifty is made up of far fewer, ten stocks. Now the way the indices are structured is that the heavily weighted counters say, the top five or top six maybe at the most top seven heavily weighted counters in the Nifty 50, can actually swing the Nifty in their own direction, no matter what the other remaining 43 or 44 stocks do.
For example, Reliance with a weightage of 12 to 14% and the weighted changes every month. If the stock is going down in price, the weightage goes down if the stock is rising, the weightage goes up. This data is available from the website every month on the first of the month itself.
Now the Bank Nifty, for example, the heaviest weighted stock is HDFC Bank. The Bank Nifty will go largely where HDFC Bank will want to go on a routine day.
The second thing that you must know about the indices is that the indices can be reconstituted. Which means the composition of shares need not remain permanent in nature. Some stocks can be taken out from the Nifty or the Bank Nifty and be replaced by another stock.
The third thing, index mutual funds. These are also known as passive funds because of fund manager buys shares exactly in the same ratio as they are weighted in the Nifty or the Bank Nifty and will not change his portfolio of these stocks unless and until the constitution of the underlying index also changes.
So there is not much buying and selling happening in the index fund, which is why it's called passively managed. Execution costs are lower and therefore returns to the investor is relatively higher, as compared to the execution costs of equity mutual funds, a diversified mutual fund.
In India, SEBI rules are pretty clear. Mutual funds, unlike hedge funds, are not allowed naked short selling. They can hedge, but they can't go short. Which means that the index fund typically are buy and hold. Which means they are betting all the time that the markets will rather go up.
This is something that you have seen from March to October. I am recording this video on 27th of October evening and you would have seen how the markets have defied gravity. At least the indices have defied gravity and have risen in spite of the major disbelief by a whole lot of people out there. Along the way, the weightages have changed. The constitution of the indices have changed and therefore the net-net Impact of the indices is upwards.
Now, as long as you're trading the index, you have to keep these things in mind. There are so many moving parts in the Nifty that is 50 counters and in the Bank Nifty 10 counters that you will basically have to take a view on where the top three four five weighted stocks are headed.
Many a times I have noticed Reliance is down and being the most heavy weighted the stock in the Nifty 50 I would have thought that the Nifty would fall today, but the next two counters which actually constitute a weightage equal to more than Reliance would be HDFC Bank HDFC Limited.
So on the day that Reliance goes down and HDFC Bank and HDFC Limited go up, the Nifty remains constant. You know what I mean? There are so many moving parts to trading the index that you basically need a mathematical model to trade an index.
Let's take an individual stock future on the other hand. It can either go up or it can go down. There are no constituents. You basically need to study the direction of the underlying stock and you're sorted.
But let me caution you here. If you get the direction of the stock wrong, if the stock is about to go up in the mark markets today and you go short in the beginning of the day itself, nothing, believe me, nothing can save you. So to that extent, the direction must always be right.
If you are a Weekly Cash Alert subscriber, you have seen those six tutorial videos about how to identify whether the stock or the counter commodity or currency is likely to go up or go down based on the snap quote window, which, of course, is a separate video topic by itself and I assure you it will follow in due course. How to select the direction of the trade? Should you begin by buying or should you begin by selling in the future, no matter whether it's the Nifty the Bank Nifty or an individual stock future.
So therefore, in trading an individual stock future, you're faced, relatively speaking, with a 50-50 choice. The stock will either go up or the stock will come down. There are no constituents, weightages of different counters that will impact the price of, say, Reliance, TCS, Infosys, and HDFC Bank, etc.
Sure enough, you might want to keep an eye on the contemporary stocks in the same sector. If you're trading, say, an auto stock like a Maruti, you might want to also see whether fellow automobile stocks like Mahindra and Mahindra and Tata Motors, where they are going and if the direction of all of these is secular, in a uniform direction, that lends more weight to your trade itself.
That is the ancillary evidence system. There are no weightages in the individual stock itself but since there are no weightages to take the stock up and down like an index, the volatility will be significantly higher when you're trading an individual stock.
So, you might make a lot of money or you might wind up losing a lot of money, depending on whether you're on the right side of the wrong side of the market. Now that is something that you will have to learn to live with.
So the trade of is that the index might be relatively speaking, less volatile than an underlying stock but you'll have to take into account many more considerations than an individual stock probably even take the help of a mathematical or statistical trading model.
On the other hand, a stock future might be relatively simpler to trade, but your risk and reward might be elevated, and therefore the hit or the profit that you take home, might be exaggerated and bigger.
Which one of which one of these two trading elements suits you? That is entirely up to you. Your pocket size, your attitude and aptitude, your risk appetite and just how much stress you can take in the marketplace before you keel over and say this much and no further.
So we are all wired differently as human beings, and therefore we are all different, even as traders. Take your pick as to whether you are an index trader or you're an individual stock trader. More from me on this topic and many more tips and tricks as to becoming better traders out there, better day traders out there.
Vijay Bhambwani signing off from this video for now, not before assuring you I will be seeing you in my next video and in the interim, do not forget to click like on this video. Click on the bell icon and subscribe to my YouTube channel.
In the comments section, do let me know what you think of this video and what you would want me to record in mine next. Also help me reach out to fellow like-minded traders who believe in a knowledge based investments and trading system by referring my video to family and friends.
I also look forward to seeing you in the Equitymaster Telegram channel with the handle Equitymaster Official. Do take very good care of yourself, your health, your family, your investments, and trade. Have a very profitable day ahead. Vijay Bhambwani signing off for now.
Thank you for watching.
Stay safe and have a profitable trading day!
Warm regards,

Vijay L Bhambwani
Editor, Fast Profits Daily
Equitymaster Agora Research Private Limited (Research Analyst)
Recent Articles