Is the Bull Market in Bullion Over?
Oct 29, 2020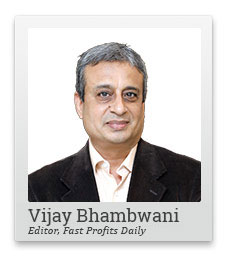 I'm a bullion bull. That means I positive on the prices of gold and silver in the long-term.
But what about the short-term?
Well, bullion prices have been falling recently and investors understandably are worried.
So should you be worried about the long-term too? Is the bull market in gold and silver over?
I'll answer this question and also give you my reasons in this video.
Write in to me with your thoughts...
Hi, this is Vijay Bhambwani here, and I am back with you to talk about the markets and I hope you're keeping your finger on the pulse of the market, you're watching the prices unfold on a day on day basis. I also hope that my videos are making you better traders.
Now in this video, I'm going to answer a specific question which I am sure is on the top of the mind recall of most of my viewers who've been following me for a while on the Fast Profits Daily channel here on YouTube.
The question that many have started asking me, Hey, Vijay is the bull market in bullion, which is gold and silver over? I am about to answer this question in as simple a manner as far as possible and I'll also back it up with the logic or the underlying reason about what I am saying and why. I believe I owe my viewers and explanation as to what the thought process is.
Discover: India's #1 Defence Stock
So first and foremost, no, I do not think the bull market in bullion is over, not by a long shot, even though the prices have come down from their peaks. Silver as you've seen is kissing 60,000, somewhat lower and higher. Gold is, threatening to breach the 50,000 mark as I record this video on Thursday, the 29th of October.
It's not that this was something that was unforeseen. Remember in my past videos, I have said, the standard operating procedure before every US presidential election cycle is the dollar is strengthened, which automatically means that bullion has to weaken. Not just bullion, all hard assets have to weaken because the dollar is the invoicing currency or the currency in which transactions are settled, they're bought and paid for in the international commodity markets. So that the dollar is stronger, gold and silver do tend to go down a little.
Secondly, gold and silver are deliberately subdued so that financial assets, namely equity markets, are pushed higher. This kind of lends a feel-good factor in the equity markets that the economy is doing well and it basically helps the incumbent president two get brownie points in the minds of the voter.
So we knew that gold and silver, even though are likely to rise, will remain sort of quiet or even subdued till the US elections are not done and dusted, which has not happened yet. Which is the reason why you're seeing some profit sales.
I have also frequently stated that the best time to come for gold and silver will be the year 2021 and beyond...and beyond is more important. I am a long-term bull on gold and silver, and I feel you should be sitting patiently with these in the physical segment in your portfolio. Now let me give you some more reasons.
On first of July, I had recorded a video titled these are three recent events that will impact the price of gold. In that video itself, I had mentioned another video of the past, namely 20th of April 2020, saying, why I am giving you a timely warning on gold. You can please scroll back in the playlist and you will see these videos on this playlist itself and verify that I have been telling you, even though I'm bullish in gold and silver but there will be some hiccups along the way.
Don't expect a straight-line rally in gold and silver You will have to treat it just like any other portfolio investment and I to repeat my line of thought here again in this video. So here goes.
Between these two videos, which is 20th April and first of July, I also recorded some videos, wherein I had said that I have a feeling that the bull market in gold and silver will be triggered and followed up and largely built up by institutional players, which is mutual funds, hedge funds, and the ETF players.
It won't be as much of retail buying as it will be by institutional and ETF players. My logic has been amply a vindicated and validated by the markets. The largest segment of the population that buys gold are Asians and hey, Asia is fairly severely hit by the Corona pandemic.
The Asian individual buyer is not really going out and queuing outside bullion shops and buying bullion by the quintal or by the tonne. So it's naturally up to the institutional players and institutional players have their own valuation models and very calibrated manner of buying rather than the emotional, kind of blindsided buying that individuals resort to.
We tend to get carried away by triggers like festive buying, auspicious buying, buying on specific days etc. Institutions tend to buy only when the price is right. So this is another reason why gold and silver have been somewhat quiet but they are only resting. They are only resting to rise again in calendar year 2021 and here is my final hypothesis as to why gold and silver are somewhat subdued.
If you're connected with me on social media, I have been warning my connections and friends on social media that I expect the following regions to have a financial turmoil. MENA, which is Middle East, North Africa, LatAm, Latin American countries, Southeast Asia and APAC, which is Asia Pacific. Of course, Europe has its own share of troubles, too.
Now, what will happen is that these locations, these geographies which are financially distressed, will need some kind of stimulus to revive or keep their economy's going just like they did pre-covid, which means they need money and if they need money and these areas are exporters of natural resources, they will rush out there and try to sell what is abundantly found under the soil in their respective countries.
Which means any natural resource which is found in these areas may just witness a temporary bogging down in prices as these countries tried to monetise their assets and convert them to cash. Now let's see who the top 10 producers of gold are as per the World Gold Council. China, Russia, Australia, USA, Canada, Peru, Ghana, South Africa, Mexico, and Brazil.
Now, if you were to apply, some thought as to what is common between these countries is that many of these are undergoing some sort of a cash crunch. If they are undergoing some sort of a cash crunch, it then becomes imperative or inevitable for them to encash what they produce.
Recently, I put up a status update on my social media accounts about how Zambia, an African country, is the first country to basically raise the threat of a sovereign default. Yes, I am talking of bonds that are issued by the government of Zambia, which it is renegotiating and basically trying to get a moratorium on the interest payments, failing which they are threatening to default on.
Now, so far, the Chinese lenders have basically agreed to give them six months' time. It's now the European lenders who are likely to meet next week in Zambia and renegotiate terms. If this is going to become the norm across the Middle East, North Africa or Asia Pacific or Latin America, which I think to a certain extent many countries will like Peru, Ecuador, all these guys Argentina are in trouble, Venezuela.
So these guys will possibly try and sell natural resources, including gold. So has South Africa. South Africa is in a cash crunch of its own and South Africa is a major domo exporter of gold. So in the near term, they might be selling by the producers to raise cash and a pullback by the Asian buyers, who tend to be the largest individual retail buyers of gold in the world, which is why gold prices, along with silver, are somewhat weakening in the term temporarily.
If you look at it through my lens, I tend to look patiently, I think this is more of a temporary cool off in gold and silver prices rather than the end of a bull run. So he who waits wins. I have a feeling very, very patient investors and bullion are likely to have a very good year 2021 and I repeat, onwards. So if you are willing to wait, I think the best time is still ahead of you.
The unbacked printing of feared currency still continues. That will debauch, erode, and inflate wherever this unbanked printing is taking place and all that is likely to directly help gold and silver appreciate over the long run. So by all means, sleep peacefully. Keep holding on to your bullion in your portfolio. Better days ahead provided you are patient.
On that promising note. Vijay Bhambwani signing off for now, but not before reminding you to click like on this video if you agreed with what you saw and subscribe to my YouTube channel if you haven't already. Click on the bell icon so you get instant alerts on new videos being uploaded here.
In the comments section, do tell me what you thought of this video and what you would want me to record in my next. Also, let me help reach out to fellow like-minded, 360-degree worldview kind of financial investors and traders, by referring my video to your family and friends.
Do take very good care of yourself, your health, your family, your trades, and investments. Vijay Bhambwani signing off for now. Have a very profitable day ahead. Thank you for watching.
Stay safe and have a profitable trading day!
Warm regards,

Vijay L Bhambwani
Editor, Fast Profits Daily
Equitymaster Agora Research Private Limited (Research Analyst)
Recent Articles