One Chart You Must See Before the US Presidential Elections
Oct 30, 2020
The hot topic in the market these days is the US presidential elections.
Short-term traders have been taking money off the table recently in anticipation of the result.
This has caused a lot of volatility over the last two weeks.
However, smart traders are not too worried. They have seen this before and have a handy blueprint for this situation.
It's a very important chart used by all professional traders.
And today, I'll show you what it is.
Hi, I am Apurva Sheth and I welcome you to this latest edition of Fast Profits Daily.
So, friends, the US presidential elections are around the corner. By next Wednesday, we will be able to know who the next president of the United States of America will be, whether it continues to be Trump, or it's Biden.
No matter whoever it is but I would like to draw your attention to one of the most important charts in the field of global finance. This is a must see chart, especially before the US presidential elections. Now, before we get into this chart and like to talk about the US presidential cycle.
Now, in my one of my earlier videos, I had spoken about this cycle. Now, in this cycle, we have seen that the main aim for any politician anywhere in the world is to get re-elected. That's the primary objective and they will do whatever it takes to ensure that their chances of getting re-elected to office, are maximum.
EV Stocks: Which is Tanushree's Top Pick?
So with respect to US, we have seen that as when we get closer to the election, the everything almost pans out in a predictable fashion. The markets tend to move up, the interest rates tend to drop, and every American's dream is buying a house, so housing becomes affordable or purchasing a house becomes affordable. Unemployment is kept at a lower level.
However, once the elections are over, there is absolutely no incentive for the president or for the elected party to keep all these things as they are. So their objective after the election results are announced, changes to greasing the palms or helping those who had got them elected.
So this is what generally happens, and we have seen earlier that the stock markets tend to fall in the first and the second year after the election results are announced and, in the 3rd, and 4th years, the chances of a rally increases.
Now, this cycle has worked wonderfully a long period of time i.e. for 40-50 years, this cycle has worked wonderfully. Since we are so close to the election results, that will be next week, we could say that as per the previous election cycles and the chances of a major upside in the stock market, in the US stock markets, are limited.
Now, apart from this, there is one more thing that we had seen earlier with respect to gold. Now gold performs exceptionally well in times of distress. So I had done a video earlier in May, wherein we had seen that how gold had moved in the previous two recessions. So that was in the year 2000 and in 2008.
So during both these recessions, the US Fed had resorted to cutting interest rates. Now as soon as the US Fed begins cutting rates, gold tends to move higher, and over the next 2 to 3 years, the performance of gold is exceptional and this is this could be the case right now in the year 2020 as well.
We have seen that in March, the US Fed and cut interest rates almost in an emergency. The called an emergency meeting had cut interest rates from 1.75% to almost zero levels within 15 days, and gold has had steadily seen a rise after that.
So gold could trend upwards for the next 2 to 3 years. Now, the culmination of both these things that is the US presidential cycle and the stock market, where the chances of stock market moving up are low, and the second thing is gold. The chances of gold moving up from here are high.
Now the culmination of both these things could be seen in this particular chart, which is ratio chart of the Dow Jones to gold. Now this is a long-term chart of Dow Jones to gold.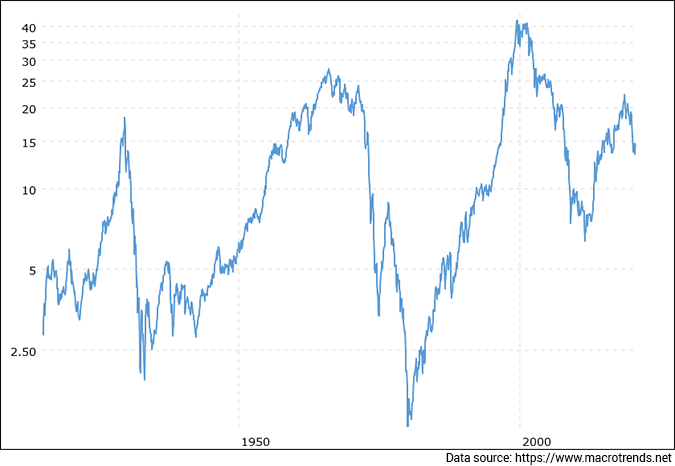 Now we had seen that the Dow Jones to gold ratio chart moves in extremely cyclic fashion and what it indicates is the extreme levels in Dow and gold and their relationship to each other. So there are points that is, there are some points when stock markets or Dow Jones trades at an extremely expensive level compared to gold. These points are, as you can see out here are 1929, 1966 and you're 1999.
There are certain points when the stock markets or Dow Jones trades at an extremely cheaper level compared to gold. So that this was in 1933 and again in 1980s. So now what we are seeing currently is that the Dow Jones to gold ratio chart is already in a down trend. Now, let me show you were closer picture of this ratio chart.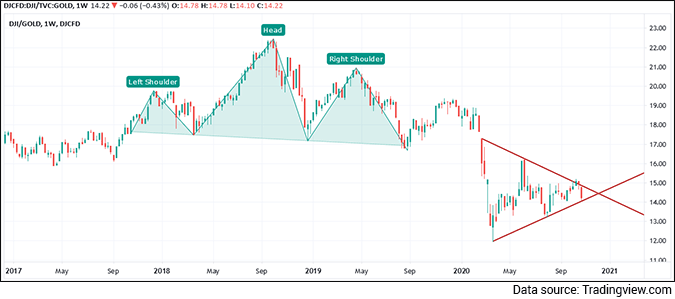 So this is a weekly chart of the same Dow Jones to gold ratio chart and here we've seen this ratio chart has already formed a hear and shoulder pattern between 2017 to 2019. Head and shoulders is a bearish reversal pattern and it indicates that whatever security you are seeing could had lower.
Now this as per this reversal pattern, Dow Jones to gold ratio chart could fall and it has already fallen. Out here, you can see that the ratio chart was consolidating in a symmetrical triangle and chances are that it could break this a symmetrical triangle and head lower.
So based on all the things that we have spoken about so far, it seems that chances of gold outperforming the Dow Jones from these levels are high and what we have seen from the US presidential election cycle and from the actions of the Fed, chances are that one gold head higher and stock markets could head lower, which means that this ratio would quickly fall lower.
So that's how one should place himself before the US presidential cycle or the US presidential elections are announced. I believe that chances of gold's out performance from here are very high, and over the next 2 to 3 years could be an asset that you must own in your portfolio.
So that's all from me for today. I hope you enjoyed watching this video, and in case you did, then please like it, share it, and don't forget to subscribe to our channel.
Also, don't miss watching out on this Dow Jones to gold ratio chart on a regular basis. This ratio chart helps you identify tops or bottoms or extremes in the equities as well as commodity markets on a timely basis.
So that's all from me for today. Thanks a lot and have a nice day.
Stay safe and have a great weekend!
Warm regards,

Apurva Sheth
Senior Research Analyst, Fast Profits Report
Equitymaster Agora Research Private Limited (Research Analyst)
Recent Articles