Big Money is Taking the Markets Higher
Nov 3, 2020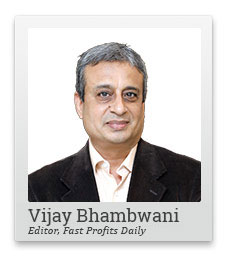 Today I want to talk to you about an important aspect about the market which has not received enough attention in my opinion.
You see, most small investors and traders are worried. They don't know what the future will bring.
The volatility of the market is too much for them. They are worried about the weak economy and a possible second wave of coronavirus.
But what about the big guys?
The big money is behaving very differently. In this video, I'll tell you what they're doing and what it means for you.
Hi, this is Vijay Bhambwani here and I hope you're enjoying making profits trading the markets and I hope my videos are helping you become better traders than you were some time ago.
Now this video is about a topic which I am sure is on top of the mind recall of most traders out there in today's times.
I have basically been asked by a whole lot of people, and I've mentioned before in my earlier videos, that I spend the weekends, Saturdays and Sundays, very effectively to basically touch base with friends and family all over the world and I am blessed to have a lot of relatives and friends all over the place, so that I can keep finger on the pulse of what's happening in various economies.
As a grim reminder of what I went through in the months of March, April, and May, you know, worrying about how long the lock down will last and whether essentials will be available, the fact that my father was in and out of the hospital in those days and everything was being rationed, including medicines and fruit juices, etc in many shops.
FREE REPLAY: Discover What Richa Revealed in Her Smallcaps Summit
I do remember spending a lot of time, energy, and efforts in trying to keep various essentials well, stocked and off late in my conversations with relatives in some part of the world, I'm hearing stories about how people are facing some amount of anxiety, about a second wave of the corona pandemic and resulting lockdowns.
So there is some amount of nervousness out there in the undertone and naturally, the question that comes to people's minds is, will the financial markets react if there is a second wave of corona pandemic and resultant lockdowns in some parts of the world all over again?
Now, I frankly do not claim to have a clear cut black and white answer to this complex question because in the world of behavioural finance, there are situations which are known knowns. We know what is happening and we know the cause and therefore we know the effect of the event.
Then there are known unknowns. We know that some things can happen which may not be to our liking, and therefore, we take anticipatory steps and when they do come, we are not entirely caught off guard because we anticipated them.
The third aspect are unknown unknowns. This means that we don't know how much we don't know or what will happen to us. In my humble opinion, will the markets react if there is a second phase of lockdowns due to wave two of corona the world over? I do not claim to know the answers and therefore I think I'm in unknown unknown territory.
So what is this video all about? This video is about trying to tackle this question in a very rational 360 degree worldview kind of a fashion, and I basically want to resort to what is, I believe, the most honest market out of all four asset classes, which is equities, commodities, currencies, and bonds. The reason why I called commodities is the most honest asset class is because that demand and supply is so big that no one or group of people can influence the price for too long, if at all.
Try rigging up the price of gold or silver, crude, or copper on the international commodity exchanges. A few people can come together and corner stock prices, but the same cannot be done to commodity prices that impudently. So I will basically resort to taking a clues and statistics from commodities to basically answer these questions.
In my video of yesterday, I answered a part of this in my own fashion, about why crude oil and natural gas prices are going in opposite directions. I also said there's a lot of easy money sloshing around out there, which is basically why prices are staying elevated.
So I do feel that the old Wall Street saying, 'Don't fight the Fed', which means when the US Federal Reserve is printing dollars, when it's when it's flooding the financial markets with easy money, the only thing that markets can do is go up. Now that easy money phase of course on. We call it by various names, stimulus, quantitative easing, bond repurchases, etc.
But the fact is that the Fed is pumping money into the market and is joined by central bankers almost all over the world. So the floodgates of finance are open and money is rushing to financial assets, which is one reason why markets are basically shrugging off all bad news and going upwards. Now for hints from the commodity space. Basically, I'll tackle five industrial metals, which will basically give us a health check on the manufacturing sector and tell us what is really happening.
Now, Aluminium. It's one of the most sluggish commodities in the commodity exchanges because it's so abundantly available. It's up between 10 to 12% on a year to date basis and the LME inventory at the beginning of the year was approximately 1,480,000 tonnes. The current inventory is almost unchanged, It's steady out there but yet, the prices are higher. Do remember that aluminium is actually a very sluggish, very lethargic commodity. The fact that it's up more than 10% on a year to date basis tells you that there is optimism even on this sluggish counter.
Copper is definitely higher than pre-covid levels. Now this is something that I had mentioned in my video, Better Days Ahead for the Markets, almost a week ago, quoting copper as the tin roof of the economy or the pulse of the economy and saying how copper prices going up basically tells you that industry is hoping that there will be higher demand ahead.
Now copper of course, the in terms of price is definitely higher than pre-covid levels in the international market higher than June 2018 levels. The LME inventory at the beginning of the year was 125,000 tonnes. Currently, the inventory is 175,000 tonnes. So the market actually has more stock of copper to the extent of 50,000 tonnes, than what it did in end of December 2019. Still, the price of copper is up.
Lead. Mildly higher than 31st December 2019 levels but at the beginning of the year, the inventory was approximately 68,000 tonnes on the LME and the current LME inventory is 128,000 tonnes. That's almost doubling of the LME inventory and yet, lead is mildly higher than where it began on the first of January 2020. That tells you that in spite of being oversupplied, the prices are refusing to fall.
Nickel. It's 5 to 6% higher on a year to date basis. The LME inventory at the beginning of the year was 70,000 tonnes, and today, hold your breath, the inventory is 240,000 tonnes. Now that is, almost 3.5 times jump. 350% jump in the inventory of nickel and yet the price refuses to fall. It's up.
Zinc is up 11% in terms of price on a year to date basis. The LME inventory at the beginning of the year was 58,000 tonnes and the LME inventory now is a whopping to 220,000 tonnes. That again is a quantum, jump of a more than 3.5 times jump in inventory.
Look at the Dixie. At the peak of the corona scare in the month of March, when all financial assets were basically melting down, including bullion, the US dollar index was above 104 levels. Today it's struggling to maintain its head above the 94 mark which is a good ten bucks lower.
In terms of fright, whenever the markets are frightened, they basically seek refuge in the safety or flight to safety as it is called, in the US dollar and bullion. Bullion itself when in the month of June and July, everybody was rushing into the safe haven or running into the cave for safety called bullion, in the month of April, when I recorded a video, maybe it's time to book part profits and bullion, those peaks have still not been reached.
75,000 plus for silver and gold itself is almost 10% of its highs. So if it all there was fear in the markets, gold and silver would have definitely been far higher than where they are today. The US dollar would have been far higher with where it is today and industrial assets aluminium, copper, lead, nickel, and zinc would have been lower.
The market, somehow in explicably, are shrugging off all concerns, and what you are seeing currently is a K shaped recovery. If you see the alphabet K, you see that the two oblique alliance are divergent. So there are certain areas of the markets which are rising, and there are certain other areas which are lagging or even falling.
So employment is falling, but financial markets are rising. Business turnover is falling, but bond prices are rising. Interest rates are falling and inflation rates are rising.
Now these are the dichotomies which you've basically not seen before. We are in the area of the unknown unknowns or at least let me be honest. I'm in a zone which I would like to call unknown unknowns. These are not times that we have seen before, but I'm gonna seek refuge in the thought that keeping these markets buoyant or bullish, I'm talking of commodity markets now, keeping commodity markets bullish and commodity markets mind you are 10 to 20 times, not percent, times bigger than equity markets worldwide.
Now keeping these markets bullish will require 10 to 20 times more money to keep equity markets bullish and if these very strong hands are interested in keeping these markets stronger maybe, I'm too small to worry about what's happening out there. Maybe I should, of course, always keep my mind open about the possibility that the markets can react and a knee jerk fashion and fall all of a sudden.
But as of now, people who are pumping in money to keep these heavyweight assets inflated and up definitely seem to be strong people. This is something that I leave everyone to interpret on his own. I definitely keep the possibility of a market meltdown open in the back of my mind.
But for now, when I see these asset prices continuously remaining strong and seeing how buy the dips is what is happening in the equity markets, markets don't seem to fall more than a day or two or maximum be subdued for three days in a row before they bounced back again. I think some very strong hands are interested in keeping the markets up. This is a lesson that I leave in this video.
Before I sign off, let me remind you, if you're watching you this video on YouTube, don't forget to click like on this video and subscribe to YouTube channel. Click on the bell icon to receive alerts about fresh videos of mine. In the comments section, don't forget to tell me what you think of this video and what you would want me to record next.
Also, let me help reach out to fellow like-minded traders who are interested in a 360 degree world view of the financial markets and knowledge based investments and trading by referring my video to your family and friends.
Vijay Ambani signing off for now, do take very good care of yourself, your health, your family, your investments, and friends. Have a very, very profitable day ahead.
Bye for now. Thank you.
Stay safe and have a profitable trading day!
Warm regards,

Vijay L Bhambwani
Editor, Fast Profits Daily
Equitymaster Agora Research Private Limited (Research Analyst)
Recent Articles