Should You Invest in Gold this Diwali?
Nov 3, 2021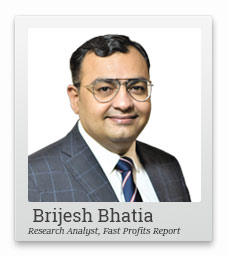 I wish you and your family a happy Diwali and a prosperous New Year.
The festive season is upon us and, as always, everyone is talking about gold.
Should you buy gold this Diwali? Is it the right time to buy? Will gold deliver profits in 2022? What is a good entry price?
Well, in this video, I have the answers for you. My charts will show you the ideal way to time your entry into this profitable trade.
Watch the video and let me know your thoughts. I would love to hear from you.
Hello viewers. Welcome to the Fast Profits Daily. Myself, Brijesh Bhatia.
Before a start the video, I wish everyone a happy Diwali and a prosperous New Year to you and your family.
As an Indian tradition, we prefer buying gold or jewellery during Diwali time or Dhanteras but is it the right them to buy gold as an investment should you prefer gold during the times of festival or Diwali I would say?
I would sure data of last 6-7 years how the gold has performed during the times of the Diwali. So let's first look at the historic or seasonality analysis of gold.

This is MCX futures data, which is available with us and if you look at the November over here, since 2012 this is the only one time in 2013 were gold in the month of November has been on a positive, whereas if you look at the rest of the months, it has been on the negative side.
So if I just look at the Diwali dates right from 2012-2013 to 2020, roughly it's the last 10 days of October or probably till the mid of November. So we can say a month of middle of October to mid of November, where we can say Diwali is there on the various dates on the various years. But largely if you look at the month of November over here, November, gold slightly takes a dip even though there is a festive demand.
As I said, this is, the MCX futures data and slightly if you look at the physical market the price may very plus and minus, depending among the demand and supply. But yes, I think November is a slightly bearish month for gold prices.
We generally prefer Diwali festive as a tradition to buy jewellery. Obviously, there are various income sources, or bonuses which are being offered toward the employees, and they prefer to buy the jewellery at that point of time. But if you look at the gold price, they generally tend to take a dip in the month of October and this is not the one month. If you look at the five and a half and percent, we have around 4.75%. So it has been ranging from 1.5% to 5% fall.
Should you invest in gold this Diwali or probably for 2022? Let's look at how the technical set up of gold is showing over here.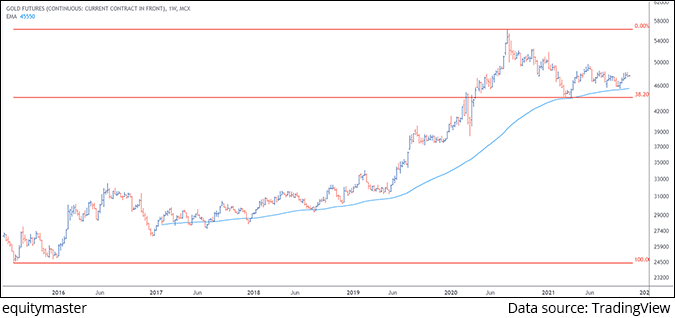 So first, let's look at the weekly chart, which is slightly a larger timeframe because I want to look at a one year's perspective and in this chart will show me a clear trend.
So if we look at the weekly chart of gold again this is MCX futures chart we have taken and price will vary as I said into the physical markets, but more or less the trends remains same and if you look at the price right from 2015 lows somewhere around 24,000 to the highs which we have seen, the price has taken support at the Fibonacci levels which is 38.2%.
Most importantly, it is also taking at 100 weekly exponential moving average support, which is somewhere around 45,550.
So now the larger trend is still bullish and as I said, if you want to invest in gold, the best time is I would suggest buy during the end of November when prises are correcting, and again, if we look at the seasonality analysis of December, they tend to give a positive return more.
So there is a chance that you might get in good opportunity buying the dips into the November end, or probably the last 8-10 days of November, and then the December rally might help you out as an investors but from a near perspective, I certainly believe this weekly chart is showing an indication.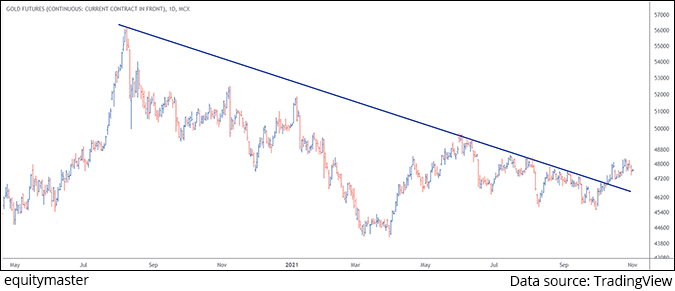 From the top down approach we go on to the daily chart. Now, if you look at the daily chart over here, prices have broken from the falling trend line and basically, when the falling trendline breakout happens, it indicates that it is an end of the bearish momentum.
So from the highs we have seen the prise been correcting backwards 45,500-45,800 and now it is breaking out at a crucial juncture. So I believe still the 2022 is time for gold as an investment, but as an entry point, I would say, as an investor, keeping emotions aside, keeping family buying aside, keeping psychological level aside, I would suggest November end seems to a better opportunity into the gold prices for a longer term point of view as an investments, and December-January tends to be good positive months for the gold price to give an uptick.
So November end, look for an opportunity or in case you find somewhere around 46,300-46,600 rangers for gold as an investments, I am considering the MCX futures prices. Similarly, you can consider the physical prices that the jewellers are selling and accordingly buy. Prices may slightly vary here and there but not much difference.
I think November and is a good opportunity to go long on gold prices. It is, I believe, 2022 still gold is in a strong bullish trend and I will not be surprised, we might surpass 2070-2,750 dollar mark on COMEX, probably in 2022.
So, yes, stay invested and I wish you again a happy Diwali to you and your family. Again gold investment, definitely look for gold buying from one year perspective, and as I said. November end is a good opportunity to go long.
Signing off. Brijesh Bhatia. Thank you.
Warm regards,

Brijesh Bhatia
Research Analyst, Fast Profit Report
Equitymaster Agora Research Private Limited (Research Analyst)
Recent Articles