My 5 Best Trading Ideas for Diwali
Nov 6, 2020
I would like to wish all my viewers a Happy Diwali. I hope the coming year is more prosperous than the one gone by.
In this video, I will share with you my best trading ideas. My best 5 ideas.
I have carefully selected these 5 from the ocean of available options in the financial markets.
I hope these trades will add to your profits in the coming months.
Hi, I am Apurva Sheth and I welcome you with this latest edition of Fast Profits Daily.
So friends Diwali is round the corner and I am sure you must be waiting eagerly to know what kind of investments you must make during this Diwali, especially during the Muhurat training session. Today I have come up with my best five investment ideas for you. So let's get straight into it and see what these five investment ideas are.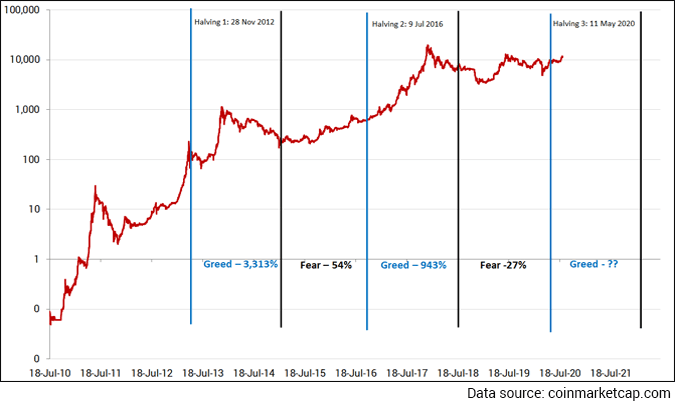 So here on your screen, you can see this is the chart of bitcoin. It's a long-term chart since its inception. I had shown you this chart earlier, wherein I had explained that bitcoin goes through a process which is called as halving.
EV Stocks: Which is Tanushree's Top Pick?
Now halving is process where rewards for bitcoin miners are reduced by 50%. So whenever the rewards are reduced that starts new wave or new rally in bitcoin. We had seen that in the past.
So in the past greed phases bitcoin had rallied by 3300% and 943%. This time around, halving had happened in the month of May, on the 11th of May 2020 and since then, bitcoin has entered the greed phase. I had told you that bitcoin is likely to head higher over the next few months.
Since then bitcoin have moved nicely and it still seems that bitcoin could move even higher. So as you can see out here, this is the latest chart of bitcoin.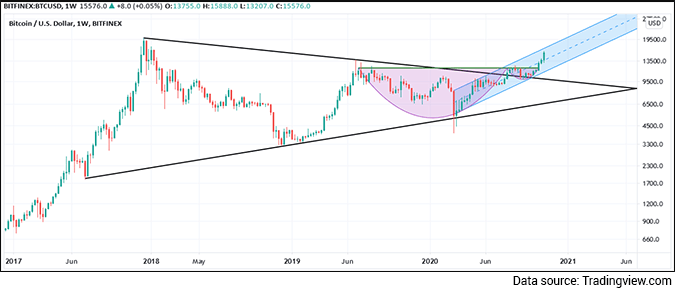 Bitcoin has managed to break out of this from symmetrical triangular pattern, and it's trending upwards. So you must keep an eye on bitcoin. They could see a sharp rally, which could follow over the next few months.
Now this is the chart of US federal interest rates.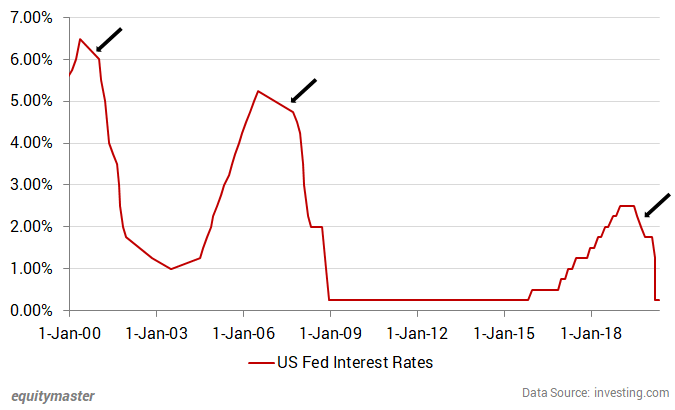 Now I had shown you this chart earlier in the month of May, just after the Federal Reserve had announced its emergency rate cuts. So we had seen that during the past instances whenever the US economy is in trouble and Federal Reserve cuts interest rates, that is a positive sign for the gold market.
So gold tends to rally whenever or after the cuts in interest rates are announced. We had seen that after the Federal Reserve cuts its interest rates, gold tends to higher over the next 2 to 3 years. So this time around, also, it's likely to happen. Gold is likely to move higher and this time around, the interest rates are back again to zero levels, which means that the chances of further upside are huge.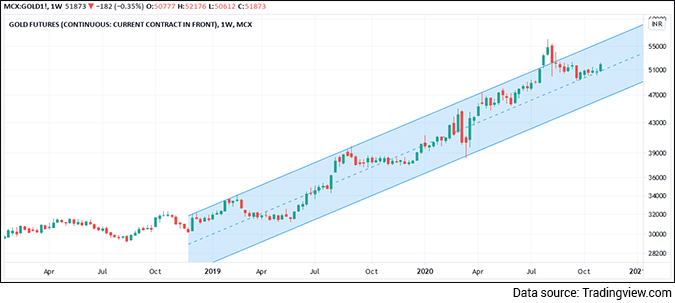 This is the latest chart of gold. As you can see out here, gold has been trending upwards in this rising channel and it has been consolidating over the last 3 to 4 months. However, it still remains in an uptrend. The uptrend is intact and chances of further upside are very strong. So keep an eye on gold.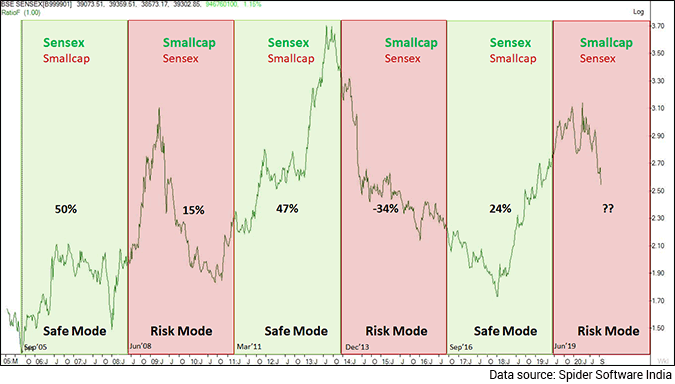 This is a ratio chart. Now, in case you don't know what a ratio chart is, I have done several videos on them and even written articles about it, how traders could use ratio charts to their advantage, They are very helpful and you must go through the ratio charts, you must know what ratio charts are all about. So you must check out this video.
Now here in this ratio chart, what they're doing is that we're dividing the price of sensex to smallcap to arrive at this ratio. This ratio goes through its own greed and fear cycle of its own over 144 weeks. So in the past, we have seen that whenever the markets are in risk mode that is a good sign for smallcaps.
Smallcaps tend to outperform sensex or blue chip stocks whenever the risk mode is on. So right now, the risk mode is on since June 2019 and for the 144 weeks from June 2019 that is about 2.5 years, markets are likely to remain in risk mode, which means smallcaps are likely to do much better from these levels.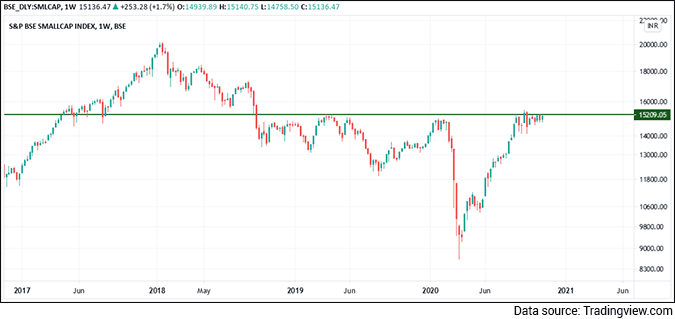 So this is the latest chart of smallcaps. Smallcaps had dipped sharply in the month of March, when the coronavirus pandemic struck us, but since then it has rebounded sharply and it is up almost 70 to 80%
Now, currently, small cap index is facing resistance around the levels of 15,200 and it's likely to head higher once it breaks out of this level decisively. So after this small consolidation that the small cap space has been other last 3 to 4 months, I am sure that small cap space would head higher once again, and a smallcaps could tend to outperform. So keep smallcap stocks on your radar, good quality small cap stocks on your radar for investment.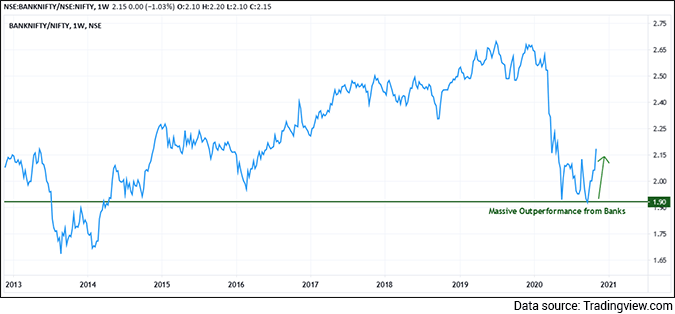 Now this is another ratio chart which have spoken about a lot over the last few months. It's the bank nifty to nifty ratio chart. Now banks are normally high beta in nature. When the economy and markets are doing well, banks are likely to outperform and when markets are in a bad phase, when the economy's in the bad phase, banks tend to underperform.
So that's what we had seen in March. Banks took a big knock and dropped lower. In this ratio chart, we have plotted Bank Nifty to Nifty. So whenever the ratio falls, it indicates that banks underperform nifty, and we have seen that banks had dropped lower to a ratio level of 1.90. The bank nifty to nifty ratio had dropped a weekly support level of 1.9, which was a very strong demand zone and banks could tend to outperform.
I had a written about it and I recorded video that banks are likely to outperform from these levels and we had seen that. Over the last 2 to 3 months banks have done phenomenally well and they have also completed a base formation. It has consolidated around these levels for quite some time. From March to almost October banks have consolidated and they are now moving higher.
So banks are likely to do well if the economy rebounds and if everything goes smoothly, I see no reason why banks cannot perform other sectors. So you must keep your eyes on banking space and even within banking space private sector banks normally do well. They are always a good investment opportunity but this time around, PSU banks are also likely to do well and they could be contrarian bet.
Now, if you are, someone can take some risks then you must definitely look at PSU banks. Now I have recorded video and even written an article about it. Read this article and watch this video.
Now last but not the least, is ITC. Now I had recorded a video few weeks ago about ITC. Now ITC is one of the most hated stocks in the markets right now. However, that's when one should look at investing in such stocks. As Warren Buffett normally says that be greedy when everyone else is fearful and right now nobody wants to touch ITC.
Earlier, Rahul Shah had done a video on ITC wherein, he explained his views from a fundamental perspective and then he also recommended ITC could be a good bet in the medium to long term, and the same thing is visible in the charts as well.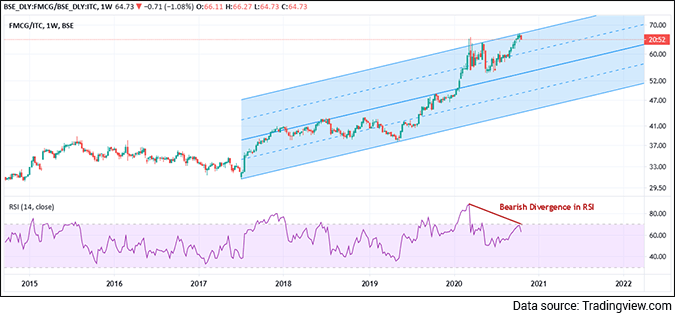 So here I have plotted the ratio chart of BSE FMCG Index to ITC. As you can see, the ratio charge has moved in an uptrend which means FMCG index had outperformed ITC. However, the ratio chart is now touching the outer edge of the channel, which means it is currently facing resistance, and it is also forming a bearish divergence in the RSI, which means momentum is slowing down. So the outperformance of FMCG index is likely to reduce compared to ITC.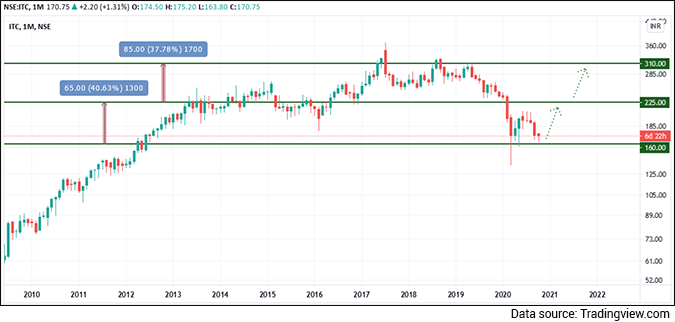 In this latest chart I had shown you that it is likely to find support around 160 levels, and from here on it could find support and move higher. ITC is about to announce its results today, and we can see what kind of results it releases and if there is any trigger for the stock of ITC in that. In in any case, the levels of 160 to 130 is a very good zone for an investment in ITC and you can watch out for the same.
So those were my best five investing ideas for this Diwali. In case if you are someone who likes to buy and make investments on this Muhurat session, then you can consider either of these five. I'm sure there is potential in all of these five investing ideas and you could very well benefit from them.
So that's all from me for today. I hope you enjoyed watching this video, and in case you did, like my video, share it with your friends and family members who want to become better traders and who want to invest in good ideas during this Diwali. Share this video, especially with as well. So that's all from me for today. Thanks a lot and have a nice day.
Stay safe and have a great weekend!
Warm regards,

Apurva Sheth
Senior Research Analyst, Fast Profits Report
Equitymaster Agora Research Private Limited (Research Analyst)
Recent Articles