How the Market Told Me Joe Biden Would Win the US Election
Nov 9, 2020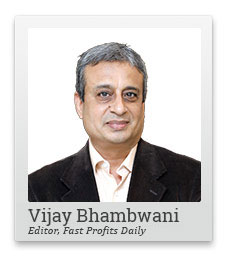 My video on Joe Biden has become popular on YouTube with over 16,000 views.
In response, many of you have asked me why I made a video on Biden and not Trump.
The answer can be found in my 360 degree worldview approach to trading.
It's the process I use for trading and it has proved to be very successful and profitable for me over the years.
This process was hinting at a change in US politics a few months ago and in this video, I'll tell you all about it.
I hope this video will add to your knowledge and make you a better trader.
Let me know your thoughts in the comments.
Hi, this is Vijay Bhambwani. I hope you're enjoying your trading in the markets, and you've basically managed to garner a lot of trading profits from the all-time high that the Nifty has scaled today as I record this video on a Monday morning.
I hope my videos have made you better traders and I've help to decipher the messages that the markets keep sending out, of course, in numerical behavioural terms, encoded encrypted, but very well discernible.
Now in this video, I am going to share my thoughts about a very popular video in the last few days that I recorded for Equitymaster here in this YouTube channel about what happens to the market if Joe Biden was to win the US elections.
From the comments that I received both here in this YouTube comment section, as well as Equitymaster's website and my social media pages, initially there was a sense of disbelief that Biden would not win.
Then a couple of my viewers have asked me as to how I decided to record a video about what if Biden wins? Why not what if Trump wins again?
Now, it's very important that a trader at the beginning of the trading session knows which direction he will trade today, which is whether he should go long in the markets on that particular trading session or he should go short.
If you get the direction wrong, no matter how much you trade intraday to try and recoup your losses, the day is wasted. So first and foremost, that direction that you will trade in the market is very important.
Here again, in this video about the US elections, I was very, very clear that I had to get the contender right. How did I decide that Joe Biden had a better chance?
Basically the answer lies in a video that are recorded on 13th of July, a warning about US elections.
Now, if you go back in time and listen to that video all over again, you will realise something. In that video I gave you standard operating procedure that is followed by the US administration before the elections, about the dollar getting strong, the equity markets getting strong, real estate prices going up, and the bond market basically signalling that inflation is likely to be contained.
Now what really happened before this current election is and in that video, I said except for the equity markets which are booming, nothing else seems to be going as per the historical evidence that we have seen ahead of an average US election and therefore I think there is some problem in this election. The winds of change were anticipated.
Now why does the US want a strong dollar?
This forms the reason why I kept repeating that a 360 degree worldview is far more important than anything else that you will do in this market because if you try to get into the market, you will realise that the market is nothing but the cause and effect theory play.
It's very important that every trader understand the cause of whatever is happening in the market. Therefore, the trader will be able to understand what the effect will be and, more importantly, how long that effect will last.
So why does the US want a strong dollar? The US is the world's largest debtor nation. It was a lot of money to its fellow trade partners. If the dollar is strong, it can manage its debt, as well as the interest that it has to pay.
If the dollar is weak, it means it has to pay out more money to its fellow trade partners and creditors, as compared to a currency which would have otherwise been stronger.
Now, this is something that many Asian economies realised in the 1997 currency crisis, which spread panic across the economies in 1997-1998.
Basically it was a currency crisis where the local currencies collapsed against the dollar and all these economies had huge dollar denominated debts and therefore many of these economies actually went underwater.
The US knows that. So prior to the elections, the US dollar is kept strong to manage both inflation and its debt. This time around, if you noticed from a high of 104, around the outbreak of Corona and the lockdowns in March 2020, the Dixie actually went all the way down to 92.
That's a steep fall ahead of an election. That's not something that an average US voter likes. The second reason was real estate prices, especially home prices. Home prices are extremely critical in the US because a house is something that the average US citizen considers his prime investment and very unique to the US market is the fact that an average US home owner who has also leveraged himself by way of a bank loan and is paying EMIs against his residential property, gets financed, refinanced and re-refinanced against this house.
For example, if you were to take a 30 year loan against your house. If you paid your EMIs regularly for 10 years, your banker actually calls you and says, listen, Mr so and so, you have been a very good customer. You've paid your EMIs on time and one third of your tenure is already paid without any default. The real estate prices have gone up. Now you're entitled to an even bigger top up loan.
So why don't you take a fresh loan against your house from me? Go buy a sports car. Buy a Lamborghini buy a Ferrari, go for a European holiday, or maybe even buy a new home. Many people do take a refinance against their house on which an existing mortgage is in play.
Now the simplest minded borrower will know that for taking money against your house, time and again, two things need to work out in your favour. Number one, the interest rates should not rise. We have seen after 9/11, which is good almost two decades, interest rates world over are actually softening, so the borrower doesn't have too much of a problem by way of interest rates.
The second variable in the picture is that if you are borrowing and re-borrowing and re-refinancing your house, the value of the property must keep rising. Otherwise, the interest rates will eat into your capital.
Which is why, historically, I have found that in a president's tenure, if real estate prices tend to soften or fall, the public does not take it kindly. They basically vote with their booths. It didn't take me too much time, effort or even money, in this day and age of free video calls on WhatsApp, Zoom or Skype or something.
I have shared my for the want of a better word, I use the word secret, although it's no secret, that I enjoy the advantage of having friends and family all over the world, and I thoroughly enjoy chatting with them on weekends getting updates about what's happening in their part of the world and what's the economy going like, how their businesses are working, etc.
So it didn't take me too long to contact a few real estate brokers and realtors in the United States mainland and find out what is happening to real estate prices there. Whether transactions are taking place. Whether a lot of properties are being bought and sold. If there are basically repossessions or defaults on EMIs and the banks basically taking possession of the underlying collateral, which is a home, a property.
So all in all, it told me that Donald Trump's tenure wasn't really very great for a homeowner. The property prices didn't really appreciate much, if at all, depending on which state you're looking at.
The dollar was not really strong. So the external debt became unmanageable. Then, of course, there was the black lives matter movement. That, of course, did play a political part. That has nothing to do with the financial aspect of the economy but it didn't weigh on the political sentiment against Donald Trump.
Now on 13th July when I recorded the video, I had already got a lot of these inputs that I told you about the dollar being weak, the real estate market's not really going as per Donald Trump's expectations.
The bond markets were signalling panic. The yields were falling so dramatically that it was very evident that there was a flight to safety. Panic driven buying was being seen in the bond market.
The only thing that that was going in favour of Donald Trump and I mentioned it as such in the video was that the stock market was rising in spite of all the odds in spite of lockdowns, Corona, in spite of a definite compression in turnovers, profits, and revenues of companies, the stock market kept on rising and defying gravity.
So one out of four things in favour of Donald Trump was not really very great as odds go for winning an election. This was a financial market basically giving it stamp of a feeling of winds of change.
Which is why I recorded that hugely popular video on why I felt you need to not panic if Joe Biden was to win the elections, because at the end of the day, corporate profits, turnovers, the GDP expansion or compression is what will decide the course of the markets and not your sentiments alone.
This is the way astute, and a seasoned investor or trader ought to think from, of course, my point of view. Feel free to disagree and voice your disagreement as such in the comment section. I would welcome any kind of feedback. Bouquets, brickbats, anything is welcome here.
So this is how I think. This is how I take a look at a 360 degree worldview. Which is why since July, I felt Trump need not or may not have such a big chance of coming back to the White House as the next president.
This is how we evaluate the odds that are in or against us before we take any trade in the market. This is something that I call my 360 degree worldview. This is something that is a part of a behavioural trading approach that we deploy in our trades in the markets.
If you are watching this video on YouTube, do let me know what you think of this video by commenting in the comments section and what you would want me to record in my next. Do feel free to click like on this video if you liked what you saw and subscribe to my YouTube channel if you already haven't done so. Click on the bell icon to receive alerts about fresh videos that may be uploaded to my playlist.
Help me reach out to fellow like-minded investors and traders who believe in the 360 degree worldview and a knowledge based investments and trading system by referring my video to your family and friends.
I'll bid goodbye to you in this video not before assuring you that I will be meeting you again soon in my next. Do take very good care of yourself. Your health, your family, your trades, and investments. Have a very profitable day ahead. Vijay Bhambwani signing off for now.
Thank you for watching my video.
Stay safe and have a profitable trading day!
Warm regards,

Vijay L Bhambwani
Editor, Fast Profits Daily
Equitymaster Agora Research Private Limited (Research Analyst)
Recent Articles