This is Goodbye!
Nov 10, 2020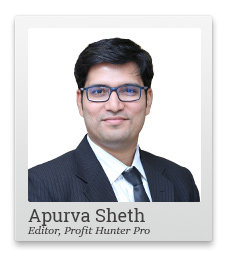 This will be the last video that I record for Equitymaster.
As you may have guessed from the title of this video, I am moving on.
It has been a great honour to talk to all of you on this platform. I wish everyone the best in terms of health, wealth, and happiness.
Feel free to reach out in the comments. Keep me in your thoughts.
This is Apurva Sheth signing off for the last time in the Fast Profits Daily!
Hi, I'm Apurva Sheth and I welcome you to my last edition of Fast Profits Daily.
Yes, you heard that right. This is going to be the last video than I record for Fast Profits Daily and Equitymaster.
Now, after competing six years of my journey with Equitymaster, I have decided to move on and take up another project.
I consider myself fortunate enough to have got this opportunity to write to you, to record videos for you, to meet you at the conferences. I consider myself very fortunate, and I am happy that I got this opportunity to interact with you on so many platforms and on so many occasions.
EV Stocks: Which is Tanushree's Top Pick?
Now, for the last six years that I have been with Equitymaster I have had some very good recommendations which may have been phenomenally well for you and on the other hand, there have been some major blunders as well, which may have costed you dearly.
So I would like to take this opportunity to ask forgiveness for whatever blunders and mistakes that I have made. I am very sorry for whatever mistakes that I may have done.
Now, one thing that I have I am very proud of working with Equitymaster is that my interest and our company's interest were always were always aligned with your interest. Whatever we did was always kept with your interest in mind first.
And that's the reason why I believe that we are so successful and especially with regards to me, I consider myself fortunate because of this very simple reason, I have always kept your interest in mind first.
I have had the blessings and I have been showered with so much of love and affection from our of readers and our viewers and people whom we have met at the conferences. So I would like to thank you for all the love that you have showed so far in my journey of the last six years.
One thing that I have learned that Equitymaster is never to be afraid of taking bold decisions and bold calls. Never to be afraid of taking a contrarian stand and thinking out of the box. I think this is one skill which I will cherish and which will not just help me in markets but also in life.
The great opportunities, big opportunities are always there where nobody is looking at. So this is one thing that I have learnt at Equitymaster and I am sure this particular quality stays with Equitymaster, with all the analysts, and it will help you as well.
Now, I would also like to now I would also like to take this opportunity to thank all my colleagues, starting with our CEO Rahul Goel. He has been an absolute support in whatever things I have done so far. With his guidance, I have grown an exceled so much in this company and in my career as well.
Apart from him there is Rahul, Richa, Tanushree, all the editors and all the other analysts and editors at Equitymaster have been a great support.
And last but not least, Vijay. He is an absolute treasure chest of knowledge and information when it comes to trading and investments. So whatever comes from him, grab it as much as possible and I am sure that you would be extremely knowledgeable after listening to him and apart from that, I am very sure that all the insights that he shares will also help you navigate the markets. So don't miss it.
Now I am sure that you may be wondering what happens too Fast Profits Daily and the product which run along with Vijay, the Fast Profits Report.
So I want to assure you that don't worry, all those things will continue. Those things have been taken care of and we have found an extremely talented guy whom I have been knowing for quite a long time and he is an absolute genius.
I think that probably some of you may have also known him and you may have heard him on television and even on social media. So just wait and watch out for him with patience. He will be talking to you soon. So you won't miss anything. I hope that you do miss me, but I am certain that you won't.
So now it's a very small world, and I am sure that our paths will cross once again very soon. So until that happens, it's me Apurva Sheth signing off for one last time.
Thanks a lot for watching me, listening to me, to read my views and share your feedback. It's been an absolute honour and a great learning for me as well. So thanks a lot and have a very nice Diwali and a prosperous New Year. Have a great trading and investment life ahead. I wish that you make great profits along with the Equitymaster.
Thanks a lot and have a nice day.
Stay safe and have a profitable trading day!
Warm regards,

Apurva Sheth
Senior Research Analyst, Fast Profits Report
Equitymaster Agora Research Private Limited (Research Analyst)
Recent Articles