Should You Buy Gold Now?
Nov 11, 2020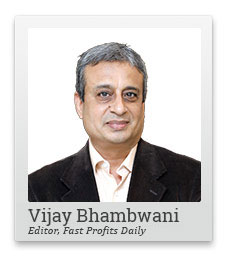 In today's video, I want to address your concerns about gold.
After Pfizer announced the successful completion of trails of its corona vaccine, the price of gold has fallen.
Does this mean the bull market is over?
Or does it mean it is a great opportunity to buy?
Many viewers have asked me to answer these questions. So here goes...
You will find my views in today's video. Send in your feedback and queries. I love hearing from you.
Hi, this is Vijay Bhambwani here and I come back with you in this video to address a concern that many of my video viewers and subscribers of this YouTube channel have asked me in my previous video via the comment section.
Hey, guys, I love hearing from you. Love your feedback. Keep it coming and as far as possible, I will try to accommodate as many requests and answer as many queries as long as they're not on individual trades, which violates SEBI compliance rules. I'll try and answer as many as I can and I'd love to record videos that you basically specifically address issues about.
So I hope you're keeping your finger on the pulse of the market. I hope you're watching the volatility unfold and as I have been mentioning in the Equitymaster's Telegram channel, which I urge you very strongly to join with the Handle Equitymaster Official, wherein I put up three updates every evening post market based on statistical output that my homegrown system generates, I have been warning you about the extremely high volatility levels in the market and keeping your footprint light.
Know More: Which way are the markets & the mutual fund industry headed?
Now this video is actually about the concerns of a few of mine viewers who asked me as to what they should do with gold and silver, especially after the absolutely scary decline on Monday evening, especially after Pfizer announced a potential breakthrough in the Corona vaccine. Pfizer announced that their vaccine could be as good as 90% effective in kind of preventing Corona in the recipient of the vaccine.
Sure enough, a sense of relief was seen across asset classes. Equities boomed. Industrial metals shot through the roof, which is basically assigned that the markets were expecting a production and manufacturing activity to pick up sharply.
Since there was a general perception that fear mongering, contraction in the economy, and joblessness etc would get addressed over a period of time, and therefore risk appetite returned to the market. Gold and silver fell.
Now, gold and silver are particularly bought by people who feel that return or alpha in financial street parlance, would be very difficult to achieve through other financial assets, and therefore money was flowing into bullion.
Now, since risk appetite returned albeit even temporarily, gold and silver suffered a selloff and sell off to the extent that gold actually surrendered, approximately US$ 100 dollars in the western markets. Having traded in the positive for the first half of the day, it was shocking to see gold surrender immediately after the vaccine announcement came in and silver suffered and even bigger shock.
So I'm not really surprised that whole lot of viewers are concerned whether they are holding gold and silver in their portfolio or they have missed the bus of buying gold and silver in their investment portfolio earlier, they are now anxious about whether they should buy.
So the first part of the question is, is the rally in golden silver over?
Now this is a question that I have addressed many a times, and my answer remains constant. No, by no means is the rally in gold and silver over for the simple reason that the underlying reason for the rally being present in gold and silver is still existing.
Imagine now that Diwali is around the corner, imagine you have an uncle, a very large hearted uncle, who comes to your house for Diwali and stays over a few days, and you and your siblings are his favourite nephews and nieces.
He showers you with cash, with money. What do you do?
All of you would like a pair of sports shoes, a pair of jeans and what not. You go out there and start splurging money. Number one, it's free money. Number two, you always wanted to buy the stuff that you are now buying.
So what happens is probably you don't bargain as much and the guy who is selling you the goodies might realise how greedy you are for it and might jack up the price.
Now think of the US Federal Reserve and the central banks the world over as the sugar daddy or the large hearted uncle who is coming out and giving money by the truckloads. Now this is the unbacked printing of currency, which will erode the buying power of the currency.
The long of economic studies say that the theory of demand in supply is ever green. Now that the supply of money has actually increased, the value of money should therefore fall, and gold has been a store of value and an investable asset that has not let down investors for more than 3,000 years.
So obviously this unbacked currency will get parked somewhere and gold will be along with silver of course, recipient of these inflows. Why will this money need to be parked?
Because even know this money is free the recipient will still need to generate alpha or absolute return to be able to justify receiving this money and earning and return or a profit on it. I'll tell you to what extent this money is chasing returns on alpha.
Google search the US junk bond yields. Junk bonds are those bonds which have a very high probability of default and because they are very risky, they offer above average interest rates. Such is the greed to earn return on this easy money that people actually buying these poor quality junk bonds. This is a mad race to chase alpha or to generate returns.
Gold is by far, a lot safer along with silver as compared to these junk bonds but because there is a compulsion to investor this money, it has to go in in some asset class or the other, it's chasing this low quality stuff. Once the low quality stuff greed dies down ultimately over a period of time, people will come back to gold and silver.
Does it mean that you go out there and start buying today as soon as you watch this video or tomorrow morning itself as soon as the shops open? I don't think so. I think you need to stay rational. Nothing is running away in life. There is a fancy catchphrase doing the rounds in financial markets now FOMO fear of missing out. I would urge you don't give in to these fears. Fears of cashing out of fears of missing out, these are all emotional knee jerk responses, which mature investors and traders should not succumb to. Always do things deliberately after due consideration and careful and cold calculations.
So I think the recent lows made by gold approximately 49,000 and two, three hundred bucks here and there and silver at 58-59,000 bucks here and there should hold.
Even if they don't hold, I would not panic. I would start buying the dips. So anything below 49,500 is a time to start buying but I would stagger my investments into bits and pieces, which, of course, Weekly Cash Alert subscribers and Fast Profits Report subscribers would get notifications and mailers from us from time to time.
But generally these are the levels that I indicated. Of course, the staggering and the exact levels will follow to the subscription list. As far as my other videos about timely warning on gold, about central banks, once in a while, selling gold, economies or countries that are actually producers and exporters of gold having to sell to raise cash and therefore give distress discount also hold true.
Which is why the journey in gold is unlikely to be a straight line upwards. Don't expect it to be a rocket like trajectory. It's going to be more like up and down, up and down, as buyers and sellers pull and push, keep impacting the price. Which is why this investment is for people who are digging their tent into the ground and saying, okay, I'm going my dig my heels in. I'm going to wait for a while. I don't really care if I have to wait for a year or two, but gold and silver are going to stay in my portfolio.
Expect a tumultuous ride. Expect a little bit of a roller coaster here and there but stand your ground.
Now in another update, I wish to update my Fast Profits Report subscribers that Apurva has moved on from Equitymaster and is pursuing other endeavours. We will miss Apurva and his unique style of writing the Fast Profits Report but I assure you that the person, the gentlemen who has come to replace Apurva is equally capable, comes highly recommended, a veteran in the financial markets with more than if enough experience to take care of your investments and a kind of keep you engaged with profitable ideas, just like Apurva did.
So don't worry about anything, whether it is gold or silver or the future Fast Profits Reports. You're in very good hands. You are invested in the shiniest of metals, which is gold and silver, and in terms of Equitymaster's Fast Profits Report, nothing changes.
On this promising note, I bid goodbye to you in this video not before reminding you to click like on this video if you agree with what you saw. Also subscribe to my YouTube channel, if you already haven't done so and click on the bell icon to receive alerts about future content. In the comments section, I welcome your views, your suggestions and request for any other topics that you would want me to discuss in my videos.
Please help me reach out to fellow like-minded investors and traders who are looking out for knowledge based investments and the 360 degree worldview of financial markets by recommending my videos to your family and friends.
So do take very good care of yourself, your health, your family, you investments, and trades. Vijay Bhambwani signing off for now. Have a very profitable day up ahead. Thank you for watching me.
Stay safe!
Warm regards,

Vijay L Bhambwani
Editor, Fast Profits Daily
Equitymaster Agora Research Private Limited (Research Analyst)
Recent Articles