The One Trade I'm Most Bullish on Now
Nov 12, 2019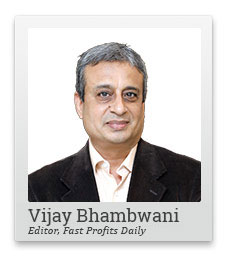 Hi,
This is Vijay Bhambwani here.
Today, I'm reaching out to you with my #1 trading idea.
I've done this trade every year for over a decade.
I can assure you, it is highly profitable and it's likely that you've never heard of it before.
In today's video...
A step by step process for very profitable trade.
How to potentially make 200% profit or more.
Find out how Rs 60,000 can generate Rs 180,000 or more.
This trade will last just 3 months.
You can repeat it every year like clockwork.
Enjoy!
And do watch out for my next video tomorrow.
Hi,
This is Vijay here and today I'm going to talk about an idea that can really make you lots of money.
I take the liberty off speaking on behalf of everyone watching this video in saying that we all love money. We can't seem to get enough off it. No matter how much we have, we want some more.
So I now proceed to share with you a very high conviction idea of how to make good money from trading natural gas.
Not only will I give you this idea that will help you in this instance, but this is a repetitively idea that you can use every year in the winters. So not only am I giving you a fish, I'm also teaching you how to fish.
You see in the western world, winter, which is currently officially started now, results in significant fall in temperatures and commercial and residential establishments like homes, officers, railway stations, malls, airports, et cetera need to be heated.
And what better fuel than natural gas, which is environmentally friendly, leaves lesser carbon footprint and lesser affluence into the atmosphere?
The second thing about natural gas is we do not really know what are the established reserves of crude oil.
But natural gas is likely to survive and be with mankind at today's consumption levels for at least 250 to 300 years. So it is a sustainable fuel.
So when the winter really sets in, the demand for natural gas naturally spikes up. Along with the demand, the prices on the commodity exchanges, also spike up.
This provides a window of opportunity for a disciplined and patient trader to time the market and to know when to enter in to short sells on the counter, which is hypothetically speaking, proven to be around Christmas.
Now, in the last 10 years, I have noticed that around Christmas time, natural gas prices tend to peek out on the commodity exchanges worldwide. consolidate sideways and on the first sign of summer, prices tend to collapse.
If this repetitively yet established method of trade is to be exploited, you can actually make above average returns, of a significant magnitude, every year. Let me walk you through the logistics of the trade.
On the Indian Multi Commodity Exchange, shorting one lot of futures off natural gas would require you to write out a check of Rs 60,000 as initial margin deposit to your broker.
Now this Rs 60,000 is as we speak. As prices get more volatile and prices appreciate, this figure is subject to change.
In addition to the initial deposit, you may also have to write out what is known as mark to market deposits.
If it all, after you short sell natural gas for any reason, prices go against you, which is rice, for every rupee movement in price, you will be required to pay out Rs 1,250 in mark to market losses. In case of a profit, for every rupee, you would walk home with Rs 1,250 in profits. The mark to market margin does not change, unlike the span margin which is telescopic in nature.
I presume, going by past empirical evidence that around Christmas, the price of natural gas will be anything between Rs 230 to Rs 250, broadly.
If you were to enter short sell, you would be required to pay a deposit of Rs 60,000 and wait it out. I would request you to consider shorting the far month futures so as to avoid going in for rollovers at every expiry, paying repeated cost off brokerage execution and taxes.
In this manner, around December, you would be having the futures of December, January, and February available to you. I would suggest you consider shorting the February futures of natural gas on the MCX.
A word of caution here. Recent history, like between 14th and 16th of September 2019, has shown us that a surprise drone attack on the facilities of the Saudi Arabian Aramco company, resulted in a sudden spike in prices of crude oil to the extent of 12% on the Monday because there was a surprise attack on these upgrade facilities on the previous Saturday.
If there is any untoward terror attack, geopolitical incident, or maybe unforeseen circumstances like these, you may have to be prepared with additional amounts of money to fund your trade.
But the line of defense here is unlike crude oil, which is going to run out faster, natural gas is an abundant supply.
So these untoward and unexpected shocks do not make natural gas futures go through the roof, which is your line of defense.
If you were to spend or invest Rs 60,000 towards a lot of natural gas, short sales do remember in commodities, your mark to market payouts can be higher than the span margin itself.
So you need to keep an ample buffer of money to fund your mark to market losses also but that would be for a short period of time.
Come the vernal equinox, which is around the third week of March, when the sun shines bright outside your window, you will see empirical 25% to 35% decline in the price of natural gas futures.
Remember that you are leveraged between six and seven times off your base capital, which means a 30% decline in natural gas prices would leave you anything between 180% to 200% profits, which means on an investment off Rs 60,000 plus mark to market, we don't know how much it will be depending on the prices, you can walk home with profits around Rs 100,000 to Rs 150,000 per lot.
How many lots you undertake to take exposure in to, is something which is absolutely up to you.
This is a high conviction trade that I trade every year in the winter. I can tell you with a certain amount of confidence that I use this money, the profits that I make and spend it on my family in the following summer.
I can only wish you all a very happy vernal equinox as a savvy trader for having taken this trade. This is Vijay Bhambwani signing off for now, till we meet again.
And do remember to log in to my summit on 26th November wherein we share a lot more market savvy ideas.
Thank you.
Warm regards,

Vijay L Bhambwani
Editor, Fast Profits Daily
Recent Articles