How to Short Sell the Right Way
Nov 13, 2020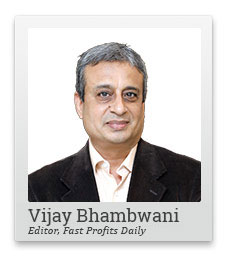 This is a follow up to yesterday's video on trading systems.
I want to elaborate on an important aspect I explained in that video. Any good trading system must work in all kinds of markets.
It's easy to make money when stocks are rising but your system needs to be good at giving you profitable short selling calls when the markets are falling.
In today's video, I'll show you what a good short selling system is all about.
Send in your feedback. I love hearing from you.
Hi this is Vijay Bhambwani. I hope you're enjoying trading the markets, you're earning profits from your trading experience, and my videos have helped you become better traders.
Now this video is actually an extension of yesterday's video about how to create a great trading, intraday trading set up or trading system using technical analysis, screen reading, and mathematical or statistical models.
Now, in this particular video, I am focusing on those traders who want to learn how to short sell effectively.
You know, like I said yesterday in my video, that your trading system should be able to tackle all kinds of markets whether rising or falling, trending or very narrow ranges, because you need to put food on the table for your family, irrespective of the market.
EXPIRES TOMORROW: Full Transcript of Our Urgent Broadcast on India's Revival
Short selling is not just a reality, but it's also highly profitable because markets tend to fall faster than they rise. Force of gravity, as you've no doubt seen in my previous video a couple of months ago by the oscillator called centre of gravity oscillator, selling pressure by the bears, and the bulls running out of money to support the market, causes the markets to fall extremely fast.
How do you segregate stocks for selling short, and what kind of counters should you actually filter to short?
Just like a lion is not really particular about which deer it catches, basically it pounces on the slowest moving deer in the heard when it wants lunch, your job is to find the weakest counter out there and short that particular counter.
So before you start the process of short listing both shares which you will short go back in time in the last 8 to 10 trading sessions and see which counter has risen the slowest, it has been the most lethargic.
The bullish candles are very small. Traded volumes are extremely thin on the upside, and when it falls, the bearish candles are large, volumes are higher, which means the price is trying to seek equilibrium at lower levels.
Then, you basically, if you have more than one counter that appears to be a good prospective short sell, you should focus on those stocks which are near a meaningful resistance, a previous stop, a Fibonacci level, or a moving average which is at higher levels.
If that condition is also met and you still have multiple choices left, then choose that particular counter, which has violated a recent support, a trend line, a moving average, or a previous swing low.
If you still have more than one choice and you still need to narrow it down, let me give you a secret sauce here. You should basically choose a counter, which has a low RSC relative strength comparative reading. Now relative strength comparative should not be mixed up with relative strength index, which is the RSI.
The RSI measures the internal strength of the move, whereas the relative strength comparative measures the strength of a particular counter vis-a-vis another counter. For example, if you're doing stocks, you want to measure it against the Nifty. If you're trading commodities, you may want to measure the strength versus gold. If you want to trade currencies, you may want to measure the strength versus the Dixie of the US dollar index.
So if you actually go to investing.com or chartview.com or any other free charting website, you will basically see the oscillator relative strength comparative. You have to choose two securities, a particular stock that you're trading versus maybe the nifty or the bank nifty on the sensex, your choice.
What you need to see in that relative strength comparative reading is that during the upside, the stock should rise lower in percentage terms than the index, and on the downside, it should fall more in percentage terms than the index, which means the stock is weak.
Then you basically choose a stock which is very liquid. Don't go in for those counters were traded turnover is small. Maybe the chart will show you that the price fell by a very large quantum but 200 stocks were traded. 200 shares were traded. Did you get a chance to basically square up your shorts? No. So even though the price came your trade did not trigger. Go in for liquid counters.
Now for those traders who basically have some semblance of knowledge of statistical analysis and believe me, it's not very difficult. If you've cleared your eighth or ninth standard of high school, can switch on and off your computer, can type a letter in Microsoft Word or do some basic rudimentary mathematics in Microsoft Excel, you're more than qualified to create a very effective trading system on statistical models.
So basically, what I'm saying is that you should basically program a very simple map, which says that the counter that you are choosing should be high beta. Which means that if on an intraday basis, the relative strength comparative was over a period of time, on an intraday basis, if the nifty is moving 1% the counter should move 1.5, if not 2%.
Which means either way, whichever way the nifty is moving, the counter should move more and when the nifty is falling, remember the relative strength comparative will tell you that it's a weaker stock. So when the nifty is falling and the beta is high, this stock will fall more in percentage terms than the nifty, which means you raise the probability of success even further.
Then another statistical point. Chose a counter with very low impact cost. Now, whenever you see you basically select the security and click F5 on your trading terminal, a small rectangle box opens up, which is a quick view of the market. Top five buyers from five sellers.
Low impact cost means the difference between the first buyer and the next and difference between the first seller and the next in price should be as little as possible, possibly five paisa, which is a minimum tick price so that you pocket the most amount of money rather than give it to the market maker. A big impact cost stop would mean that you will take very small profits home rather than big ticket profits that come from trading low impact cost.
If you still need more inputs, give me a shout. You can always leave comments on this video and my next, and I'll make sure I try and accommodate as many queries as possible. I hope this video helps you to make a lot of money in the times that markets fall and garner you superlative edge in trading the markets both rising and falling.
On this cheerful note, I bid goodbye to you not before wishing you a very happy Dhanteras, a very happy Diwali, and a prosperous New Year. Vijay Bhambwani signing off for now. Take very good care of yourself, your health, your family, your investments, and trades.
Have a very, very profitable year ahead. Thank you for watching my video.
Warm regards,

Vijay L Bhambwani
Editor, Fast Profits Daily
Equitymaster Agora Research Private Limited (Research Analyst)
Recent Articles