Short-term Trading Versus Long-term Investing
Nov 14, 2019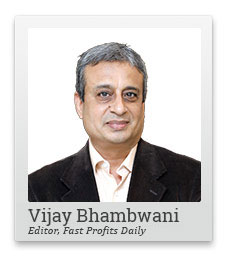 Hi, this is Vijay here, with today's Fast Profits Daily.
Today, let's discuss long-term versus short-term.
It's an age-old debate and I won't bore you with any jargon or theories. Instead, I want to show you why both are important for your financial well-being.
In today's video...
I endorse long-term investing to find potential multibaggers.
But there's also a man who made more than a million dollars in a year with short-term trading.
So big money can be made both ways.
Isn't it better to combine the two methods?
Yes, it is!
And I'll show you how...
Hi,
This is Vijay Bhambwani back again and today, I'm going to talk about what form off market activity is better - long-term investments or short-term trading - and how to compliment your long-term investments with short-term trading profits.
As a trader, I consider trading as my religion and like me, a few millions of traders the world over, consider trading to be their religion.
As in religion, the difficult question here is which religion is better? Is Hinduism the best religion out there? Or is it Islam? Is it Sikhism, or is it Christianity?
We could go on forever without finding the answer. In trading what we all worship, I'm sure also in investing, what we all worship is profits.
We don't really care how much money we have, we just want some more. More money never harmed anyone.
So which style of market activity generates more money?
The general perception is that' buy and hold' for long periods of time makes more amount of money.
I agree that it is a very lucrative proposition. If the right stock is bought at the right time and held long enough, one can catch multibaggers. 50 and 100 baggers have been known to be netted by patient investors out there.
But is this the only way to go forward?
What about guys like Larry Williams, Paul Tudor Jones, George Soros, Victor Niederhoffer, amongst a whole lot of other traders who've made it really, really big?
It may surprise you to know that trading has an organised and recognised championship known as a Robbins Cup.
The rules off participating in this championship are very simple. The trader goes there with US$ 10,000 of his own capital. What you want to call a float.
He or she can participate in any market off his choice, go long or short. The end of 365 days, the trader netting the biggest amount of profits is declared the Robbins Cup winner for the year.
Larry Williams has set the record of, taking US$ 10,000 and taking it well past the US$ 1 million profit mark.
Now that is a kind of return that anyone would gladly give a right arm and a leg to catch.
So we have seen traders making a huge amount of money. What if you were to make long-term investments into some potentially multibagger stocks? Does it help you to also trade for the short-term?
My question is, why not?
Hypothetically speaking, if you were to invest money in a stock for, say five years, in those five years, you would have to pay utility bills 60 times at the rate of once a month.
What if trading was to generate money enough to fulfil your utility commitments? Your domestic help's salaries and help you keep food on the table for your family? Why not have it?
So you could basically follow a twin track system, where your long-term investments are looking after deep alpha generation after a five-year period and your trading could basically fulfil your day to day expenses, plus a little more.
It makes sense to always have more than one stream of income. That's what all astute investors and traders would tell you. Which is why I think complimenting your long-term portfolio with some short-term trading always, always makes sense.
There are other advantages of having a trading blueprint as well.
What if you were to invest in a company's shares. Let's call it ABC company. You bought it in your core portfolio with the time frame of five years.
Bang in the middle of your holding period, the stock decides to dive. It makes eminent sense to short sell that counter in the interim to capitalise on the opportunity presenting itself, for you to make some money and keeping your core portfolio intact at the same time.
So you retain your long-term game plan and you've also taken advantage of in adversity, which would have otherwise resulted in a notional loss.
You could even use your long-term investments to generate short-term profits. You have option writing, which is gored covered call. You could basically write deeply out of money call options on that particular stock to generate regular monthly income.
You can also do start lending, which is officially allowed in India now and rent out your shares, at the same time, keeping your long-term capital gains intact as per the Income Tax Act.
So by all means, explore all kinds of revenue streams available to you, both long-term and short-term, so that you can maximise your returns.
We're in the game of earning the maximum amount of money, in the shortest possible time, and with reasonable amounts off risk.
That's what capital market and capitalism is all about. If you do not, you're missing out on something.
This is Vijay Bhambwani, signing off for now, till we meet again.
Warm regards,

Vijay L Bhambwani
Editor, Fast Profits Daily
Equitymaster Agora Research Private Limited (Research Analyst)
Recent Articles