Bank Nifty Bullish Call
Nov 16, 2021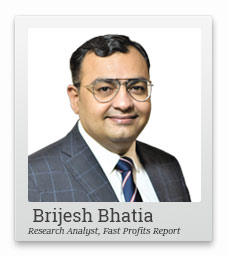 With only one and a half months to go for the end of an eventful 2021, I looked at my charts to find a great year-end trading opportunity.
And sure enough, I found one.
The Bank Nifty is looking bullish on the charts. In this video, I'll show you why I'm bullish on the Bank Nifty and which levels you should be looking out for to trade.
Let me know what you think in the comments. I love to hear from you.
Hello viewers. Welcome to the Fast Profits Daily. Myself Brijesh Bhatia.
Well we are creating regular sectoral indices and in case it is benefiting you, I request do comment into the comment section below and do not forget to click on the like button if you think that our videos are helping out.
Coming to today's video, well, we are just 1.5 month away from the year end 2021 and it has been a fantastic year for equity traders for equity investors. Since the lows of 2020, we have seen markets being more than double and most of the stocks have even seen 5x, 7x.
Check Out: Why Millions of Dollars are Getting Pumped into this Sector?
Well, in this video, I've be discussing one sector, which is widely traded, one index which is widely traded, it's called Bank Nifty. Just around 1.5 months to go and nearly a month to go for Christmas, what I believe that bank nifty could do.
Well if you look at the last week, we took support right around 38,000 levels. We made a low of around 38,300 and came back very, very strongly. So look at the momentum over here look at the first chart over here.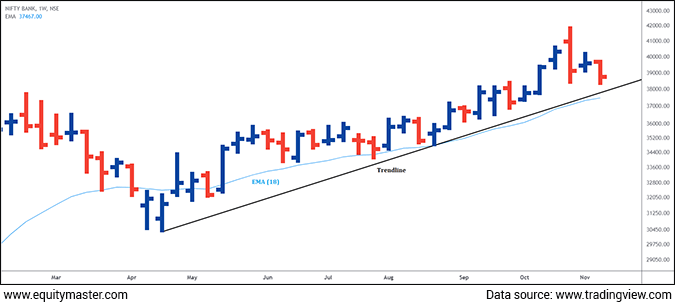 This is a weekly chart and if you look at the rising trend line right from the lows of the weekly scale, it is being holding strong. So we are forming higher high and higher low structure for quite long now. And it is not a short term trend line. We are witnessing this trend line right from the lows of April, which is nearly seven months now, and it is being held very, very strongly.
Second, which I track and it's slightly uncommon technical moving average, which is 18 week moving average. Why 18? Because on a Bank Nifty weekly scale, 18 plays a key important role. Every time markets hover around those for a time, and that's generally the trends emerges. So, 18 for me has been very, very crucial on Bank Nifty especially on a weekly scale, and it plays a very, very key important, which is likely around 37,500 levels now.
So with the trend line around 38,000, 18 exponential 37,500, I believe these two levels will be very, very crucial for trend change levels for Bank Nifty.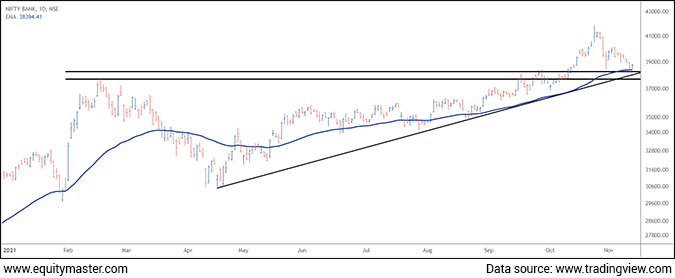 Keeping the top down approach I move on to a low time frame into the daily scale. So now if you look at the daily scale over here, again a rising trend line similar to which is on weekly, I have plotted on daily.
Plus if you look at the two horizontal lines on the higher levels, index is taking which broke around 38,400-38,500 levels, is being retested now. We made somewhere 38,300 lows, coming back very, very strongly, taking two support levels which is very, very important.
When they retest happens, it offers a superb risk reward ratio to the bulls or even bears if there are short retests. Now 50 exponential moving average on a daily scale is also being tested now.
Index took support at 50 daily exponential moving average as well over here. So now, with the support retest and 50 exponential moving average concentrated at the same level, markets are taking support, indicates that bulls are very, very strong, and the recent correction of around 41,800-38,300 somewhere around 8-8.5%, seems to be taking a pause now and we might see a resumption in momentum.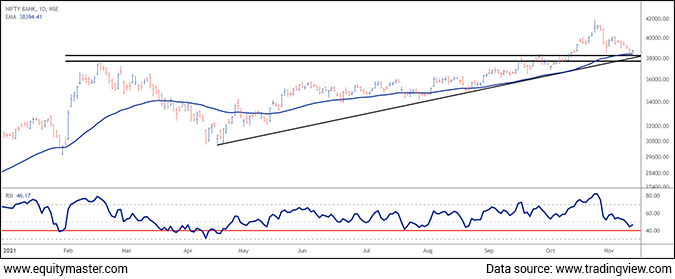 We checked with the RSI as well. If you look at the RSI which I plotted on the same chart, the RSI is basically the strength or stamina, now being a trending into a good higher high, higher low structure on the price scale, RSI has been taking support at 40, basically soon as the bulls enter into the bullish trend. Again, 41-42 was the lows in the last week and markets now trending, turning this slope on RSI on the positive side again.
So it indicates that we are still into the bullish trend and I believe till 38,00-37,500 which is the 18 weekly exponential moving average are held very, very strongly, we might end the year above 40,000 levels and that could be the most important trend where we are going into the 2022.
I believe that probably in January or February, might see a new all-time high on Bank Nifty as well. So I wouldn't be surprised if the 41,800 levels being surpassed in probably 2-3 months' time. Till 37,500-38,000 are held, Bank Nifty will continue to remain a strong bulls contender for the new highs.
Signing off. Brijesh Bhatia.
Warm regards,

Brijesh Bhatia
Research Analyst, Fast Profit Report
Equitymaster Agora Research Private Limited (Research Analyst)
Recent Articles