How to End the Year with Trading Profits
Nov 17, 2020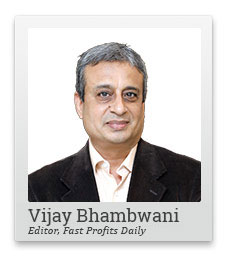 I've received a lot of feedback for my recent videos about how to sell short in the market and how a trading system can be made.
Thanks everyone. Keep your comments coming. I love to hear from you.
A query I get repeatedly is, What is a good stock to trade'?
This is a good question. I want to give you an answer which I myself would use to make fast profits.
We are getting close to year end and as it happens, there is a way to find out which stocks are good for trading at this time.
In this video, I'll tell you all about it.
Let me know your thoughts in the comments. I love hearing from you.
Hi, this is Vijay Bhambwani here. I hope you're enjoying watching these videos, these videos are helping you realise your dreams of being better traders.
The kind of feedback that is coming to me from you about, especially in the last two or three FPD videos or the Fast Profits Daily channel videos that I have made about how to sell short in the market and how a trading system can be made, what components go into trading systems, etc, I am very enthused by the fact that you guys are taking the time out and giving me a feedback. Good, bad, ugly. Please keep it coming.
Now I have received many requests from my viewers about which stock should be good to trade and how do you shortlist a stock for trading on a particular session?
Mega Webinar on Jan 29th: Will 2021 be a boom or bust?
Now, I have made videos in the past about how you should join Equitymaster's Telegram channel because every day, post market, late in the evening, I put up at least three posts there on Equitymaster's Telegram Channel, which goes by the handle Equitymaster Official, names and a data related to at least 20 stocks in each list, the most volatile, the top gainers, the top losers, volume gainers, MWPL or market wide position limit gainers, and open interest gainers.
Based on these I have also deduced how PSU stocks were turning around and look at where they are right now. So basically what kind of stock is good to trade will change just like the weather, just like the winds in the ocean and just like any adept or in any expert sailor knows when the ways change, he must adjust the sales of his ship accordingly.
So if you remember, if you been watching my videos long enough, feel free of course, if you not watched all the videos in this FDD playlist, feel free to spend some time and go down in the list and watch the videos.
In the end of calendar year 2019, I had recorded a video about how mutual funds play a very important part in the end of every quarter because they buy the stocks which are their existing in their portfolios, to kind of shore up their NAVs.
This is called NAV management, and the mutual fund industry depends on the NAV. Of course, the higher than NAV rises, the better it is to get fresh money and fresh inflows from potential investors who are waiting and watching.
So how in the end of every quarter, markets tend to invariably, barring any unforeseen circumstances, market tends to rise, and an expert short term trader knows that it's a very foolish thing to try and shot the market in every quarter ending.
Is every quarter ending the same? Now as per behavioural finance, you should know that no two circumstances can be exactly alike. There are times when you might even feel that my advice is appearing to contradict my past advice. Feel free to point it out and raise a query. I assure you, I will through the comment section, try and answer that or maybe even record a video.
So are all quarters alike? The answer is no. The reason lies in the financial year end. In India, financial year end is 31st March. In the overseas markets the financial year and also happens to be December end, which is, as per the income tax of India, the third quarter, which is the October, November, December quarter. That happens to be the year end for FIIs.
So what really happens in the end of December? Does the market tend to go up slightly more than other quarters? My gut feel is yes, and the historical evidence also points towards it.
I've been a trainer at the multi commodity exchange, I've trained and given guest lectures at the training institute, the National Stock Exchange Training Academy, etc, big brokerage firms, mutual funds, I have trained thousands of traders over the last couple of decades that I have had the opportunity of interacting with people.
Normally as per behavioural technical analysis, you strip out or you cut out the name of the company whose chart you're displaying to trainee traders and then tell them to take a call whether they would buy yourself a company or rather buy and sell the company's stock.
The reason is when you give out the name, it might bias the trader into thinking bullish or bearish thoughts because the media, social as well as mainstream media is bombarding us with so much information, that the trader might let emotions come into the play, which is why under normal circumstances, on any regular trading day, you can cut out the name of the company, think rationally and trade as per the computer trading screen or the technical chart itself.
But in this present set up, which I am covering in this video, you cannot afford to do so. If you bear with me for a couple of minutes, are tell you why. Which is why the coming quarter ending or the December quarter ending is not the same as any other quarter.
Now knowing the name of the stock is important at this time of the year, for the simple reason that not only do FIIs as well as the domestic mutual funds have a keen interest in pushing up the stock prices higher, especially those stocks that they own but the fund managers also tend to go back home for Christmas and collecting their performance bonuses. Either they cash profits or the price of the stock is higher, which mean the mark to market gain, and therefore the performance bonus is also higher.
Which is why, at this part of the year, which is December ending, it gives you a slight edge or a slight advantage if you are focusing on those stocks which are FII darlings. Those stocks which you feel these FIIs own in very large numbers and thanks to the present day and age of the Internet, I don't need to tell you where to get that data from. Company shareholding is something you can get from NSE, BSE, SEBI's website, and a whole lot of other company websites also.
So in this time of the year, forget about the fact that you need to be company name neutral, which means blank out the company name, you actually need to focus on the company name. You want to buy what the big boys are buying. Remember my reason video, strong hands are pushing up the market, which I had recorded recently, and I got very good feedback from you. Thank you for it.
So strong hands, I said in that video are interested in pushing the markets higher. What can be stronger than FIIs. I want you to deliberately focus on those stocks because these will be receiving more than usual attention from the bulls to push prices higher. All other factors remember all other factors remaining constant. All other factors remaining constant, these stocks will give you higher returns.
As a trader who's interested in nothing else but giving food on the table for my family, I am focused on these three things, to earn the highest amount of money, to do so in the shortest possible time, and third, to do it with as little risk as possible.
Now, when I hitch my waggon to the big boys, when I follow the actions of the strongest players in the market, I am cutting down my risk. Which is what I want you to do as fellow traders. This is behavioural technical analysis. It's not rocket science. It can be taught in a classroom and if you think this is mind blowing concept, I've thousands more tips and tricks in my quiver. More of these tricks in my future videos.
With that promise, I bid goodbye to you in this video till we meet again in my next. If you are watching this video on YouTube, please subscribe to my YouTube channel. In the comment section, do let me know what you think of this video and what you want me to record next. Click on the bell icon so that you can receive alerts about future videos and help me reach out to fellow traders interested in a 360 degree world view of the markets and knowledge based trades and investment systems by recommending my video to your family and friends.
Do take very good care of yourself, your family, your friends, your trades, and investments. Have a very, very profitable day ahead. Vijay Bhambwani signing on for now. Thank you for watching my video.
Warm regards,

Vijay L Bhambwani
Editor, Fast Profits Daily
Equitymaster Agora Research Private Limited (Research Analyst)
Recent Articles