Should You Rely on Stock Targets in Trading?
Nov 18, 2020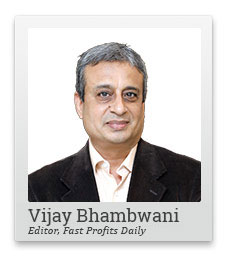 I've received many queries from viewers on a number of topics for new videos. I promise to accommodate as many of your requests as possible.
I thought I'd start by recording this video on target prices. It's one of your most common requests.
Are targets useful or are they rubbish? How should you think about them?
In this video, I have the answers for you. Enjoy!
Let me know your thoughts in the comments.
Hi, this is Vijay Bhambwani
I've come back with you in this video to talk about the markets again. I hope my videos are adding value to your knowledge. They're making you better traders and you're able to navigate at the wavery and chaotic traffic in the market, up and down, high volatility and you're better prepared than you were before you started watching this channel. I always look forward to your feedback and what else I could record for you to make you better traders.
One of the things that I have been constantly asked is, how are targets set and how reliable are they? Which means can you actually bet the bank, pledge your house, and put that money based on targets and expect to hit bull's eye?
Now the answer is not simple. Nothing in the financial market of simple because it's a complex market which reacts to the pull and push, buy and sell action of millions of traders out there and no matter how small are how big the trader is, he has that proportionate impact on the prices.
So targets are actually guestimates. I don't think anybody can have a cast iron or a fool proof or a bulletproof or an idiot proof method of calling the market for the next minute, next hour, day, week, month, or year. We are all basically hazarding guesses, which is why I've coined the world guesstimate. It's not there in the dictionary. It's one of those slang words that get tossed around.
JUST IN: Limited-Time Access to Full Transcript of Our Urgent Broadcast on India's Revival
Now there are some targets that are better than the others, and then there are targets that are absolutely for horrendous. I think, targets that are based on some studies, like technical analysis, especially Fibonacci Elliot wave, there are videos that I have recorded three of four quarters of on Fibonacci analysis, if you scroll down in this playlist, I am sure you will be able to find them, these are better systems, then the others.
Now the one kind of target that I am absolutely mortified, horrified, and amused at how often these targets are actually being tossed around loosely in the markets, it's not a very funny. Now these are targets based on what mathematics and statistics call linear extrapolation.
Linear extrapolation basically says that something that is in motion for an x period of time and has covered x amount of ground will continue to remain in motion, maintain its same trajectory and momentum, and therefore will reach X Y Z kilometres, miles, inches, centimetres of whatever that it is being measured in, in X amount of time. Which means that the movement will remain constant without accelerating, decelerating, or even resorting to laws of physics and friction, which basically tells you that a body, if it is in motion, tends to slow down if the propulsion is taken off.
For example, you basically hear many a times X Y Z people coming in the public domain and saying the Nifty has moved 50 points in the last three weeks without fail and therefore will rise 150 points in the coming three weeks. That's amazing. That's like saying that the body in motion will maintain its kinetic energy as per laws of statistics and linear extrapolation, which is projecting into the future based on the past and expecting that the same momentum will continue unabated, is funny at best. Yet it gets repeated time and again.
Every special occasion, Diwali and now New Year in December, you will have forward guidance and targets for the calendar year 2021. Pay attention to the basis or the reason of the logic behind the target. If it is linear extrapolation, don't even bother. Don't even bother. This is the simplest way to set out the target but let me explain to you in the next two minutes, in a very short example, as to why it is prone to failure.
Now you will agree with me that when the markets are rallying, it's like climbing up the staircase of a building. Assume that we are running a race. You're standing on the ground floor of a building and race involves climbing up to the 15th floor of the building and whoever reaches there first obviously gets the first prize and is a winner. I allow you stops, first at the fifth floor, second at the 10th floor, and the final one, of course, is the destination, the 15th floor.
Is it possible, or is it correct for me to assume that because you have reached the fifth floor in two minutes, you will be able to reach the 10th floor in four minutes and the 15th floor in six minutes? That is leaner extrapolation. This is what the wise guys, using leaner extrapolation, try to sell you their idea of projecting targets.
You know, in the real world, what happens? The first flight five floors are going to be relatively the easiest to climb. From the sixth floor to the 10th floor, your legs will start to feel like noodles. Your lungs will be gasping for breath, oxygen. You will be sweating and labouring under the strain.
From the 10th to the 15th floor, mind you, you will be surviving on sheer will power alone. You will be pushing yourself if at all you can maintain your momentum, and the strength as you do not break down, but that will be the slowest climb of all. The last phase will be the slowest climb of all. Believe me, the stock markets are exactly the same.
As I have said countless stand in my videos earlier markets go up in spite of the monetary limitations of the bulls because wealth is finite, in spite of the selling pressure of the bears, and the delivery sellers, and the force of gravity. By force of gravity, I don't mean earth pulling an apple down. Refer to the centre of gravity oscillator please before you write anything in the comments.
So when the markets are going up, the higher they climb, the more laborious it becomes for the market to climb and maintain that momentum. Which is why the real McCoys, the real smart guys, know that linear extrapolation should be simply written off.
So when you're listening to targets, do remember that there are some targets which we should not be bothering with, and if they are based on linear extrapolation, they're as good as junk. Be wise. Learn to discern for yourself as to what you must and must not allow to impress or influence your mind and your decisions.
We traders are brain warriors. We fight, win, and lose with our ideas, and it becomes very, very important for us to be very selective about whose ideas we allow to influence our thought process because that will determine our ultimate success or failure in the markets.
On this cautious note, I'll bid goodbye to you in this video till we meet again in my next video, not before reminding you to click like on this video if you're watching this on YouTube. Subscribe to my channel and in the comments section, do let me know what you think of this video and what you would want me to record in my next.
Also help me reach out to fellow like-minded traders who are interested in a 360 degree world view of the markets by referring my video to your family and friends. Do take very good care of your health, your family, your investments, and trades. Have a very, very profitable day ahead. Vijay Bhambwani signing off for now. Thank you for watching me.
Warm regards,

Vijay L Bhambwani
Editor, Fast Profits Daily
Equitymaster Agora Research Private Limited (Research Analyst)
Recent Articles