A Simple Sell on Rallies Trade Just for You
Nov 19, 2019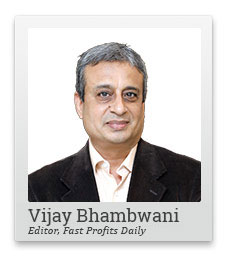 Hi, it's Vijay,
I want to share a simple Fast Profits idea with you.
It's one my high-conviction long-term trading ideas which I believe will be highly profitable in the short-term as well.
In today's video...
The one asset you should consider selling/shorting on rallies.
But be careful...there are no easy trades!
An update on an article I'd written on Equitymaster.
Here's my original article for your reference.
Enjoy the video!
Hi,
This is Vijay Bhambwani and I'm back again to talk about an extremely contextual topic and especially since I had written article about this a few months ago on Equitymaster.com.
I had written why I feel crude oil should actually be going toe US$ 20 a barrel but might just wind up going to US $80 a barrel. A lot off water has flown from under the bridge since then and updated is warranted.
One of the primary reasons why I was advocating crude oil would be bullish was because of the Saudi Aramco IPO. We all know that the prime finished product that the Aramco company sells is fossil fuels i.e. both natural gas and crude oil.
The profitability of Aramco would therefore hinge on whether oil and gas prices will lower or higher.
Aramco would obviously try for higher prices of crude and therefore would try all the tricks in the book to be able to push prices higher.
Sure enough, in the run up to the IPO process, you've read in the media, seen on television on the websites et cetera, as to how the OPEC has been systematically trying to curtail output so as to keep crude oil prices high. This is a very expected on anticipated process but it is costly.
It costs money when you lose market share. When you basically cut output, you're also cutting down the nation's our inflows, which is balance of trade.
These output cards our temporary nature on once the IPO is over, done in dusted, you will see the Saudis restoring output back again because nobody wants to lose market share here. It's a highly competitive market in the crude export market place and nobody wants to lose market share.
So, my guess is the peak off crude. Even though it did not reach US$ 80 a battle, it did go to a little above US $60 a battle. The peak is done and over with. Unless you have an unforeseen circumstance like a geopolitical event, like what happened on the 14th of September 2019 on the uptake Khurais refining installations by the drone attack.
Unless something of that sort happens, I think the peak off crude oil has been reached. As a matter of fact, the Aramco prospectus itself talks about oil demand hitting a peak by year 2035 latest and they've also listed out the possibility of the peak demand being reached even earlier by 2030.
The reasons are not far to find. You have electric vehicles, you have solar power which are now breathing hard on the heels of fossil fuels as cleaner, more commercially viable, and environmentally free sources of energy.
Therefore, when solar power first made its debut, if I'm not mistaken, it was 1980 in Germany, the cost of producing one unit of solar power was US$ 30 per unit. Today, the Chinese are promising us that they will be able to produce solar power in large enough quantities at 75 cents per unit which is a far cry.
Now, you have a huge competitor to crude itself. The Saudis know it and therefore, they will refuse to cut output once the Aramco IPO is done and dusted, which is another reason why crude oil prices will remain soft.
For all you equity investors out there, this is gonna be a bonanza because raw material costs of India incorporated will fall and crude as we all know has a multiplier effect on inflation.
So, if crude oil prices go higher, your sabzi, fruits, vegetables, milk, eggs, everything is costlier, and the reverse is also true. If crude oil prices are going to fall, you're gonna have happy days further ahead.
Another reason why crude oil prices will not go to 80 but will probably peak out and then remain subdued once the Aramco IPO is done.
If you take a look at Asia, the two significant economies here are China on India. As a matter of fact, China and India are the second and third largest consumers of crude oil respectively. Both these nations are showing signs of slowing down. The Chinese because of their trade war with the United States and in India, were having a cyclical slowdown to the extent that electricity consumption is now down to a decade low.
Diesel sales are also down, which tells you that cruel oil consumption from India and China are going to remain subdued and therefore crude oil prices will remain under pressure.
Shift your view towards Europe and the number one and number two economies in Europe, which is Germany and the United Kingdom, are both slowing down.
Germany has been slowing down for four months now and England, somewhat the same amount of time. Now these two economies are going to witness a slowdown in consumption of fossil fuels as well.
If you were to go to America, you're basically seeing a marginal slowdown in America itself. Also, recollect, how I've written an article on Equitymaster.com about a phenomenon called the US Presidential Election Cycle.
12 to 15 months before a US presidential election, magic begins to unravel in the economy there.
Inflation falls, which means crude oil prices are subdued, employment data suddenly perks up, corporate profitability goes up, inflation goes down, and the US dollar firms up.
The US elections this time around are on 3rd November 2020. My guess is the American authorities will do both these things, if not one.
A, crude oil prices will be subdued to contain inflation. B, the dollar will be strengthened. You have already seen the US dollar index rising from a recent low off almost 97 to hit 98.30.
Now this is like a seesaw which you see in a garden. You put a heavier kid on one side, the heavier kid lifts the other lighter kid up in the air. So, if the dollar is strong, commodity prices are subdued.
So at least till November 2020, I expect the US administration to aim for a stronger dollar, which automatically means weaker crude oil prices.
The other reason I can tell you about crude oil being subdued is the amount of new supply that's going to come into the market in the immediate future.
In Norway, you have an oil field, which is run by a company called Sverdrup, which is going to turn out 450,000 battles of oil per day, which is almost half million barrels.
There are a couple of oil fields on the Saudi-Kuwaiti border in no man's land. These are established oilfields but because of diplomatic impasse, they're not being tapped. The Saudis and the Kuwaitis have reached a diplomatic solution and an agreement has been signed to commission these oil fields and they will pump out oil, to the extent of half a million barrels a day, as early as February to March 2020.
To add a spoke in the wheel of the Saudi IPO, the Iranians have announced a mega oil discovery. This is expected to cap oil prices and even drag oil prices lower substantially.
All in all, I expect crude oil prices to run into selling every time there is a spike upwards. So, as far as I'm concerned, crude oil is a sell on rallies as we speak as off now.
So, I leave this trade idea open on the table for you.
If you do see crude oil prices spiking significantly, I think it makes more sense to sell on rallies than to buy the dips.
This is where Vijay Bhambwani signing off for now till we meet again.
Thank you.
Warm regards,

Vijay L Bhambwani
Editor, Fast Profits Daily
Equitymaster Agora Research Private Limited (Research Analyst)
Recent Articles