How to Use the Basis to Make Trading Profits
Nov 23, 2020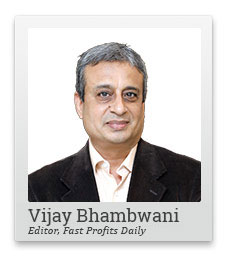 I'm continuing with your requests for video today.
This time, keeping in mind your queries on this topic, I'll talk about the basis. It's a simple and reliable tool to help you in your trading.
There's nothing complicated about it. No fancy charting needed.
This one tool will tell you if the market could go higher or lower.
But to make fast profits you need to first know what the basis is and how to interpret it.
I'll tell you all about it in this video.
Let me know your thoughts in the comments.
Hi, this is Vijay Bhambwani. I hope you're keeping a finger on the pulse of the market and making good profits from the volatility that you're experiencing and I hope my videos have been helping you become better traders.
Now in this video, I want to decide for what I put out there on Equitymaster's Telegram channel and are very strongly suggest you join this, subscribe to this channel which goes by the handle Equitymaster Official.
If you haven't already done so, I put up three updates there late in the evenings, post market Monday to Friday, which are based on my statistical model, in house statistical model and many of these studies are not found in the public domain.
Get Details: These 3 Stocks are the Dark Horses of the Stock Market
Now, I've explained to you in my past video what the MWPL or market wide position limits are, what they indicate, and how you can trade better using that metric. I have received a lot of requests and hey, I love hearing from you and this channel is solely for your benefit, and I hope it's helping you become better traders statistically, psychologically, and behaviourally as well as financially giving you a good amount of P&L edition into your trading.
But as long as you keep your feedback coming, I will know what is liked and what else we can do to go even better and give you higher levels of satisfaction and not to mention, profits. So in this video, I want to address the query that I have received from a lot of my viewers about what the basis, which I put up there indicates.
Now if you basically gone to Equitymaster's Telegram Channel, You will see two lines. Blue and red lines, which basically are going up and down like waves. One of them is the basis of the Nifty 50 and the other is the basis of the Bank Nifty.
Now, before you get confused, basis is nothing but the difference between the future price versus the cash price. Common sense you that basis, which means the future price must be higher than the spot price because futures allow you roll overs, which means carrying forward your trade from one day to the other.
Whereas in the cash market or the spot segment or the delivery segment, each day is a rolling settlement, and if you do not square up your transaction, if you're short, you have to deliver, if you're long, you have to take delivery of something.
Now the fact that you can carry over your trade from one day to the next means that the futures prices of any security tends to be marginally higher than the cash price. Which means in financial language, it is said the basis is positive.
Now the basis might vary from day to day. Invariably, the basis actually compresses towards the end of the settlement, which is fine because there are fewer days left to expiry, which means compulsory square up of that particular future.
But what does an unusual movement both up and down between the beginning of a new derivative cycle to the end of the derivative cycles in between what does it mean when the basis keeps going up and down? How you can become better traders using this metric?
Basically, if the demand for nifty what the bank nifty is extremely high, then the basis should expand, which means the premium of the futures should actually go up as compared to the spot. Now where is this demand coming from? Is it coming from buyers or is it coming from sellers?
Don't get confused out there. Demand from sellers can also come, especially if the short seller wants to square up his position. That is, demand from the seller. If at all the demand is coming both from the buyers and the sellers, who are panic driven into swearing up their shorts, this is an ideal situation where the basis will actually jump higher.
If you go to Equitymaster's Telegram channel, you realise the basis of the bank nifty has been far more volatile as compared to the Nifty 50 and then go to any charting software website, which provides you any kind of charting facilities investing.com charting.com or allcharts.com, whatever, you will realise that the bank nifty has been a lot more volatile than the nifty 50 which is indicated by the basis itself.
On days when the basis has been expanding for two, if not three days in a row, there is a probability, and remember, I am using the world probability here, no guarantees, there is a probability, a very good probability that the fourth day you are likely to see that index head higher, barring of course, any fresh development, breaking news, earthquakes, wars or any other unforeseen circumstances which have come up, which weren't present in the previous trading session.
So barring those is the surprise elements, there is a fair probability, and I backed my money on probabilities that if the basis has expanded for three days in a row and if the basis of both the indices has expanded for three days in a row, the market tends to be even more stronger.
Now I've shared my secret sauce about why I said in one particular video that it is the stronger hands that have been leading the markets higher because I was reading the basis with hawkeye.
Now these are statistical tools that we have designed in house ever since we started doing our own charting and our own programming from 2007 onwards, using behavioural as well as statistical tools which we married together to what is known as behavioural technical analysis.
In my coming videos, I will decipher more of the stuff that I post on Equitymaster' telegram channel and why. I don't mind sharing my secret with you as to why.
On this promising note, I'll bid goodbye to you, not before reminding you to click like on this video if you're watching it on YouTube and please subscribe to my channel if you already haven't done so.
Click on the bell icon so you receive alerts for fresh videos in the future. In the comments section, do let me know what you think about this video and what you would want me to record in my next.
Also, let me reach out to fellow like-minded traders who believe in knowledge based investments and trades by recommending my videos to your family and friends.
Goodbye for now. Do take very good care of yourself, your health, your family, your friends, investments, and trades. Have a very profitable day ahead. Vijay Bhambwani signing off now Thank you for watching.
Warm regards,

Vijay L Bhambwani
Editor, Fast Profits Daily
Equitymaster Agora Research Private Limited (Research Analyst)
Recent Articles